The quality of these reins...?
---
I am in need of some new reins, and I really like these, but I am concerned about the quality of them, as they are the cheapest, most basic, and I guess you could say 'generic'. Other than this, they are nice looking, the length I want, and comes in the color and material I wanted. They are pretty much exactly what I wanted, just concerned about the quality, like, are they going to break within the first month, will they last, are they of 'cheap' poor quality, ect.
Basic Vaquero Split Reins w/Leather Poppers - Horse.com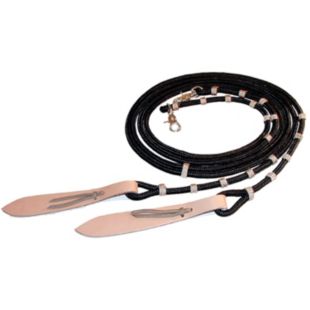 I have the other version of those, and they're okay. The cord rope is a little too big to fit comfortably within my smaller hands.... and they're a bit too long for my Racking Horse's neck so I really didn't use them often. They hold up okay on trails, the clips however sometimes get jammed and you gotta watch that you keep them "swiveling" properly so they don't snap. The cord is pretty strong itself, it hasn't stretched or thinned out at all and only has a few scratch marks from getting brushed in trees.

Overall, they're pretty good for their price :) I also have the matching headstall, I wouldn't trust it on a horse that likes to fit the bit, but it is very decorative and has worked wonderfully for my soft-mouthed mare for the past 2 years. Hope that helps!
I have older contest rein version of these and love them.. it is rather stiff cord rope which I personally prefer for 1 handed riding (neck reining)