=D OMG! He'll be here in an hour!!!
---
Okay, so for those of you who don't already know/have read, I am in college here in CA and my family is in CO. My mom decided for my 21st birthday to send my horsie to me, since no one back home works with him and I have missed him so deeply. I found a place about 40 minutes away with pasture boarding, and have been VERY anxiously awaiting his arrival!!!!!
I just got the call from the horse transport company that he is going to be there in an hour to an hour and a half, he just left a stop over in Hollywood (poor horse, aside from shows he's never been away from his horse family, he's a homebred boy! Hollywood must've been some interesting sounds and smells for him!!) and he's sooo close!!!!!!!!!!!
I saw him about 3 weeks ago back home, but it feels like forever! I miss him so terribly and I am STOKED to have him here!!!!!
I will post pictures of our reunion today...
I can't stop bouncing in my seat!!!!
---
Proud owner of 13yr old Paint Gelding, Bali! <3

How awesome!! I cant imagine what you must feel like right now!
---
When God Made Horses, He Painted The Good Ones.
"All I pay my psychiatrist is the cost of feed and hay, and he'll listen to me any day."

I am so happy for you and really looking forward to the pictures of the two of you! :)
!!!!YAY!!!! thats how i would feel, actually id be a wreck hehe, CONGRATS!!
---
Ω Horses are a projection of peoples dreams Ω
Yay! That is so awesome for you! And how cool of your mom to do that!
thats brilliant, hope he travelled well and i bet he has one happy face when he realises you are at the end of the journey. feel so happy for you :)
Started
Join Date: Aug 2009
Location: In the barn whenever possible.
Posts: 1,910
• Horses:
2
You must be so excited!! I could hardly stand still if I were you. I'm so happy for you!! Take lots of pictures!!!
---
"Riding a horse is not a gentle hobby, to be picked up and laid down like a game of solitaire. It is a grand passion. It seizes a person whole and, once it has done so, he will have to accept that his life will be radically changed." -Ralph Waldo Emerson
So my boyfriend who was supposed to bring a camera to take pictures of us *together* showed up 2 hours late because he was off getting a facial and massage (LA men are metrosexual, it's true) and he forgot the camera when he finally did come. BUT! I got pictures of my boy, and my friend is going to come who is a photography student and take pictures tomorrow of us cause she wants to meet him.
I pulled up RIGHT when the trailer pulled into the property, and Cliff the truck driver popped out of the truck and said "I think I have your horse?" and I was elated!!! First we had to figure out a way to get my GIANT trunk my mom sent up to the barn... my new BM is an angel. She led Bali up and got the guys to take my trunk while I moved my car to the parking lot and got all the goodies I have been buying for the past 6 weeks online out of my trunk, lol!
We set him up in a stall for tonight so he can settle in, but I don't have the money to keep him up there, he's not that spoiled until I make money out here hahaha, so he is being moved to a pasture at the bottom of the property. Tomorrow he'll meet his pasture mates and everything, but we wanted to get him calmed down and eating before we did that. It's a mare and two geldings, hopefully he'll be respectful. He usually is but who knows!
He was SO dirty when he came off the truck, into this fancy dressage barn, i was kind of embarrassed lol! But I was so happy I was hugging his muddy little head off. I met a lot of cool people while I was unpacking my trunk, including people who do western like me, so I'm not alone!
haha
I let him settle in and went to eat with my boyfriend, and then came back and gave him a bath. I should have given him the calm and cool supplements I had for him before the bath because he was a NUT! But after the bath I gave him a kiss and some calm and cool, then went to ride this horse I am exercising for some people down the road while he is for sale. I came back and Bali was munching on dinner and much calmer. I brushed him until it was dark and then realized I had told boy that I was following him home, and he'd worry so I left.
Of course I am going tomorrow again! hahaha
Pics of my baby (he's a wully bully cause it was literally a blizzard when he left! The staff were like "Umm... where did he come from?!" hahaha)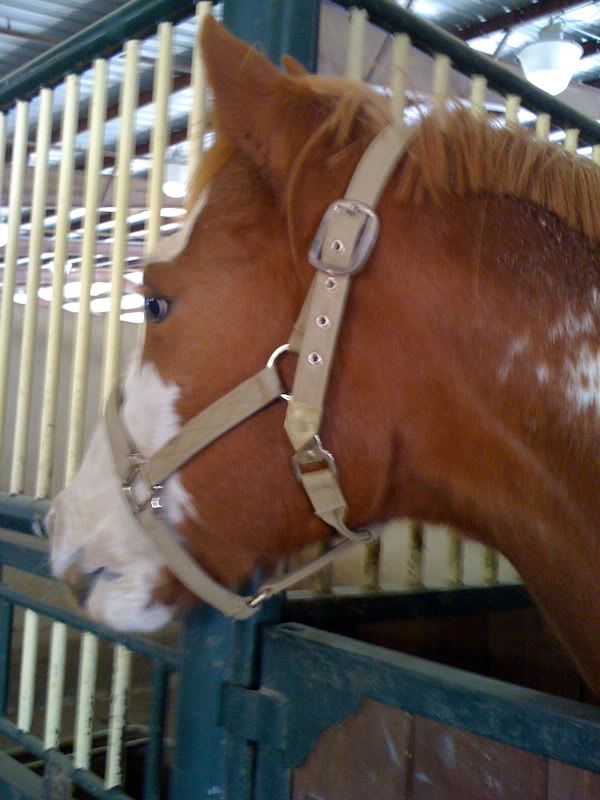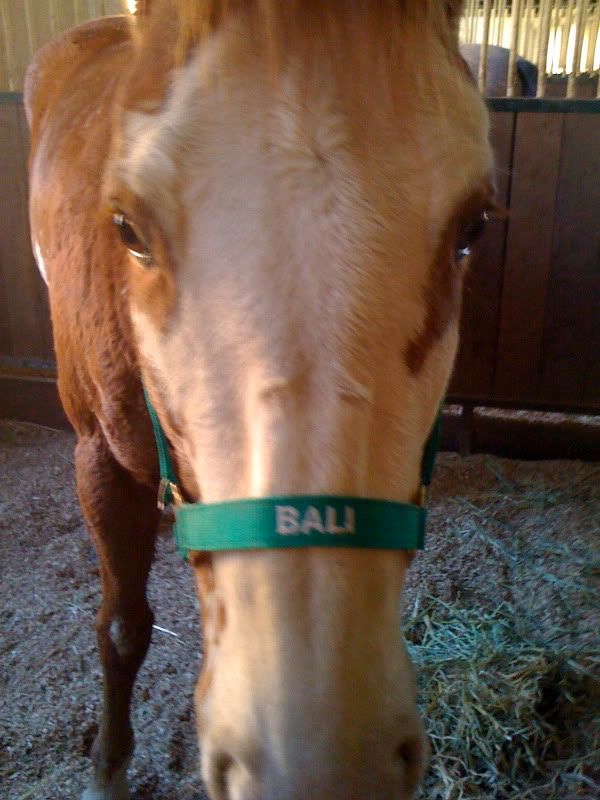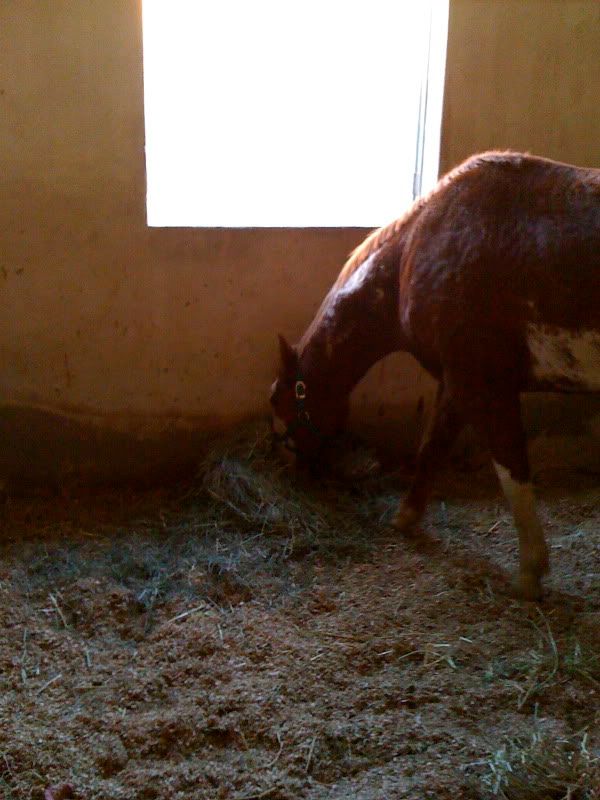 and for kicks.. a picture of the KICK TAIL INDOOR!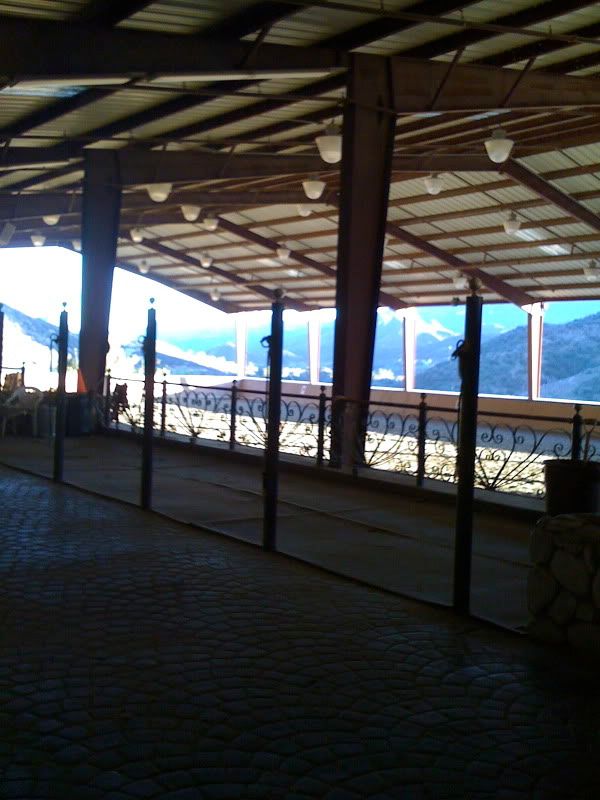 Sorry the pics are so big :-]
And thanks for being excited for me guys, I am exhausted but ready to go see him again already!
Do you think I should wait until he's settled more to ride him, or should I try tomorrow? I don't want to stress him out, he hasn't been ridden since May :( it would obviously be a walk and MAYBE jog...
---
Proud owner of 13yr old Paint Gelding, Bali! <3

I'm so happy for you! That's so nice of your mom to do that for you! I hope all goes well for you guys...by the way...he is STUNNING! =]
I can't wait to see better pictures of him!