*rant* Non-horsey Friends bought a stud-colt... (color/breed help as well, please...)
---
Some friends of mine have recently become the owners of a two and a half year old stud-colt named Dusty. He's a cute lil bugger, but I feel like they've fallen headfirst into a downward spiral of problems...
My friend is an older guy, in his forties, and his daughter/family... they're a few years older than I am. I've always been good friends with them, and willing to help them out... but... None of them have ever really been around horses and J hasn't been around horses since he was in his twenties (I'm just repeating what he told me yesterday).
My friend, J, got the colt for his three-year-old grandson. He figured that since the colt was for free, and already broke to ride (greenbroke... barely greenbroke), it was a good deal. They only lead people around on the colt, but even so, he's two and a half and a colt. Their neighbors have two mares, and they themselves are thinking about getting a mare.
J is planning on getting the colt gelded, but still...
So, the other day, they called and asked if I could come down, check the saddle, bridle, and check the horse over in general. I did. They had the bridle way too tight, the saddle way too loose, the blanket backwards, etc... The colt, though, seems like a nice little horse. He's a bit nervous, and not what I would have recommended for them at all, but he's not really 'flighty', just easily startled... jumps at fast motions, etc... He's a bit mouthy, but otherwise doesn't show any possibly dangerous characteristics... picks his legs up just fine, etc…
Yesterday, they called me back, wanting me to come check his bridle again. I got down there and they had him tied to a cinderblock in their yard, letting him graze. (I've done that before, but only because I knew that my horses wouldn't freak out over it and I was out there close by in case something happened… J and his family were on their front porch, way away from the colt and couldn't get there in time if something happened). J told me that he was really hard to bridle, and when I checked him the other day, he was easy to bridle, so I asked him to show me how he was bridling him. He did, and he had the bit all twisted backwards (he's using a grazing curb bit) and was trying to get it in Dusty's mouth by banging it against his teeth. I showed him the correct way to bridle, and he was amazed at how easy he was for me to bridle.
A little while later, J's niece (a few years younger than me) wanted him to lead her on Dusty. He did, and I was watching... He held the reins at the very end and pulled on him, hard, and the horse was going nuts, mouth gaping, etc... I had to show him the correct way to lead, etc... and mentioned that maybe he should look into buying some sort of snaffle, as it's obvious that poor Dusty dislikes the grazing curb. J agreed, and we talked about the saddleblanket and how it didn't fit right, etc...
At least he's more than willing to learn and do right by the horse... right? Sorry guys, I just am a bit frustrated...
So, anyway, on to my questions… I think he's about two and a half years old (he was advertised as a yearling, but there's no way, he looks older than a yearling and looks like my geldings did when they were two... I also think he's either an Appaloosa or a Walkaloosa... They're not sure, though... He's definately not a 'stock' breed, I don't think...
What do you guys think?
I'm also a little confused on his coloring… They're saying he's palomino, but to me, he doesn't quite look palomino… I mean, he does, but he doesn't…?
If you got through all that, then *cookies*... Lol... Sorry again, I just had to vent a little...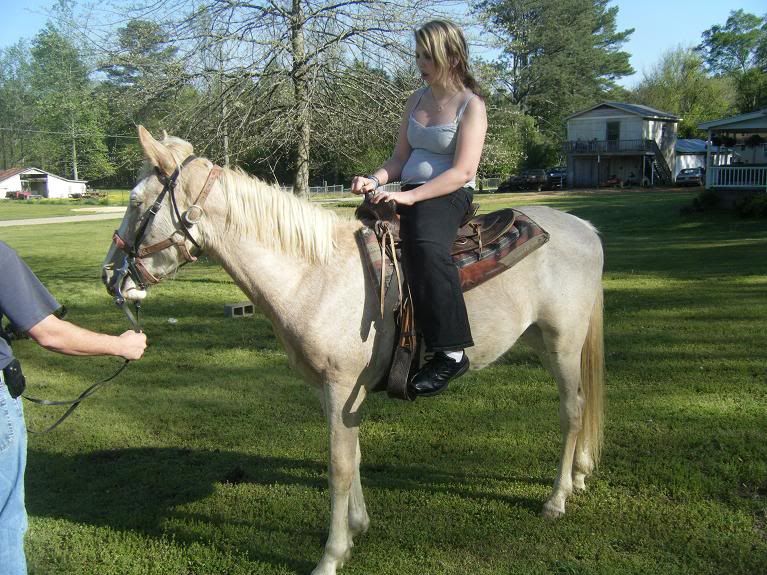 ---
Horseshoe Loop Farm: Home of Gypsie (22 y/o TWH mare), Dakota (10 y/o TWH gelding), Codie (18 y/o Walkaloosa gelding) & Harlow (9 y/o APHA mare)
Started
Join Date: Mar 2009
Location: Middle-of-Nowhere, Illinois
Posts: 2,225
• Horses:
1
Geez...
You're right. I think the first step in the right direction would be to geld him. And then buy him a snaffle. Poor little dude.
There's only so much you can do since he's not yours (obviously), but at least your friend is open and willing to listen to you. It would be a good idea to discourage them from getting another horse. It looks like they can barely handle
one
. I would also advise them about safety gear. A helmet and boots at least, especially on a greenie.
His breeding is bound to remain a mystery. Suffice it to say that he's some kind of cream-colored grade colt.
All I can say is, the poor little horsey would be in trouble if you weren't there to teach them. Good luck.
---
"A musician must make music, an artist must paint, a poet must write, if he is ultimately to be at peace with himself.
What a man can be, he must be." Abraham Maslow, 1968

Banned
Join Date: Jul 2009
Location: In a land far far away, or so I wish.
Posts: 12,825
• Horses: 0
Why are they even leading him with the bit. Let the 'rider' (I use the term loosely having looked at those photos) hold the reins and hook a lead to the halter.

Please tell me they have the gelding scheduled already.
They don't have the gelding scheduled yet... I'm bringing it up every time I talk to them, though, and they do plan on gelding him... according to them, he hasn't dropped yet,and I plan on checking next time i'm over there (probably in a day or so), and giving them my vet's number, along with my farrier's number.

I also do intend on advising them to get at least a helmet... they need it, especially the little three year old boy they got the horse for!

As for the leading with the reins, it's something all the horses out here are taught, but I did tell them to lead with the leadrope until they get a softer bit, etc... wait a while before teachig him that... wait until he's more used to a BETTER bit...
---
Horseshoe Loop Farm: Home of Gypsie (22 y/o TWH mare), Dakota (10 y/o TWH gelding), Codie (18 y/o Walkaloosa gelding) & Harlow (9 y/o APHA mare)
Not a palomino. Looks more like a strawberry roan of sorts. He definitely has roaning as well as the light mane and tail. He definitely needs muscle so i wouldn't suggest them riding him too much at that age (i would put him no older than 2 like you said).
By the sound of it he seems like a calm fella but they should get him fixed especially if he wants a mare because no offence to them, he's not breeding quality.
It's good that they are asking for advice & such. Just keep helping out like you are. I know what it's like to deal with nonhorsey people trying to own horses, especially young ones.
---
"If a horse fails to do something that is because he was not trained to do it. If a horse fails to do something properly that is because he was not trained properly."
www.wildestheartart.com
Hm... Thanks for the color insight, whatever color he is, it's odd...

The only 'riding' they're doing with him right now is leading people up and down the yard with him, and I think J gets on him and rides for about five or ten minutes every now and then...

They're aware that he's not breeding quality... or, well, they should be by now, after all, i've mentioned it plenty already, lol... They don't want to breed him, anyway... they just wanted a horse, and didn't look into all that stuff since he was free...

I'm planning on helping as much as I can.
---
Horseshoe Loop Farm: Home of Gypsie (22 y/o TWH mare), Dakota (10 y/o TWH gelding), Codie (18 y/o Walkaloosa gelding) & Harlow (9 y/o APHA mare)
Banned
Join Date: Jul 2009
Location: In a land far far away, or so I wish.
Posts: 12,825
• Horses: 0
I have no issue with lead a horse by the reins. I just do not see the point of putting a bridle on the poor thing just to lead someone around like that.


If he is 2 and not dropped yet they are probably going to be waiting a long time for him to actually drop.
Remind him that you want to geld when it is not the middle of summer.
i'm so happy that this colt has you around although i can imagine how frustrating it will be for you because he isn't your horse and so you can only make suggestions and offer advise. :(
Poor horse.
Honestly he looks palomino to me, but the person who said strawberry roan may also be right.
His breed? I don't know but whatever he is, I'll bet you anything it isn't purebred
.
Do they know anything about training a horse? (I do not have much hope for this as they apparently don't even know how to lead one, no offense to you of course).
Wow, I just want to say, thank goodness he appears to be so good natured and thank goodness they have you to teach them and they are willing to learn.

He does look very young, I would guess him no older than 2 but the size of his head might be throwing me off (if he's a walker cross, that would explain that).

I believe he is just a dark palomino with some slight roaning, maybe from an appy or possibly paint parent.