20th Wedding Anniversary! Update Photos
---
I can't believe its will be 20 years next week. Its been a fantastic ride and I look forward to the next 20 years
I wanted to share with you our plans since it is horse related.
My husband has made reservations at a horse bed and breakfast!
We're just spending one night, but plan on getting there early enough to get a ride in on the first day and again the next morning before we head for home.
Here is where we are going.
http://www.clovercliff.com/
We reserved the Princess House. Its only about an hour and 1/2 from us. They have stables and turnouts for the horses and lots of areas to ride.
I'm so excited that I get to share the day with the two things I love the most, my husband and my horse
I'll take lots of pictures and post them when we get home.
First day riding out with a couple of draft horses following us
Cows Vida Cows!
Tony and Fras
Theres a big cut out behind me where they cut the stone for the main house of this ranch back in the 1800's
Taking a break, they had stone troughs with spring water pouring in. I have helmet hair!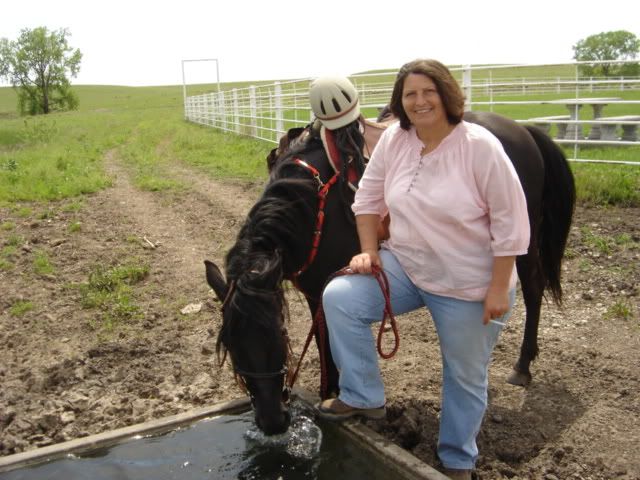 This is behind the water trough. They haul this wagon out and you can stay in it overnight. Not my cup of tea!
Just a shot of the prairie
They have 7000 acres to ride we made it about 11 miles the first day and about 3 the next. I'm tired
We had a great time though, hope you enjoy the photos.
Aww Vida that place looks amazing! It touched a warm place to know that you are so happy and are able to celebrate with both hubby and your two bestest buddies!
Congratulations for next week. Try to take loads of pics and give us the full story when you come back!
OH VIDA!!!!!!! That place is stunning!
I offer you a sincere congradulations!!!! (((((hugs)))))
I am working on my 6th year and some days... wow...I hope to be in the same place you are in 14 yrs from now!
If I had confetti I would throw it in the air and let balloons and doves fly! (but that might spook the horses
)
Again! Congrats!
oh wow! that's a really lovely place!
Congrats Vida on your Anniversary!!!!!! Happy a happy one
This was only the 2nd time we have stayed in a B&B. I have decided its the only way to go. So much nicer than a nasty old hotel. This one was full of antiques, even old quilts on the antique beds. There was one with 1909 embroydered on it I was afraid to touch it! Just a really lovely place to stay.
---

"Until one has loved an animal, part of one's soul remains unawakened..."
- Anatole France
Happy 20th Anniversary! That in itself is a huge feat nowadays! And it looks like you realllllly enjoyed your ride. We are all jealous!
And congrats on the gallop by the way.....I am not afraid to admit I am too chicken to let my boy loose past a canter.
Wow that place looks amazing. I'm so glad you all had a great time. And Vida, I love your hair!!! You've had it cut.... it looks gorgeous!
Many congratulations again.
Congrats Maureen! Looks like you, your hubby, and the ponies had a fantastic time together!
And the place looks just beautiful and very romantic!
My husband always runs around bed and breakfasts looking for hidden cameras because he just kNOWS they are taping us! LOL...

that place is so pretty! You get to be a "pretty princess" for the weekend! How awesome. You are so spoiled!
That's wonderful, Vida!! Congrats!! Looks like you had fun!
---
The lovely images above provided by CVLC Photography cvlphotography.com