At least it's not a broken bone?? A reason to have someone give you a massage?? A painful reminder of why we love our horses so much?? hehehe
I think I'm coming down with whatever Robert has. The back of my throat is starting to hurt and and my sinuses are starting to get all stuffy/drainy/mucusy/meh.
Posted via Mobile Device
---
Quote:
Horselovin, glad you are feeling better.

So can someone please help me find the positive in a pulled muscle? My little project mare is very quick and she was being a dingbat.
Thanks! Be glad that nothing is broken, I broke and dislocated my ankle almost 2 years ago, not fun at all!
---
Being horseless is the pits!!
Quote:
Originally Posted by
DraftyAiresMum
View Post
I think I'm coming down with whatever Robert has. The back of my throat is starting to hurt and and my sinuses are starting to get all stuffy/drainy/mucusy/meh.
Posted via Mobile Device
Thanks for sharing that bit of information just after i had finished my evening meal
---
My blog
foremyhorse.org
you may enjoy the read. Its different.
Quote:
Thanks for sharing that bit of information just after i had finished my evening meal
Didn't make you read it, Stan-the-man.
I'm contemplating staying home from work. My throat hurts so bad. To the point where even thinking about talking makes me kind of almost panicky.
Posted via Mobile Device
Feeling bad for those that are sick or have sick kids at home. Nothing worse. Lucky for us our Flu season is mostly over. We didn't escape it totally this year but it wasn't too bad.
I can't ever stay home from work though, I end up trying to get too much done at home and don't end up resting or feeling any better.
Drafty- get a magnadoodle or etch-a-sketch and write everything. Maybe they'll just send you home instead of having to call in sick
---
Riding: The art of keeping a horse between you and the ground. ~Author Unknown
Just wanted to announce that it appears spring may have finally sprung in ND! I think this will be our first day over 42 (at least in my town) yet this year. I can hardly wait for the work day to end, so I can get home for some quality time with my ponies. It is currently 55 degrees and I don't have to talk about wind chill at that temp
Also, I need to practice with my dog tonight for our 5th class of puppy school tomorrow. My homework was to trim his nails, and I haven't done it yet
Here is Hoss!
He helps with chores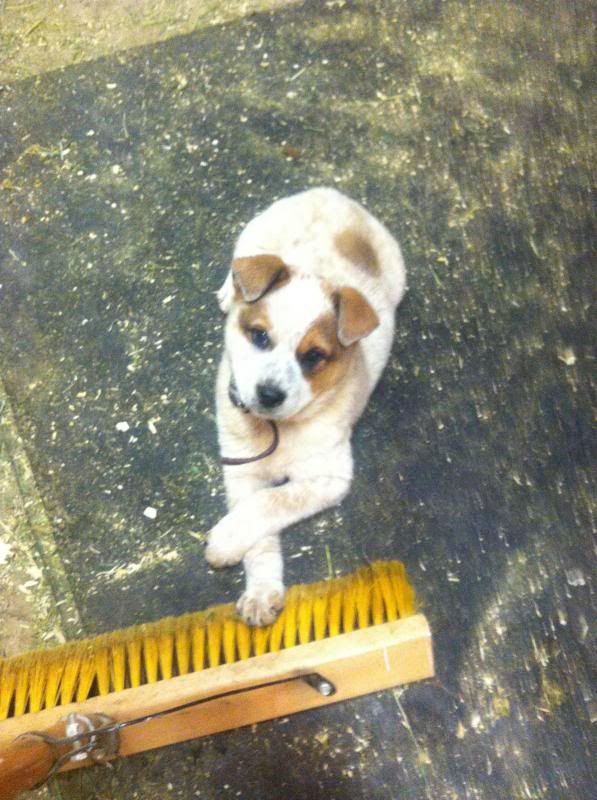 He plays nice with others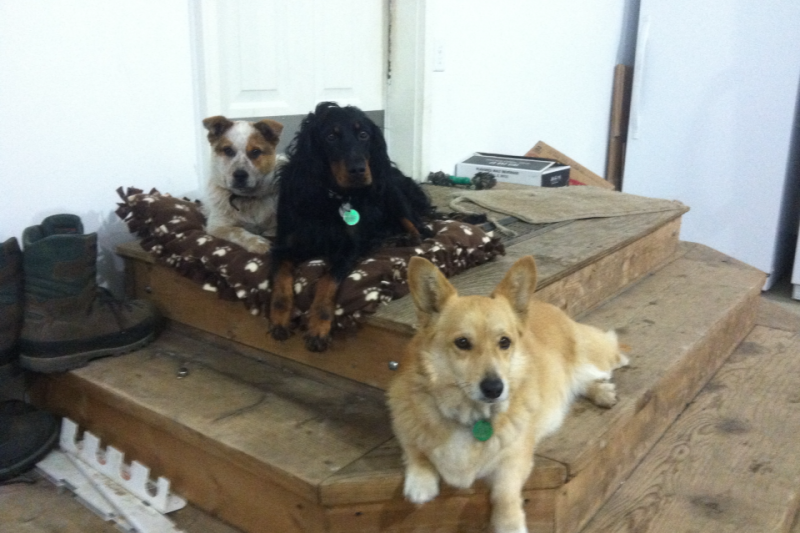 Best of all, he prefers kissing horses to herding them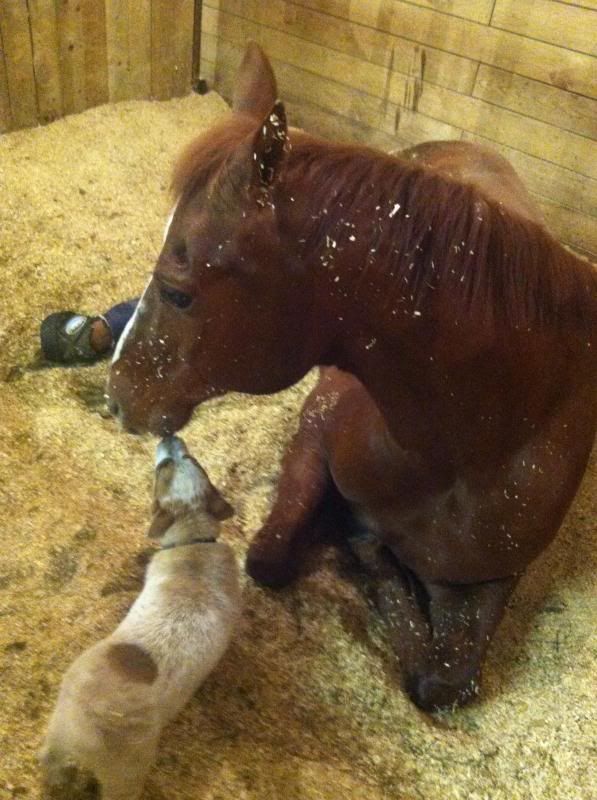 Ems: hatching is my favorite! I've only hatched chickens but how fun to have goslings. Post pics when they are all hatched.

CCH: Hoss is a very helpful pup for sure. And props to you for taking him to a puppy class. Also, groomers and vets everywhere say thank you for teaching him to be good with his feet at a young age. Clipping his nails and picking up his feet are fantastic things to do with a pup. A very handsome pup at that.
---
Riding: The art of keeping a horse between you and the ground. ~Author Unknown
So, I got to deliver a car to Phoenix today with one of the salesmen who is a friend of mine (Phoenix is about an hour and a half south of us). On the way home, we talked about my business idea. Steve thinks it's an amazing idea and thinks there's a lot of money to be made doing it. He was a business major in college and has started several successful companies, so he's going to help me draw up a business plan, do market research, and make up a spreadsheet to show costs and potential profits (he used specific labels for them, but I can't remember them).

Is it bad that I was giggling gleefully when I came back from Phoenix, clocked out for the day (an hour early because I didn't get a lunch cuz I was on the road), and there were two service customer cars sitting outside my bay waiting to be washed...and I didn't care? Lol. They were still there when I went back to pick up one of my coworkers to go home (we car pool). *chuckles evilly*

CCH, Hoss is freaking adorable! What is he? He looks ACD/corgi. Lol

Ems, the goslings are adorable! Love the pic of the wee one peeking out at you from the egg. Are they all hatched? New pics?
Posted via Mobile Device
---
Last edited by DraftyAiresMum; 04-26-2013 at

09:32 PM

.