OK, I know i'm leaving loads of things out... internet has gone wonky at home so i'm popping on for two seconds at work.

Mandy - love love love the hair!! Stunning.

New tractor - Yay! Yippee for new "toys"!

Gallbladder - Never had trouble with mine, but hope you feel better soon Paige.

Demon - Hang in there! Somethings got to give eventually!

DD has her first ever riding lesson without me today!! - there is a riding school about 1.5 miles down the road from the yard so she is going to hack the pony down. She is super excited... I'm in a bit of a panic to get out of work, collect her, get to tack shop (needs new jod boots and stirrup leathers), get pony caught, tacked up and to lesson on time!

Bit of a moan here (sorry!): I'm after getting somewhat annoyed with some of the other "horsey moms" i know... they are all racing people and have no interest in getting a pony for their kids. I let one out last Sun to ride Nod, and she approached me yesterday to ask if she could come out today. I dont mind letting the child ride every now and then, but by no means will I allow somebody else to get a freebie pony riding experience when I have to pay for it.

I was then annoyed with a good friend of mine. I text her and let her know about lessons - her daughter could get into same lesson as mine. Gave her prices, ect and she seemed keen. Several hours later she replied that they would come watch DD and sure her child could hop on our pony after..... after 22yo pony has hacked back and forth, and taken part in an hour lesson. I wouldn't do that to the ol pet.

I'm paying for livery and lessons - to do so I am working two jobs. I'm just somewhat (not hugely) annoyed they feel entitled to just use our pony on a whim. My parents didn't have money for horses growing up, but I mucked out and worked to ride.

My paycheque from job #2 has fixed itself - yay! for last weekend I have come out with exactly the same as weekend before - annoying i lost a week but i'll survive. Managed to get 2 hrs sleep last night as wanted to come into job #1 early to get out early, busy busy busy! :)

Hope you are all doin well, *hugs* to all goin through tough times and speak soon! Day off tomorrow! yay! :)
---
Stop for a minute, open your mind, learn. You may not agree with what I say, I may not agree with what you say but we will both learn something new.
I'd have been a bit annoyed with your friend too Maple. How did the lesson go for DD?

DD turned 8 today. Makes me feel a bit old! Time has flown by. Being a true farm girl, when asked what kind of cake she wanted me to make for her she asked for a rhubarb pie instead of cake. She's totally my kid. We're having a late night with her and heading out of town to watch Epic in 3-D. It plays at 9 pm...bet she is asleep before we pull out of the theatre to head home lol.
---
Life is like a camera. Focus on what's important, Capture the good times, Develop from the negatives and if things don't work out, Take another shot.
Happy birthday to DD, Mandy!! My son is nine, so I know how you feel about feeling old.
I'm just not gonna get into my weekend. Yesterday was okay, but today has been hellish. Robert is feeling shunned and left out by his brothers, so he's taking his pissy mood out on me. I finally got fed up with it and told him to stop with the attitude, that it's his brothers he's pissed at, not me, so he needs to stop taking his bad mood out on me, and until he can do that, I'm just going to leave him alone. So now I'm hiding out in the back room (which is finally almost empty!!) because his entire family is here and I don't want them to see me crying.
Posted via Mobile Device
That stinks Paige. Hope it gets better.
---
Life is like a camera. Focus on what's important, Capture the good times, Develop from the negatives and if things don't work out, Take another shot.
Happy big 8 to DD! I have one turning 7 in a week. Where does the time go?

Ran into my oldest's bestie and her family at the store a bit ago and they invited both the girls over for a cookout tomorrow. And Mitch is working a 24 hour shift tomorrow! I will have the house to myself for a whole afternoon! I may actually ride! If only my pool was set up. Oh well, I'll take what I can get.

In other news, Striker and Phantom decided to go walk-about yesterday. Little punks. Broke my fence at the very back of the pasture to get to one tiny patch of grass, even though the one they were in is chest high in grass ATM. They couldn't figure out how to get back in (you could tell from the tracks that they tried) so they wandered through the woods up to the road. Two good samaritans pulled over and caught them by their fly masks and sent another guy door to door asking. Crisis averted. They didn't believe me when I told them Striker couldn't see. He was cool as a cucumber the whole time. Lol. My neighbor helped me walk them home and stick them in the barn. So now I have one pasture again, and its back to rotating in 12 hr shifts until I get fence fixed.

ETA, hugs Drafty. I would have done the same thing. I can only take so much pissy attitude before I snap on someone. I swear, boys PMS worse than us girls ever dreamed.
---
"Keep a leg on each side and your mind in the middle"
---
Last edited by apachiedragon; 05-26-2013 at

09:41 PM

.
Happy birthday to DD Mandy!

Lesson was... a disaster :( This is going to be a long one...

Her nerves completely took over, resulting in Nod getting a bit fresh for her. Took her down to their arena about 10 min before the lesson, led them around a few times and she went perfectly fine off the lead then. The other 3 kids all arrived down, and she is by far a better rider, but the nerves were a major major roadblock. The instructor kept shouting to me "is that pony going to take off" - ffs, that thought wasn't in DD's head until you shouted it you silly mare! Nod isn't going to take off, Nod is a show pony, she has a fantastic step and strides out, and due to this she is quite speedy. DD kept refusing to use her neckstrap, resulting in her pulling the poor face off Nod... resulting in Nod resembling a camel. Instructor quizzes me about something being wrong with the pony - instead of try to teach DD to bring her hands down she was convinced something was bothering the pony. About 1/3 of the way through the lesson she asked one of the kids to lead Nod (remembering taking off pony) and the girl kept clucking to Nod... which was winding Nod up, I then went in and took over. As soon as i went in and stuck the lead on, calmed down DD, the head came down.

I have really really really struggled to find instructors in this country who i feel are up to par with the quality/mentality I experienced back in Canada... where we learned to walk, then progressed to trot (rising and sitting), then to canter, and then jumping. She had these group of kids getting into jumping positions and trotting over a pole when not a single one of them could comfortably walk or trot a horse off the lead. *sigh*

Not once was there instruction of leg position, hands, heels... anything. It was like somebody just standing in the middle of the arena telling them to stop, go and change direction. I wanted DD to get into a lesson as I wasn't happy with her legs and hands and she wasn't listening to me. Both the instructor and BO thought she was a lovely rider, and had a fantastic seat/position which is nice. If I could just get her confidence up that she feels ABLE to do these things I would be happy. We had a chat today, and will be heading out to ride this afternoon, I have told her she needs to have more belief in herself as she is better than she thinks she is - heck not everybody comes away with 2nd place in both her classes at their first two horses hows ever.

I'm going to try and make today as fun as possible - plenty of games to keep the mood light as I think she is getting frustrated with herself. I need to bring the fun back. We only have 13 days til the first lead rein show of the year so we're going to take a step back these two weeks and get her smiling and happy and content. She is happy on the lead rein, its her security blanket, the tough part is deciding when and how hard to push to move her out of her comfort zone to progress to the next level.
---
Stop for a minute, open your mind, learn. You may not agree with what I say, I may not agree with what you say but we will both learn something new.
No kidding Apachie. Where does the time go? It seems like we brought her home yesterday. 8 years sure has zipped by. It can slow down anytime and just plain stop before teenage years hit. Lol.
Glad your boys didn't get hurt on their walk about. Grass is always greener lol. I started running the tractor and bush hog over my pastures yesterday. It was pretty darn tall. I've had a hard time making myself mow it after the drought last year but my spoiled butt horses won't eat in an area if anything has a seed head on it, smart that they do that and don't get seeds in their eyes or a bunch of pollen but I think about horses that don't have any pasture access and would love what they pass up. I'm about to give them a "there's starving kids in Ethiopia" speech like my dad used to give me
Maple, I forget, how old is DD? I have lots of game ideas that I'd be glad to share that I do with my little riders. I'd be very disappointed, more likely pissed, with that lesson too. I hear that type of complaint quite often and I just don't understand how these people make a living, they certainly can't have much of a student retention rate. I couldn't sleep at night taking folks money to basically be a ring steward/announcer. Sounds like a "Walk your pony. Reverse and walk. Trot." That's not teaching, that's supervising.
---
Life is like a camera. Focus on what's important, Capture the good times, Develop from the negatives and if things don't work out, Take another shot.
Soooo much to comment on after missing three days, and now being back in the land of the living, quite literally!

I'll go in reverse:

Maple: I have to say that I would have given a LOT to have a horsey-mom that is committed and devoted to not simply me riding as a kid, (which believe me, would have been enough!) But, riding well, having confidence in myself and my horsemanship, and seeking out great instruction...though honestly, I think if you and DD can get to a place where you don't play off of each others frustrations, YOU seem to be exactly the "excellent trainer" she needs...especially because as MOM, you know ALL that "hangs her up" & what no doubt motivates her! My hope is honestly that she can continue to learn from you; @ least until you find the RIGHT trainer to take over...hope the cold is gone and was quite happy to hear your pay situation fixed itself!! :0)

Apachie: so thankful both horses are back safely at home! Loved the part where you wrote that you could tell that they tried to get back into the part of the fence they broke through but couldn't figure it out! Brought all sorts of very cute horsey images to mind! Thank God for good samaritans who understand the importance of assisting two lost horses in finding their way to the correct home! (rather than someone just calling animal control, probably giving the horses a terrifying trailer ride to some animal holding place while you searched the world for them, or worse...some horse theives, etc...!).

Paige: totally hope you're feeling better and Robert's ranting was temporary! That is tough... Chin up, however, as so many good things are in store, and just think, you'll get to enjoy in all with your neutered, NON SPRAYING KITTY who is a HUGE "you" fan...that's a great thing!! Also, I somehow spaced you telling me way back when about your son! I apologize, as I had thought for the past little bit that you did not have kiddos!! He lives with dad most of the time, am I right, or am I losing what little memory I have left?? Do you have visitation this summer?? That will be super if so!! My son finished his SOPHOMORE YEAR THURSDAY!! I cannot believe it! He's a bit pissy knowing he WILL BE STARTING A PART TIME JOB THIS SUMMER, especially since with the economy as it is, in Tucson, all the cool teenager jobs are literally taken by 35 year old men and women trying to support their whole families on these fast food place/mall jobs (breaks my heart to have adults, just like my husband is [!] working for those wages...though his job is as a laborer building barns and welding arenas and fences, as he'd tank any company in a mall or store in five seconds, Haha...he has ZERO SALESPERSON IN HIM!!( chuckles quietly to self as imagining DH working at The Gap! Haaaa!)

Oops, be back soon. Must go investigate what animal or person (yup, my gun IS in hand) just landed heavily on my shop roof???
---
"I'm too busy working on my own grass to notice if yours is greener"
B2H, hoping it was an animal, and not a big one! I hate hearing suspicious noises that I can't identify right away. I had a scare several years ago when it snowed overnight. There were a set of large footprints from the road across my side yard to my bedroom window and back to the road. So someone with very big feet chose a night that Mitch was at work to creep up and look in my window at night. If not for the snow, I'd never have known. But now sometimes I get on edge for no reason at all.
And yes, thank goodness for good people stopping to help. It could have ended up far worse. I must have thanked them a dozen times.
Maple, I know how it is with DD. My youngest took a couple spills when she was just starting and it shook her confidence. She stayed on the lead for a LONG time. Just in the past couple weeks has she got her nerve back enough to trot without me holding onto her. I tried very hard not to push, and she got there. She is still nervous, but she rode Phantom all by herself for the better part of an hour yesterday while I sat outside the arena. Her sister is a different story. She will ride anything, anywhere. I hate finding a good instructor has been so hard for you. I feel like equitation sets a good foundation for everything else.
Here are a couple pics of Serenity riding Phantom yesterday. If I can keep her hands down and keep her out of his face, we will be in good shape. She does good and then she forgets, lol.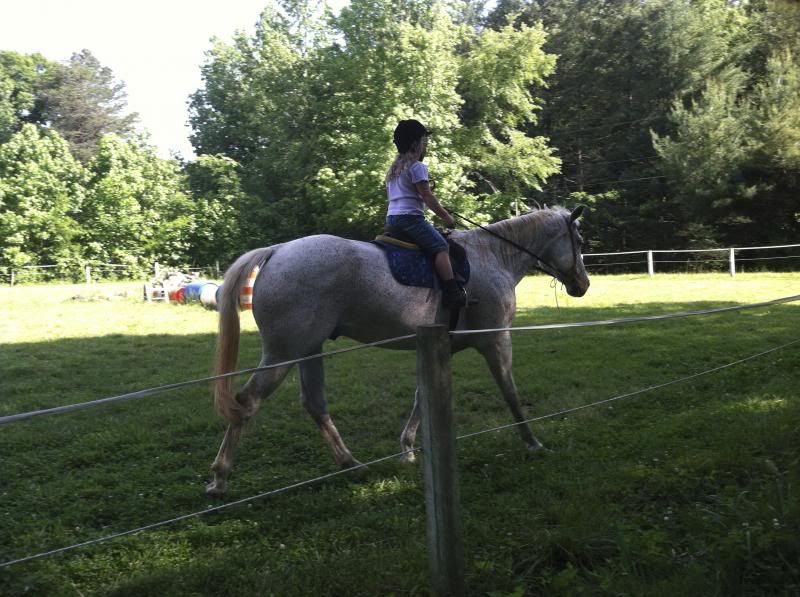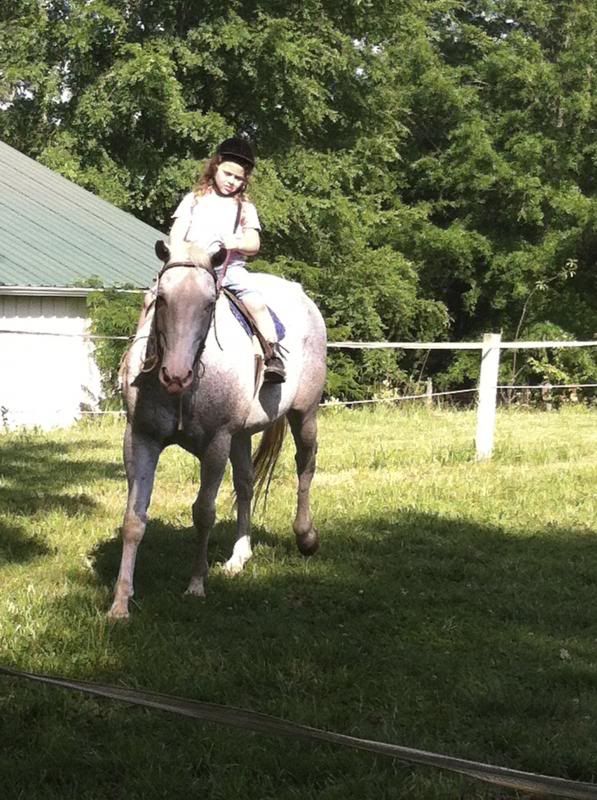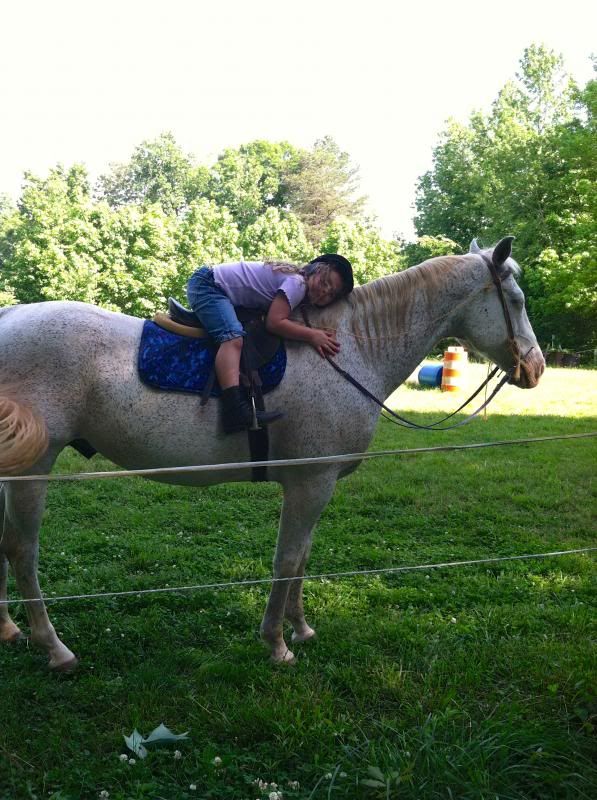 ---
"Keep a leg on each side and your mind in the middle"
Quote:
Originally Posted by
Back2Horseback
View Post
Oops, be back soon. Must go investigate what animal or person (yup, my gun IS in hand) just landed heavily on my shop roof???
Sooooo...what was it?
Cute riding pics Apachie. It's so much fun to see/watch kids & their horses at that age.
Now that school is out, DD has one chubby Stubby to get in shape to show. Love that ornery pita pony, he is such a mischief maker on his own (he's a Houdini with a Napoleon complex) but is one of those one in a million show ponies that is truly a jack of all trades. I really anxious to watch the two littles rock their showmanship & horsemanship patterns at their first show
She may choke me for posting this but I'm the big sister and too bad haha.
Here's my sister with Stub back in the day
IMAG0610.jpg
IMAG0602.jpg
IMAG0609.jpg
Annnd, a random that was in the same folder as the Stubby pics. This is me and some less than stellar equitation over a fence.
Horse is Jana, my now old bossy redhead. I was riding her mainly as a reiner then but also jumped and boy could she nail a timed jump off!
IMAG0611.jpg
---
Life is like a camera. Focus on what's important, Capture the good times, Develop from the negatives and if things don't work out, Take another shot.