Beau foundered
---
Ok, so we sent Beau to a cooler climate for the summer because he foundered twice last year. Well we had switched farriers because of the drive well long story short he didn't listen to us and shawed(sp?) him wrong and his coffin bones started to rotate again according to x-ray we had taken. The vet said don't worry about it for right now we will leave him on stall rest and with some Bute. So we have been doing that but we have had to rely on someone else to do that for us because he is so far away from us at this point as it is too hot too bring him back down here. So yesterday morning my mom gets a call from the gal that works for the friend that we him have at. She tells us that he is stiff and can't walk, he almost fell on her. So we call are vet out there and let him know whats going on and we pack the car up and head out not sure what were going to find when we get there. So fast forward 2 hours. We get there and Beau is in his stall, vet gave him Bute, Ace and a mild sedative to make him comfortable. So it is confirmed he has foundered again. So we sat with the vet and talked he said it looked like we caught it early enough. The vet said if he wants to lay down let him. Well I was in his stall after I put 7 bags of shavings in there. I sat down and he came in and I was petting him and he layed down so I sat with him for about 45 min or an hour or so and took some pictures.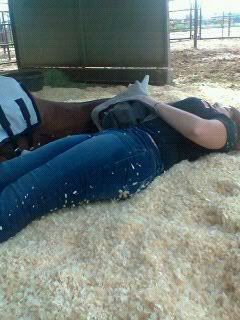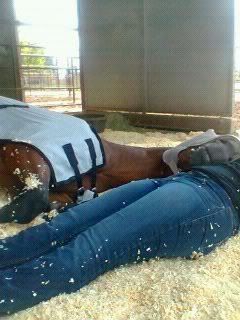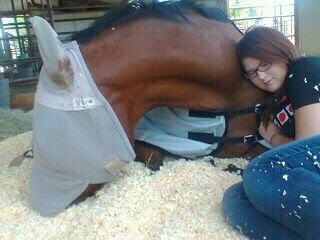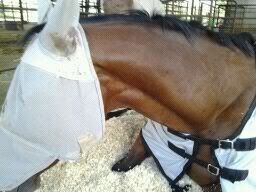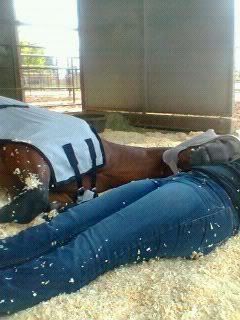 Banned
Join Date: Jul 2009
Location: In a land far far away, or so I wish.
Posts: 12,825
• Horses: 0
Cute photos. Fingers crossed the damage is minimal.
Kudos to you for going to so much trouble to make your boy comfortable.

Wishing him a speedy recovery!
Posted via Mobile Device
poor thing. cute pictures! I see the bond between the two of you :)
Poor guy :( hope he feels better quickly!
Posted via Mobile Device
Thank you everyone. I grew up with this horse.
I hope this doesn't sound smart-aleck, but poor shoeing won't make the coffin bones rotate. Rotation's caused from the laminae that attach the bone to the hoof wall weakening and causing sinking and/or separation. He maybe should've cut some heel off to re-align the coffin bone and short pastern bone, but the rotation wasn't his/her fault
poor baby, he looks like such a sweetie pie too.