Beauty isn't everything.......
---
Hello everyone.
I'm starting this thread because some people think a beautiful horse is the bets kind you can get. But Beauty isn't everything..............
I have a pony called Spider. He is only 3. And he sure is the looker but he can be a little rascal.
Some people say that there beautiful horse is the one that gets them first place in every comp. That isn't true. I mean it is for dressage, but not for everything. So If you have a scraggy little pony or a old horse and you think they are the best horse even if they do look a bit old or hairy. You still love them no matter what. Put profiles of your horses/ponies on this thread and I will too. So we can show all those Show ponies/horses out there our loyal and kind little or big friends.
What a nice idea. I agree, that pretty is as pretty does. I've seen stunning horses being the worst horse for their riders, while I've seen the most horribly conformed horses be the best confidence boosters, teachers and friends a rider can have.
Beauty is in the eye of the beholder.
This is Nelson aka Quantum Leap. He is a 16ish year old OTTB that stands 16.3hh. I think he is the most beautiful horse ever and no matter what, he's alwasy my Super Hero.
He loves to jump, he loves to gallop and feel the wind on his face. He loves cookies, especially Aunte Em's Cookies *we call them horse crack* and thoroughly enjoys hanging himself out all day for all to see. He doesn't care. He says "if you don't like it, stop staring at it"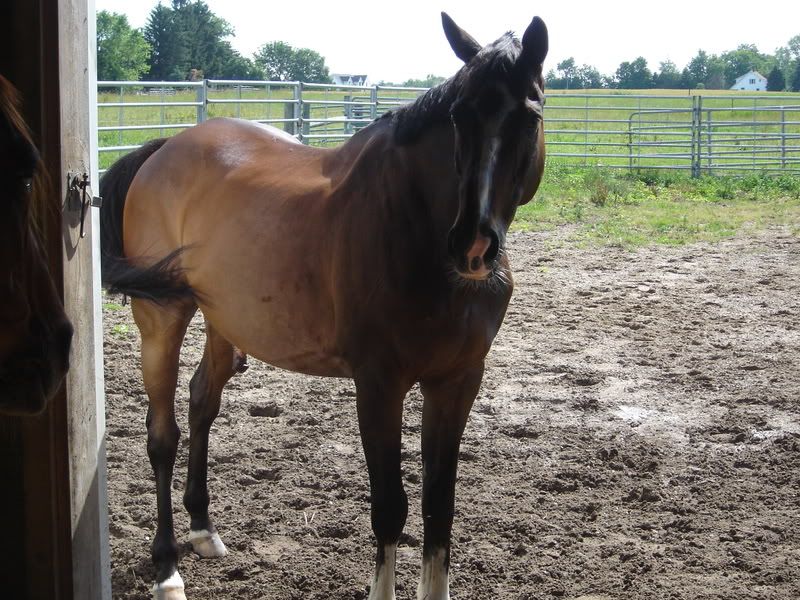 ---
I agree completely. I've never paid much attention to my horse's looks besides decent conformation. Personality is what seals the deal with me. Zeus is the most expressive and hilarious horse that I have ever met. And I'm closer to him after just three months than I've ever been to a horse. He's my life, he's what gets me up in the morning, I plan to keep him for the rest of his life (hopefully).
My boy. Who I think is the most gorgeous horse ever.
Just yesterday... gotta love him.
---
I give myself very good advice, But I very seldom follow it
Here is my boy Spider. In this pic he was 2 now he is three and he has grown alot! He is now 14 hh and he used to be around 12.2 hh. I love my boy. I may take into dressage and Jumping whether he looks nice or not! I don't care, I just love him. Here is a link to a page with a picture of him(It is a bit big!)
IMG_5232.JPG (image)
What a good idea!
My horse Remington is a 7 year old, 16 hand, red roan brabant,and in my opinion, the best horse I've ever met. He's not the most talented, or graceful horse but he makes up for that with the best personality/ temperment. He rarely refuses to do anything I ask and I love him more than anything <3.
His hobbies include eating and making himself very dirty so I have something to do on a daily basis lol :).
I don't have any pictures of him on the ground because of a lack of camera