This is my bou a week after I brought him home.
A month later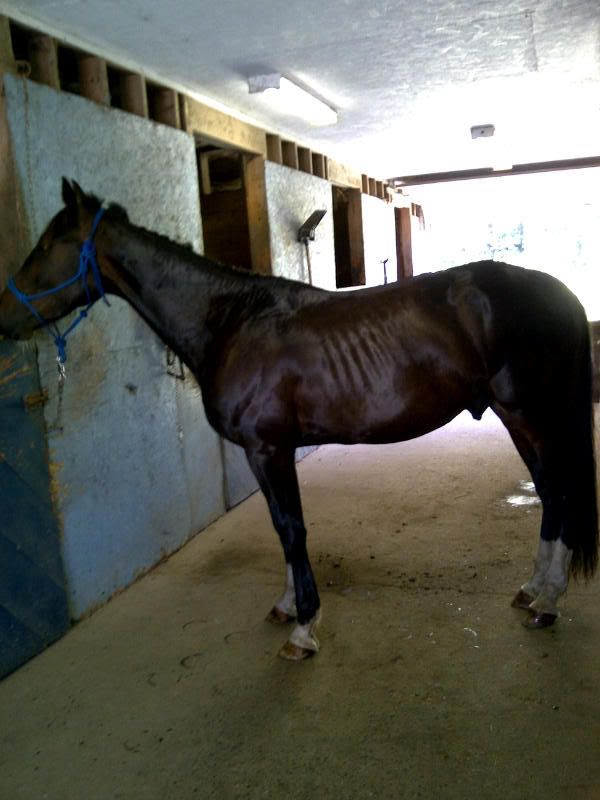 Almost a year later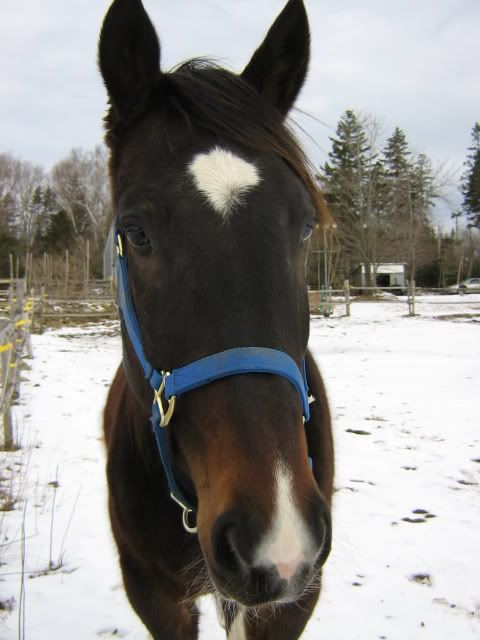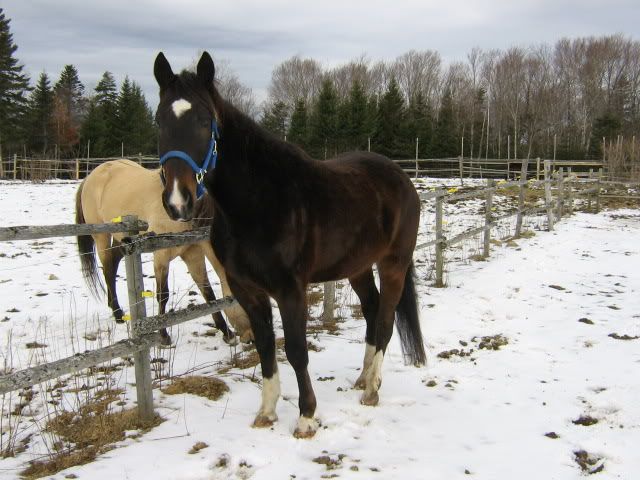 gothicangel69, he has such a cute face!
Quote:
You have done a wonderful job getting your mare back into shape, but her rope halter is not in the correct place. If she were to pull back she could break her nose. I would hate for that to happen.
Thank you. I just bought her another halter. I got a tiger striped break away halter. I wasn't able to adjust her rope halter anymore due to her pulling away real hard once and tightening up all the knotts. I was lucky and she calmed down quickly and didn't hurt herself (that time).
Quote:
This is my bou a week after I brought him home.
A month later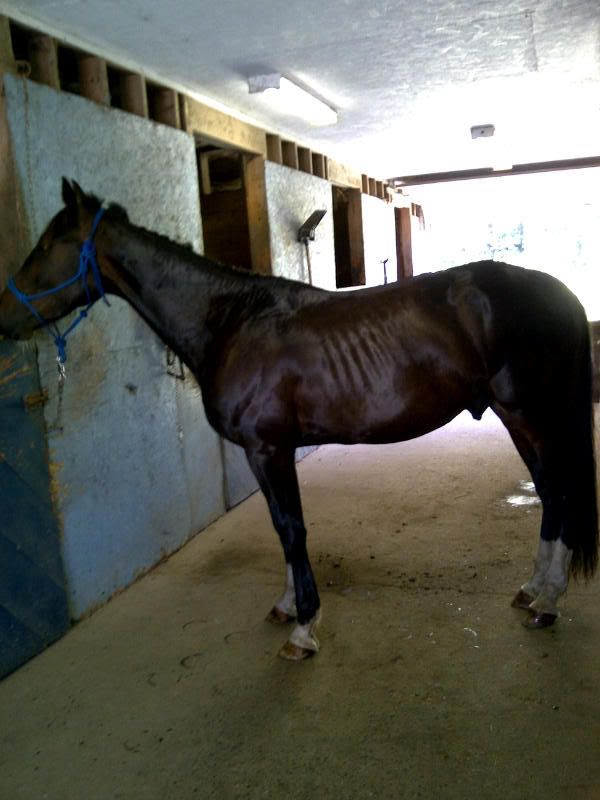 Almost a year later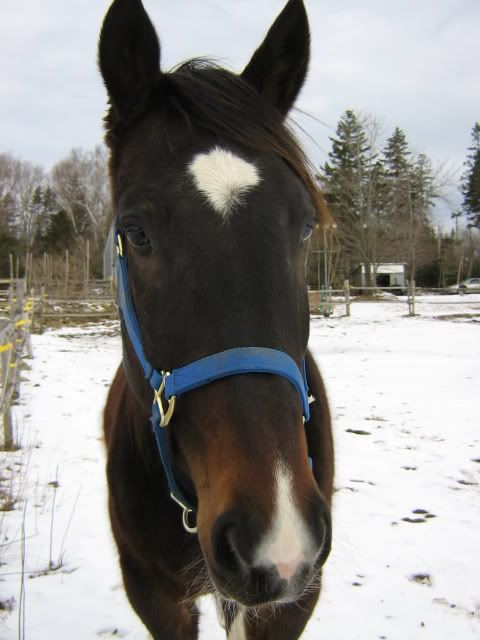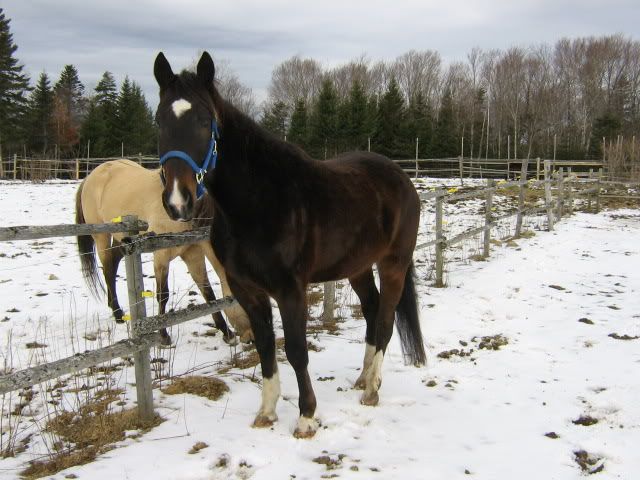 He looks good! Just make sure you tie your rope halter correctly. The knot should be around the loop and not above it. If he ever pulls back the only way you'll get that halter off is to cut it. :)
Posted via Mobile Device
Hank last summer:
Hank this spring:
Hank looks soo much like an appendix i work with named talladega. Pretty boy!
Quote:
Hank looks soo much like an appendix i work with named talladega. Pretty boy!
Thank you! I got him from a TB rescue, but I'm beginning to wonder if there's something else mixed in besides TB...he looks a little compact to me. Plus, all my animals end up being some weird mix so I guess it would be par for the course :)
This is not my story, but I have permission from the person it belongs to, to post it along with the pics. I will just use the first initial of the person involved. This is copied and pasted from post on my other chat room.
Sorry for the long post, but it's a story that needs to be told. "T" deserves her own spot in Heaven for helping this horse, and others.


Let me start at the beginning of the story. A few months ago, "T" bought a retired harness racing horse, the daughter of a mare she has owned for a few years. She arranged for the horse (Molly) to be broken to saddle by an acquaintence who "T" hadn't seen for a while but she had seen her work with horses a few years ago and trusted her. "T" transferred the sum of $300 as a down payment. Before she could start her retraining, Molly caused an injury to "T" that required hospitalisation and she decided to sell her on. Tiff had been emailing the trainer asking for the return of the money but it was never forthcoming. Eventually, last weekend the trainer phoned "T" and asked if she would take one of her horses instead of the cash. "T" figured she was never going to get the money back so in order to retrieve something from the soured deal, she agreed to accept the horse offered, a brumby mare... unbroken, unhandled.

Today "T", her boyfriend "T" and a girlfriend "B" went to the property the collect the brumby. What she saw was like a nightmare. The brumby was in a small paddock (devoid of any vegetation) that she shared with the carcuses of four calves. There were 30-40 horses around the property, most of which were in bad condition. The property also had numerous dogs running around that were feeding on the dead calves. "T" said the smell of death was overpowering and all she wanted to do was take the brumby and get out of there. She could see dead animals in every direction.

"B" has contacted the Australian equivalent of the ASPCA who will go to the property tomorrow morning and take appropriate action.

I've uploaded photos of the brumby which we've named Grace.

Grace will take a lot of work and she's very fearful. Between "T" and "B" they will hopefully gain her trust to allow them to clean her up and feed her three times a day as well as grazing in paddocks lush with grass. I cried when I saw this little mare. She deserves to be given a chance.

Grace also was nursing a foal when she was rescued. The "owner" refused to give the foal up, and it was reported as having to be put down, just a couple days later.
The before and after pics are dated. Starting April 2011, Last April 2012. Amazing recovery. She now also has 2 more rescues Gladys and Dexter. I don't have any after pics of them yet.
Gladys is a 13 year old 16.3 hand thoroughbred... raced under the name of Lady Papadam. She turned up at the local horse sales in bad shape. She had small wounds all over her, most likely because of an argument with the other horses in the truck. She was dripping milk having had her foal removed that morning. "T" purchased her for $190 and set about 'repairing the damage'. When "T" arrived with her, Gladys drank a full bathtub of water... not sure when she last had a drink. She was wormed the same day with the expected result. The next day the vet visited and said she was ok, just underweight. The masseur came to pamper her a little but suggested that she needed an equine chiropractor. He came within a couple of days and found that her hips were dislocated from having a large foal and she had a bone out of place in her neck. He worked his magic and fixed both problems and now she's so much better. She will need regular worming and a lot of food to bring her back into condition. She's very sweet and loves being groomed and fussed over.
---
Last edited by nuisance; 04-13-2012 at

04:51 PM

.