Best and worst traits?
---
I am bored here at work today and thought it could be fun for everyone to post their main mounts best and worst traits! I'd love to know breed, age, and maybe even see some pics as well(I know, let me twist everyones arm...lol). I'll start...
I have a 4 yr old Rocky Mountain Horse/Morgan gelding named Legends Captain Jack.(Jackson or Jack around the barn). He's 15.1hh, mahogany bay, and a very, ahem, solid boy,lol.(Mama was foundation gaited Morgan and he takes after her ghetto booty)
I would have to say his best trait is his intelligence. I swear to you, the problem solving abilities he has are mind blowing,lol. There is not a gate, door, or knot he can't work out, I finally gave up and bought a padlock to keep his bucket on the wall in his stall after replacing the three he took down and demolished(he's boarded and the BO was getting irritated about fishing bucket shards out of the bedding). His mind is always working, and he loves to learn new things whether I would want him to learn them or not,lol. If I had the inclination he could be a trick horse with very little effort.

His worst trait goes hand in hand with his best I think. Jack is SOOOO ornery! He thinks he knows best and tries to out smart me,lol. Doesn't work, but he just keeps trying!

Photobucket is giving me fits at the moment so I can't post a pic, I'll see if I can't get one posted later. NEXT!
Soda (Skips Gin Fizz) is a 9 yr old dun QH. About 15.3 hands close to 1250 pounds (he's a big boy). Looks a lot smaller until you get up next to him.
Best traits? He's quick and can move off of himself really well. Also, he is quick to figure out what you want IF you are explaining it well. He's also a complete lover on the ground and almost always nickers when he sees you. Really easy to work with on the ground.
Worst traits? Spookiness. **** horse is afraid of everything. Getting a ton better, but it makes for a heart pounding ride at times. Not a stand in place spooker either. I'm talking 180 degree turn and bolt spooker. He also "used to" (hopefully it's done now) pull back badly when tied. Instead of giving to the pressure on his head he would explode. I've done a lot of work w/ tying and giving to pressure on his head/face and it seems to be paying off.
All around though I do love that horse. I hope we can work through some of his spooky problems this summer though, because right now he's really stressful to ride out on the trails.
May 003.jpg
soda10 003.jpg
Ice (Dry Ice). 12 year old TB, off the track for 2 years. Probably 1000 pounds, but he's got a very narrow frame....nice to not have a rolly polly guy, it gives my hips cramps.

His best traits are he's super smart and very level headed especially for a hot breed. He used to be fabulous on the ground, we're working on that to get him good again. He loves to work! His ears are up all the time, swiveling back and forth.

Worst trait is that he holds grudges like I've never seen a horse do. Mind you I've never raised a hand at him, never even YELLED at him before, and somehow he thinks that if I go into his stall, he's going to ave to pre-emptively attack me in order to defend himself. Once out of his stall he's great. He also has serious trust issues, but that goes back to the holding grudges.

No recent pics!
Oh I LOVE duns, absolute favorite! Keep em commin!
Footloose "Thumper", 1998 TB/Mini cross. His best traits are his intelligence- he's really smart and picks things up extremely fast. He also is great at saving my butt over fences! He's also nearly bombproof- there were two dogs who got into the indoor last year and someone was freelunging him- they were fighting, barking, running underneath his belly (yes they did stop the dogs quickly) and he didn't even move- he just perked his ears and tried to sniff them! He's so curious and has to inspect everything :).
His worst trait is his intelligence as well- once he gets the best of you, he's got your number and WILL take advantage of you!
He's the greatest horse, and I wuv him :).
---
TB/mini cross?? How lol?
Posted via Mobile Device
Quote:
TB/mini cross?? How lol?
Posted via Mobile Device
im also curious on this one haha ive never seen a tb/mini before
my main one is Whiskey
shes a chestnut connemarra 14'2hh and 10 years old had her since she was 2
her best traits - shes very forward going and if shes unsure of something you just show her it once and she gets over it, shes extremely relaxed and very responsive
her worst traits - if your a new rider on her she'll test you to see how much she can get away with (her main trick is turning quickly when you aren't paying attention. she's gave up trying this with me because i've learned her tell tale signs xD ) and once shes been allowed to gallop she gets very hyper and prancey after it wanting to go again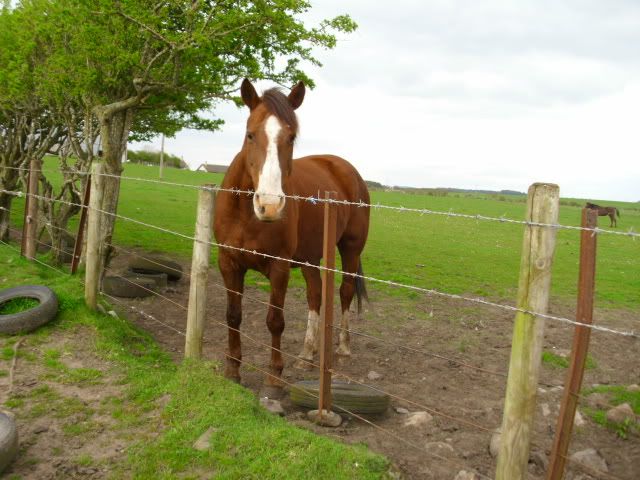 Isabelle (Promise Me This) 17yr bay Aussie Stock horse mare, 15hh.

Best traits? She is very patient, and very loyal. She'll follow me around the paddock and chase away other horses that get too close. She's done pretty much everything and nothing fazes her. Which is a nice step up from my previous horse, who used to explode at everything. And I mean explode, rodeo style.

Her worst traits are that she is very loyal which means she gets very jealous. She takes off when my bf tries to ride her, and she gets very grumpy when I ride her after riding Bacardi instead of her first.
---
Kind, Confident, Consistent Leadership = Trust, Obedience and Respect
There is no such thing as natural horsemanship, because nothing we do with horses is natural. There is only good and bad horsemanship.