Big Day for Little Oliver! Pictures and video coming!
---
Fallow us today and tomorrow in this years first dressage clinic for little O pants and I
I'm so excited!
We will be hauling from Vashon Island (20 minute ferry ride from Seattle
) our destination Starr Valley Farms to ride for two days with the wonderful Beth AndersonNess!
I'll be posting photos of both days! A friend is coming to get video of both rides! So once I get those up online I'll post them!
Only thing I am worried about is how he will unload when we get there!
Fingers crossed it's a smooth unloading...loading for that matter as well!
Very excited to use the blankets and tack I got for special outings such as this!
We get to put our new matching lead rope in use as well
Only thing I'm wishing right now is that I could have gotten a full set of Dover white fleece boots! Next month!
Stay tuned for pictures! Off to get myself ready!
Then the cleaning of the muddy boy begins
Wish us luck!
I'm so grateful I can share our training with all of you!!
I don't have a horsey family so when it come to sharing these things they just don't understand...at all lol
Must try to get food in nervous/excited tummy!
Have so much fun!!! I can't wait to see videos! Im going to my first clinic with my boy (as you may know, you posted some good advice in my thread lol) in late march!

Try not to be worried about the loading/unloading, if you aren't nervous then he won't be nervous!

And yes, get as much food in that nervous belly as you can! Passing out is not fun, especially when it's mid course during a show (happened to me lol)! ;)
Posted via Mobile Device
Oh snap! Yeah! Not letting that happen....my trainer might be a wee bit annoyed lol
I got my outfits all together last night and put his bridle together!
I groomed him yesterday and as soon as I turned him back out he proceeded to roll for a good solid 5 long minutes! Lol

Iv heard her facility is beautiful!!
We will be loading up around 1/1:15 to get on the 2:10 boat and then we will be really on our way! This will be a big trip for the little guy...hasn't gone island since arriving in may of '12 but have taken him a few times to the local horse park ;)
Hope you had fun!!!
---
"Strength is the ability to use a muscle without tension"

Have a great time and learn lots! Thanks for sharing it with us :)
Oh my gosh, guys I'm so tired I almost couldn't drive home!
Oliver was such a willing good boy!,,
Loaded like a pro....unloading...was 10x better then the last so really nothing to complain about!

I'm so pleased with today's lesson!
One spook, just a little green antics but was so workable!
Wasn't sure what I was going to have on my hands after arriving just since it was his first big outing!
Was a little vocal but just cause he was somewhere new.
The analogy we worked with in today's lesson made very little sense to both my trainer and I but still got amazing work out of him!

You guys...the barn....wow! So amazing! Will get pictures tomorrow. Got some of the isle way and the groom bays. Arena was to die for! Love the footing!!

My body is so sore. I know it's a advil night and hot shower time soon!
After my shower I'll post more on what we worked on!
So excited for tomorrow!!
So happy and proud with today's work!!
If it were not for my trainer (who took me to this clinic) I would be no were near were I am today! So grateful!!
Okay pictures then a hot shower so I can think! Haha
Day 1 photos :)
---
Got to the barn to find him napping, told him he was a smart boy since today was a big adventure kind of day!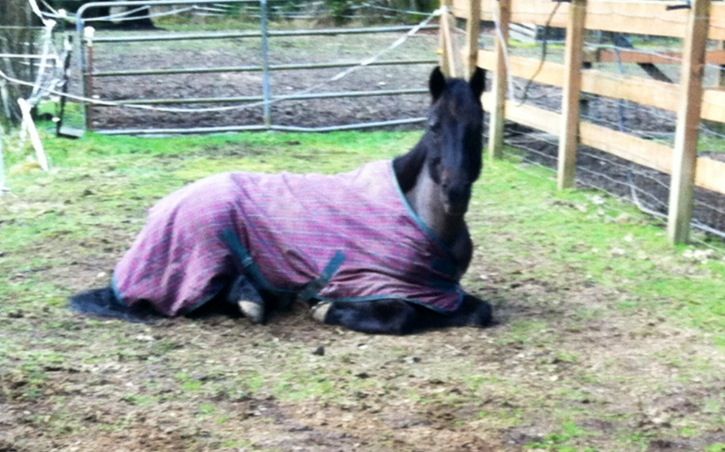 Started our with a bath, wasn't pleased about it lol
Wishing he was on the play side? This was while he was drying...the sun was so so nice this morning!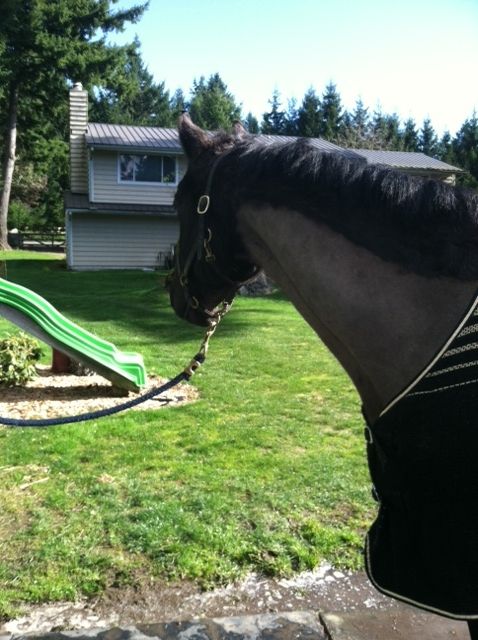 Before our lesson, all ready but the bridle
He's got the full on baby face going on here! Too cute!
Then after tonight's lesson...was so sweaty he could have used another bath!!
worked so hard with his hind end he was pretty much stumbling out the arena! Hehe
Day 1- what we worked on
---
Okay now that I have had some more caffiene in me and a hot shower I can sit down better and share what we worked on tonight.
He settled right into work, something I really wasn't expecting but was very happy and willing to take
Told Beth we where working on training level, fine tuning it and cleaning it up. I explained his background from before I got him towhat we are currently working on. Straightness, forward from behind every single stride!! Working on my body relaxing more and keeping him really on my outside rein more then before as we are really wasking him to push through with his hind end and not fall on the forehand.
So she had me really really.....I mean really push him...beyond both our comfort zone but hey that's why we are doing this, to get through being behind the leg and on his chest.
So I pushed him, really kept him on my outside rein and giving releases with my inside when he was coming through. Its really funny cause my trainer always says "just dont do anything with your body when he's going, you mess it all up when you do things with your body!!!"
this is very true andi have been really working on staying very soft, simple and quick when I need to fix him and then do nothing again but my body fights this so much!
Well tonight, with pushing him so forward, not fast or tense but just really going off my inside leg to outside rein, sit up and open my chest up while relaxing my arms and bringing him up through my calfs and hips. Such an amazing feeling. I know was able to get him so straight and pushing from behind because A. New place. B. Bigger arena to work in... That really helped so I need to keep in mind big circles, and really forward like today!
Beth kept asking "do you feel that Sam?!How does that trot feel!"
Every time I asked for more and stuck to my guns he gave me more and for longer periods of time! I was so amazed with the feeling! I know now what our working trot needs to ALWAYS be at!
For the canter...
Same thing, was very very hot....it was funny but we just again stuck to our guns and let him get some steam off while just continuing to ask for engagement from behind and lift the front....it was was he would get it for three strides at first then wasn't sure so speed up then I'd re balance him, talk to him and we had it for a couple more then the last then suddenly it was like he changed gears like a car...he dropped his hind end, was soft and his shoulders where so independent and up! His top line was stretched out reaching for my steady outside contact and was able to just ride it! With my inside hip and inside leg! Had to really work on keeping my shoulders even and chest really operand core strong. Guess what...my arms where soft and fallowing!! We spiraled in and to balance him more and really forced me to sit very correctly, keep my knees relaxed and legs stretched down to support him through the rib cage!! We got solid three-four large 30meter cirlcles like this. Almost like he was going to break but really keeping the push and drive from behind while staying relaxed....that's our canter! I couldn't believe it!
So on the down side I did not get any video or photos of our ride. Really bummed. But feel like we came out of the ride with so much more then I expected!
In the trot we worked at large for a bit, he wanted to avaid the inside leg to my outside rein but pushed him through it, really talked him through it. Really used my inside hip to outside hip and support from my lower leg while opening my chest up as much as I could.
I couldn't be happier, I'm so proud of him on his first big outing!
My baby boy is growinging up before my eyes. Just a few months ago he didn't have a understanding for what contact with the bit and support from the lower leg meant at all.
We did a change of bend at the trot, right to left and I kept his shoulders striagjnt, opened my hips, pushed him from behind and it was so smooth...I did notnhing with my hands but subtle easy soft change of outside rein and inside leg. That felt really good!
I think I'll ask for us to spend some time on that again tomorrow. We will be riding transitions and leg yields....things I really want to be looked at, worked on and progress if we can.
I'm so happy, on a lesson high!
Sounds like we will be arranging another two day stay with her in April! Really motivates me all the more to take as much as I can from this visit, then really really work on it. So when we go back we can move on and work on other things!
Off to bed! So tired.
can't imagine how Oliver feels! Poor baby, hope he sleeps well! Lol
That is so, so fabulous@! your description is majorly cool, too. Got me psyched!

where was this clinic? and how long of a lesson did you have? may I ask what it cost?
I feel really excited and happy for the both of you!

It makes me wonder if this is how my relationship with Reno will be when I'm finally riding him often. I'm considering asking my BO to let me participate in is training...at least when I come up on the weekends. I mean, I know the other riders are more experienced with Dressage (one particularly with retraining OTTBs) but I...really want to be a part of it you know? I feel like we should learn together, but I don't want to mess him up...

Anyway. You sound like you had a blast with Oliver! And by your description, he did you proud as well. He deserves a lot of pats, hugs, and his favorite treats.
---
ʀ ɛ ɴ ø ,-------------
"Who rescued who?"
---------ċ ᴀ ʀ ʅ ʏ