Bloodline question
---
Im getting a horse on trade that i have looked at and wanted for a while.. He is Registed but the gentleman got him on trade as a young colt.. I want to barrel race on him. He is Double Bred Dash for Cash.. ive read a little on the lines.. what do you guys think.. Ill post pictures tonight when i pick him up... hes beat up from other horses biting him and a little underweight but nothing TLC and groceries cant fix..
I've seen many horses who have barrel raced with Dash for Cash in their lines. I personally prefer a cowbred horse to be turned into a rodeo horse however, I see nothing wrong with race bred Quarter Horses! As long as your young colt is sound and has no conformation issues, go right ahead. If you post pictures, I could probably help more too. My mom bought a Dash for Cash black mare a few months ago to start training for Barrel Racing and she is just a doll. A little bit skittish around humans and can be hot headed by a perfectly polite horse on the ground.
Do you know his registered name? I like Dash for Cash lines but it would also depend on what else is in his pedigree.. Then you have conformation, ability, temperament, and just so many other factors that you have to look at before you start him on barrels..
---
I am Sparkly Meanie Doodie Head and I approve this message!
any running quarter mix would be good, appendix horses (TB with quarter )
Dash for Cash, older lineage Top Deck. Also some teh Blue Valentine bred horses are big and fast lots used for Roping horses.
I dont know his reg name yet until the gentleman gets his papers... He looks 10x's better then the last time i saw him.. ill try n post pictures.. Please no judging on how underweight he is i know.. ** not trying to be mean but ive had many people judge on how skinny my older horse is and it gets to me****
How old is he?

Yeah, he's underweight in the picture but nothing ungodly. A little while with good groceries and some TLC and he'll come back nicely. I would definitely wait to really start working with him under saddle until you have his weight up to where you want it. That doesn't mean that you can't do a good bit of ground work for toning and just working with him..
---
I am Sparkly Meanie Doodie Head and I approve this message!
he is 3 i believe.. ill take pictures of his teeth.. im going out to see what he knows.. i wont start riding him until we get our round bale of hay out their and give him a week.. our filly we just sold was on the alfafla x grass for 9 days we came home and she was double her size..

I noticed his knee is swollen.. its not hot to the touch or pressure doesnt bother it.. and hes not limping.. maybe the mini pony kicked him he was in pasture with??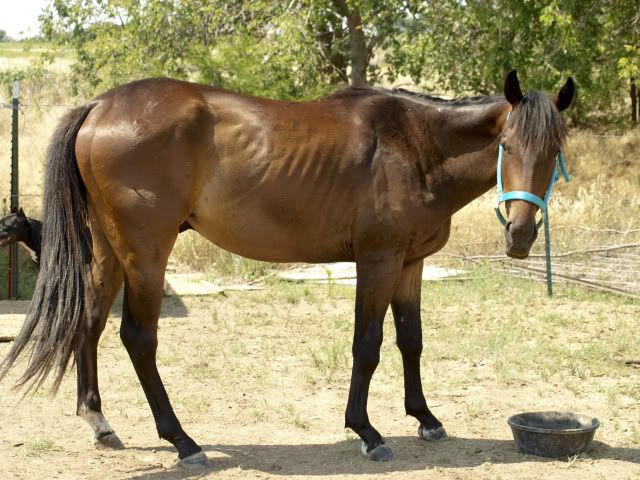 This picture you can see his knee is larger than the other
he has the sweetest face!!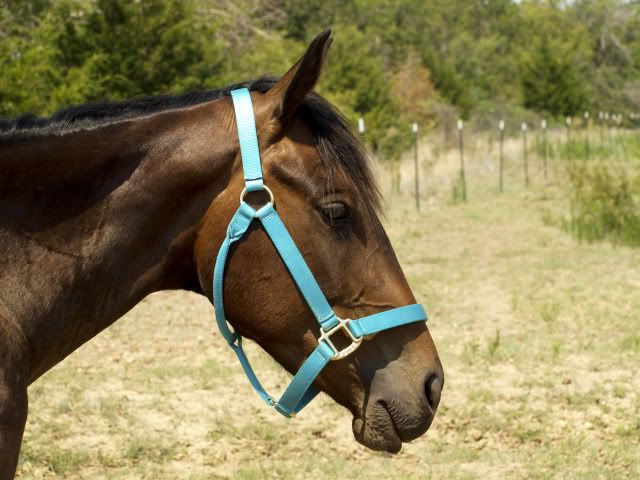 and might as well introduce my other boy to you guys.. This is skip he is a 22 year old hugantor(made up word because his breed is unknown).. he stands 17.2 and probably is the gentlest horse you will ever meet!!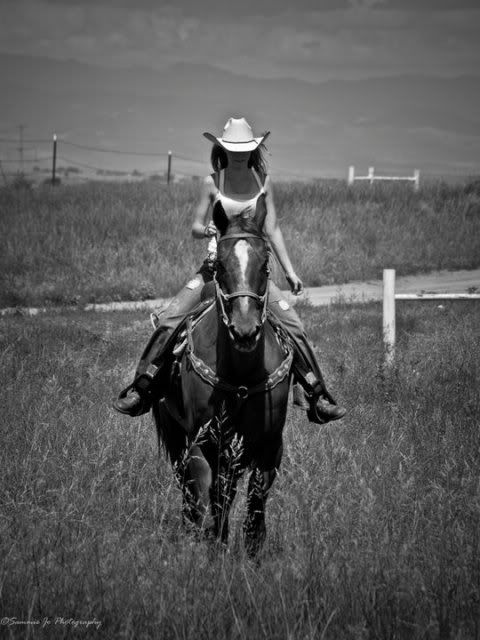 this is my best friend riding him for a photoshoot i did for her..
---
Last edited by sammiejo10; 06-24-2012 at

08:35 PM

.
Yeah, the guy definitely needs some groceries..a lot of them.. I would get a vet to check that knee out really soon. Especially before any kind of riding..

Just asking, not jumping on you.. What's the problem with your old guy and gaining or holding weight? Older horses should be able to stay at a good weight, not all of them will be fat but should be able to still maintain a good weight.. I've never heard anything about your gelding, just curious.
---
I am Sparkly Meanie Doodie Head and I approve this message!