Skip came to me very neglected about 300-500lbs underweight.. He has had the best of food and grain since he has been with me ive had him for about a year and a half.. He just doesnt gain weight easy.. or hold it..

ive had 2 vets look at him one in CO and here in OK. Both of them said that im not doing anything wrong and he doesnt need anything other than food and he is on open feeding all the time..

Ill post a picture from when i first got him...
the day after i got him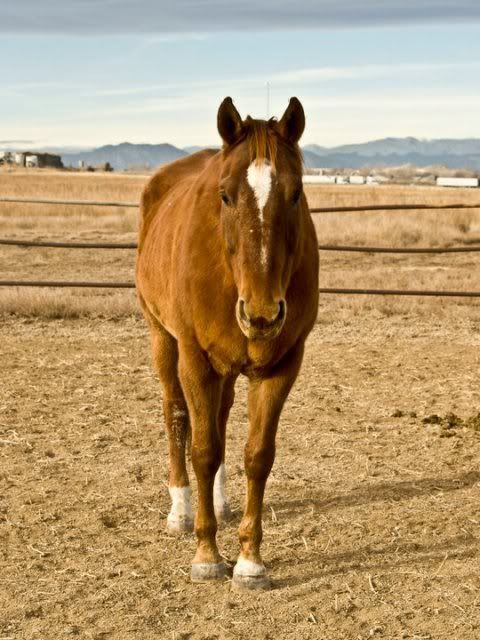 no butt muscles
Dont let the winter coat fool you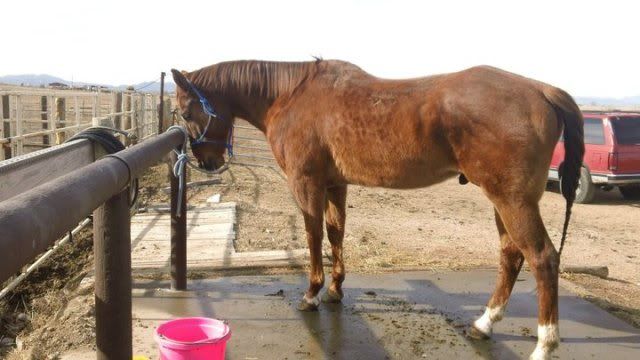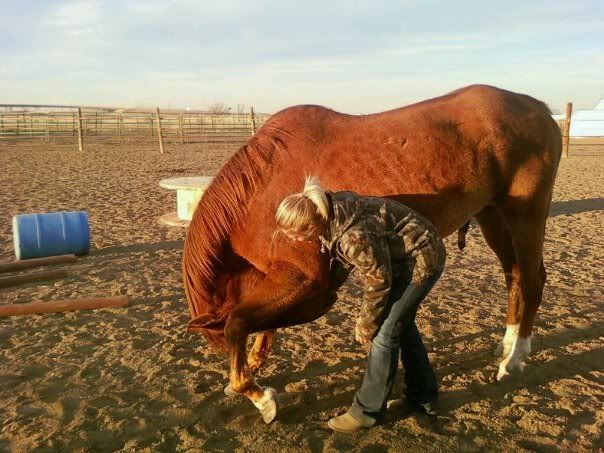 Okay, I was just wondering.. What all have you tried with him as far as feed and things for weight gain? Any supplements?
---
I am Sparkly Meanie Doodie Head and I approve this message!
Ive always had him on senior grain, then i put him on amplify with it. and it didnt help a whole lot i did it for 2 months.

Then i moved him to a new boarding facility and the guy running it fed him 3 times a day, full troughs and did his grain and he gained alot of weight.

Now he is on senior feed and creep feed. with a round bale and pasture all day thats an alfalfa grass mix and he actually is looking really good..
Oh, just saw the other pictures.. Is he active at all now? I would really start slow and pack on the feed with him, but instead of letting him just hang out I would start keeping him active, like lunging and ground work...He can use those calories and turn them into muscle as well as fat instead of just trying to build fat it will be better for him all around..If that makes sense?

Do you have any recent pictures? What senior feed are you using? I've had really good results with Nutrena Life Design Senior.. I also feed free choice high quality hay, a free choice mineral block, Omegatin for an all around supplement, and when needed I'll add a boost of beet pulp and Rice Bran oil.. There are just SO many things you can do to boost weight.. I also love the Farnam Weight Builder.

Lol Please don't think I'm dogging you out about his weight, I'm really into horse nutrition and figuring things out like this, I'd love to go to school for it but I'm already close to graduating with my Early Childhood Edu degree.
---
I am Sparkly Meanie Doodie Head and I approve this message!
---
Last edited by DrumRunner; 06-24-2012 at

09:18 PM

.
He is on a semi retirement.. He gets rode maybe 3 times a month, My fiance always lunges him and works on ground work with him..

I used to ride him every weekend but i could tell a difference in him that he was getting sore so i just let him be..

he is in a 5 acre pasture with lots of hills a pond and alot of stuff he walks up and down every day.. by no means is he a lazy horse. but hes been better only being rode that much, when we do ride him for a trail ride he is much happier..
Yeah, I wouldn't do much riding with him but lunging and a little ground work two or three times a week could be really good for him..Just walking around the pasture isn't much of an active lifestyle. The reason I'm just talking about it so much with you is that I also have a 22 year old and know what has worked best with him, sharing ideas never hurt anyone.
and now my old man looks like this..He's actually on a diet right now..He is a professional chunk when it comes to gaining weight. I wish I could bottle and sale whatever he has to make it that way.
This is his usual "summer look" and exactly why he's on a diet right now..
---
I am Sparkly Meanie Doodie Head and I approve this message!