Quote:
I pay $300 for pasture at a really fancy dressage barn (I ride western pleasure so I am the minority ahaha) but it's wonderful. Pasture is full of trees for shade since it's in the hills and it gets hot, and feed three times a day... plus...
Indoor arena that is *huge*
covered round pen
2 wash racks
5 cross tie areas
private tack locker
access to hours of trails
24/7 watchful eyes on my horsey
vet and farrier appointments set up for me (I have to pay but they do all the remembering of *when* Bali needs his things, which is nice.. I have a lot to remember with school..)
pasture gets cleaned out every other day (which is amazing, not many stables *ever* clean the pastures...)
and the friendliest people of any barn I looked at!
I want to move him up to the outdoor pens eventually that are $450, which come with daily turn out and supplement feeding.. but we'll see!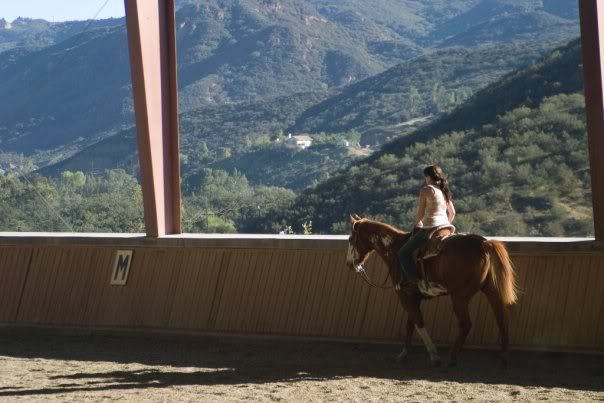 No place has prettier views around here, either ;)
That sounds/looks like an AMAZING place. You two are really fortunate. :)
I LOVE my barn!
$275
3lbs of grain twice a day
Unlimited hay
Turnout in an acre grass pasture with water and hay in the pasture to.
They put on/take off blankets/ bell boots/ fly masks.
They don't turn out in bad weather, or if it gets bad after they're out they bring them in and give them hay.
Large stall with a window, feed bucket, mineral container, mats, drain, lotsss of bedding, automatic waterers(best invention ever)
Heated in the winter time, fans overhead for the summer.
Stalls cleaned everyday.
Minerals/salt are added in their stall buckets everyday.
Large indoor (heated in winter)
Large outdoor
Full xc course on the property.
Tack locker, wheeled saddle cart is provided.
Crossties
Hot/cold wash stall.
Places to hack, places to do lots of hill work.
Barn owners live on the property
Lessons
Clinics
I lovelovelove my barn.
I lease two stalls, one is my main stall and the other (at another property) is a vacation stall of sorts. Starting with his main, board is about $300 I believe
Good:
-very close to home, one mile. I can walk there in 15 mins in the summer.
-12x12 stall with 12x12 attached paddock, shavings and manure dumping provided
-2 turn-out pens
-2 arenas, indoor and outdoor
-3 feedings daily Mon-Fri, 2 feedings on Sat-sun (owners must feed lunch on weekends)
-about 4 trainers available, but they are independent so you don't have to work with them if you don't want to.
-regular clinics
-regular vet, teeth, farrier, masseuse, and chiropractor visits (determined by the board members)
-lockers
-barn manager on property, locks on gates for the night
-small grazing sections available
-small trail park across the street
-lights everywhere, in both arenas and on paths, as well as in the barn.
-lounge and cook shack
-hot wash rack
-mounting blocks
-trailer parking
-jumps, portable dressage arena, barrels, mechanical cow, bending poles, and cones

bad:
-the indoor is too small for my liking and the footing often forms a track around the fence, as well as being too shallow in places/ footing could be better quality. It is also far away from the barn and near the woods, horses tend to spook more in the indoor.
-the outdoor has the same footing quality as the indoor but the arena is wider so I can ride off the rail. Doesn't drain well, hard to use when it's wet.
-noisy, there is a road and intersection next to us as well as a country club. A lot of distractions.
-A lot of drama and gossip, things spread quickly and can't be controlled.
-self-care for stalls. I actually like this, but some people are too busy and hire others to clean the stall for them.
-the barn aisle is too narrow.
-Inadequate turn-out, the wood is chewed and old and the pens are small and in high demand.
-the hay can be of poor quality at times, I am bringing my own.
-Not enough grass, and the horses must be grazed in hand.

The other stall, a vacation paddock. A quarter mile from my main barn, I take him there every week or so when I can to keep his mind happy. $200
Good:
-lots of space, maybe 20x40 paddock with a small stall I store hay in.
-grass! Grass grass grass grass! The entire paddock is full of grass.

Bad:
-overall poor quality facility, has no arena. Turn-out is dangerous and the fences are rotting, I had to repair my own.
-completely self-service with everything. Shavings, hay, manure, vets etc.
-I would never keep my horse here overnight because of the low quality. It is also quite isolated, the horses there seem very lonely because they are hidden behind trees.
---
Last edited by roro; 11-04-2009 at

01:34 AM

.
I should clearly move back to the States.

For £80/wk my horse gets:

-A large pen all to herself and a field/paddock to herself when she gets turned out (she does not play nice with others). I like that she is never in a stall. It's the main reason why I haven't moved her from this barn.
-daily turnout provided weather is ok
-indoor arena
-trails, of a sort
-fed 2x per day
-as much hay as she wants
-in theory rugs on and off though in practice they are on all the time
-barn owner lives on site
-they get fed pellets, beet pulp, and chaff. No grain! Far healthier.
-you have a nice view of the Trossachs

What annoys me:

-limited trails
-the weather
-no outdoor arena
-place is dead quiet. Only seven liveries and several of them are two or three horses owned by one person.
-barn owner leaves them in blankets/rugs even on warm-ish days, is generally weird, and she is neurotic about her fields to boot. Hence the above criteria of turnout during dry days only. Riding in fields? Hahah.... I wish.
-it's a 45 minute drive from where I live which totally sucks.
-the fencing isn't great but this is a ubiquitous problem in this country. Sorry to make generalizations, fellow UK folk, but Americans have figured out how fence horses far more safely.

Every barn I have ever been at -- and this is quite a lot of barns over about 15 years -- has had things I really liked about it but an equally as long, if not longer, list of things to kvetch about. I have never ever boarded (or kept a horse on livery depending on where you are) at a place which I thought was perfect for me and my horse. I always have to compromise on something. The first barn I kept my horses at -- and returned to when I went back to my home state for a year after finishing my undergrad -- was amazing but it had some issues. Even so, if I could find one that good again I'd be happy. You just can't win. My biggest moan about my current one though is the drive. What a freakin' hassle.
Thanks for the compliments on my barn! heehee... I looked for MONTHS to find the right place for Bali before he came out here. Everything is so expensive, but this one was actually *worth* the money it is. I feel like it was meant to be, too, because someone had just left the pasture the day before I e-mailed and reserved a spot!
Y'alls places sound great, too!
---
Proud owner of 13yr old Paint Gelding, Bali! <3

roro, have you talked to them about draging or raking the ring so its level?
200.00 month
-graining 2 times a day
-hay-cut on site-3 times a day
-turn out
-blanketing in the colder weather
-indoor arena
-outdoor sand arena
-20 acres of wooded and open trails
-no horse stands more then a day in the stall without someone taking them out and working with them with owners permission of course
-3 times a day mucking out
-the B.O. will do anything with your horse you ask her to. mine just checked Paul's feet for thrush, she is the greatest
-small and very very family-like
---
Jackie's Sonny Daze
Haflinger Gelding
I think Ishould move to the states for horses. At the yard I was last on it was absolute s***. The fencing was downright dangerous and one gate to a field, and I use the term gate very loosely, was pieces of wire strung between two poles which you had to shift about which was very hard with a pony being lead and three on the other side who wanted to come through. The person who had hers in that field once had the audacity to have a go at me because she had decided that I'd let them out which was a bloody lie sine I had taken more time out to put some logs in front so the ponies couldn't roll underneath. The yard was filthy and full of rubbish, the YO only kept it clean where his family was and even once left some weird petrol thing in the way to our stable which I had to move myself.
---
Eagles may soar but weasels don't get sucked into jet engines.
$400 / month includes:

14 x 16 stall with dutch door
Turnout is personalized. Out as much or as little as we want.
Indoor & outdoor rings, lots of trails
Wash stall with hot water
BO lives on site
Hay & feed 2xday, supplements given when provided by owner
Blanketing at BO's discretion, or as directed by owner
Worming every two months
Weekly group lesson

Love the facilities, BO, boarders and students. Only negative I can think of is that the BO is really hard to get a hold of!!
---
Quote:
Smart people listen. Not so smart people think they do not need to hear what others have to say.
Started
Join Date: Mar 2009
Location: Middle-of-Nowhere, Illinois
Posts: 2,225
• Horses:
1
At my current barn, we don't pay any money but we have to supply our own grain, hay, bedding, and muck our own stalls. We don't get any service so all the boarders take care of the horses and maintain the barn, etc. We have to put in so many hours of labor per month to keep our horses there. It's pretty stressful, but we can't afford to go anywhere else at the moment. One of my life's goals is to have my own place to keep my horses and a few friends' horses. It would be so much more peaceful and convenient than boarding.
---
"A musician must make music, an artist must paint, a poet must write, if he is ultimately to be at peace with himself.
What a man can be, he must be." Abraham Maslow, 1968