Bought a New Pony!
---
We went and took a look at a new pony yesterday. I brought my helmet and did a little test ride and went over a few basiscs just to see what she knew... wasn't much, but she was quiet and willing and seemed to catch on pretty fast. Kathy (my aunt, the one considering buying her) decided to get her and I will be going to pick her up next Saturday.
I'm a little concerned just because she made a decision so fast, and without looking around at any other horses. The mare is nice enough (temperment wise) and I'm sure will be a nice trail pony for the kids with some regular saddle time.
The girl she used to belong to (er, the owner's daughter) seemed to change the mare's name with whatever was in style for the week and so for the time being is named Hannah, after Hannah Montana. Kathy will most likely be changing it one last time.
She hadn't been handled in over two months prior to our visit, and less not really wanting to be caught (she evaded me at a walk for one lap around the corral before giving up and putting her nose in the halter), not totally respecting my space on the ground and a little head tossing once the bit was in (shich she also took nicely), she was really pretty good. She was light in the mouth, but lacked a stop cue and didn't know how to back.
I rode her around for about 10 minutes and by the time I got off had a solid one rein stop at a walk and trot and a good 3-4 step back up. She obviously knows how to look for a release, which tells me she's had some training somewhere down the line, but she needs a good tune up for sure.
I rode her in a full cheek snaffel and a mechanical Hackamore (at my aunt's request, she prefers a mechanical hack, I'm trying to change her mind).
She does have thrush in all 4 hooves pretty badly, no surprise considering the living conditions (see picutres below), but we're ready to care for that. Kathy's corral has fantastic drainage and I'm pretty sure taht with regular treatment with anti thrush medicine we can clear it up within a week or so.
Anyway, here she is (Picture was taken on Sunday when we went to check her out) sharing her corral with two other (much larger) quarter horse geldings.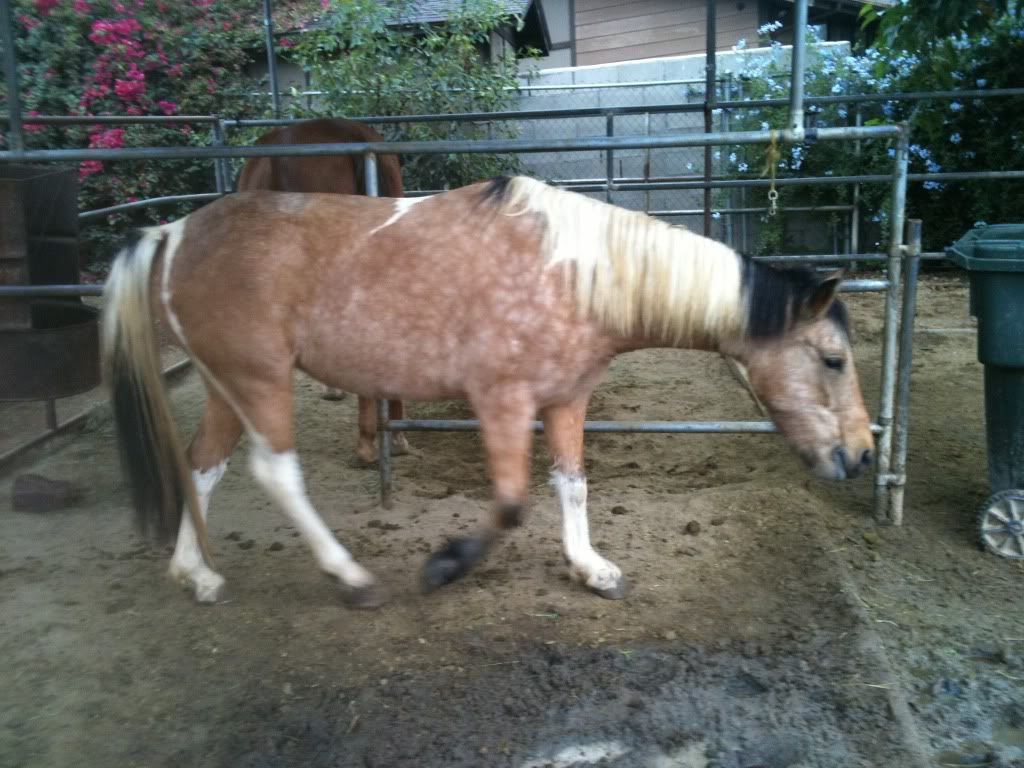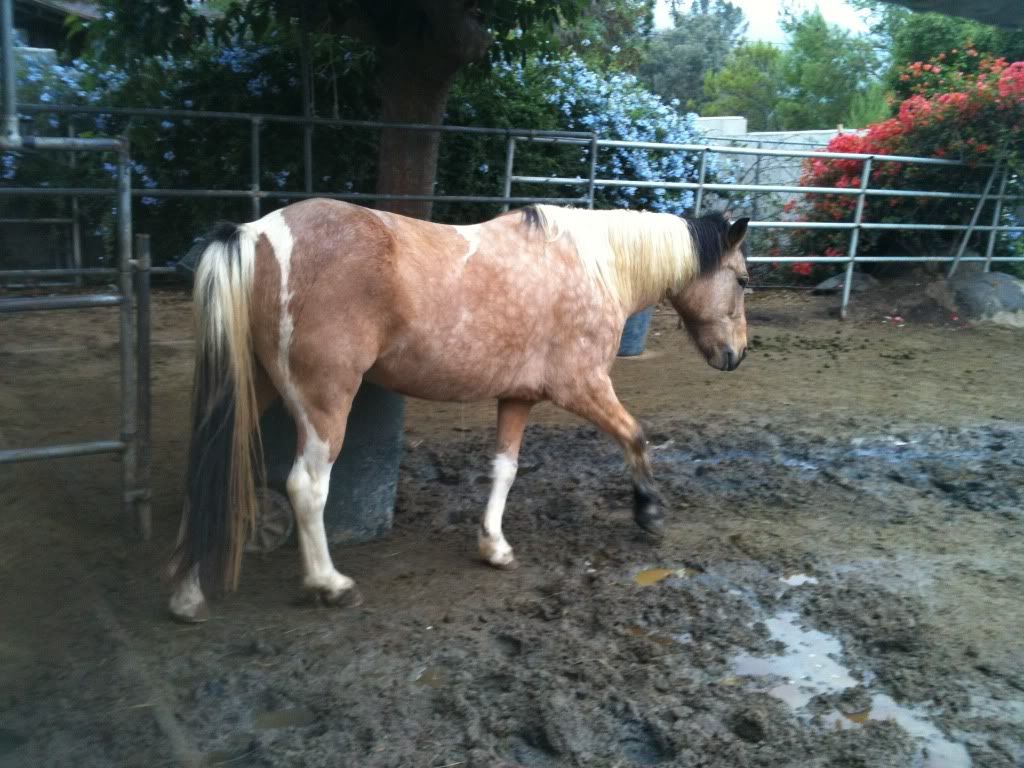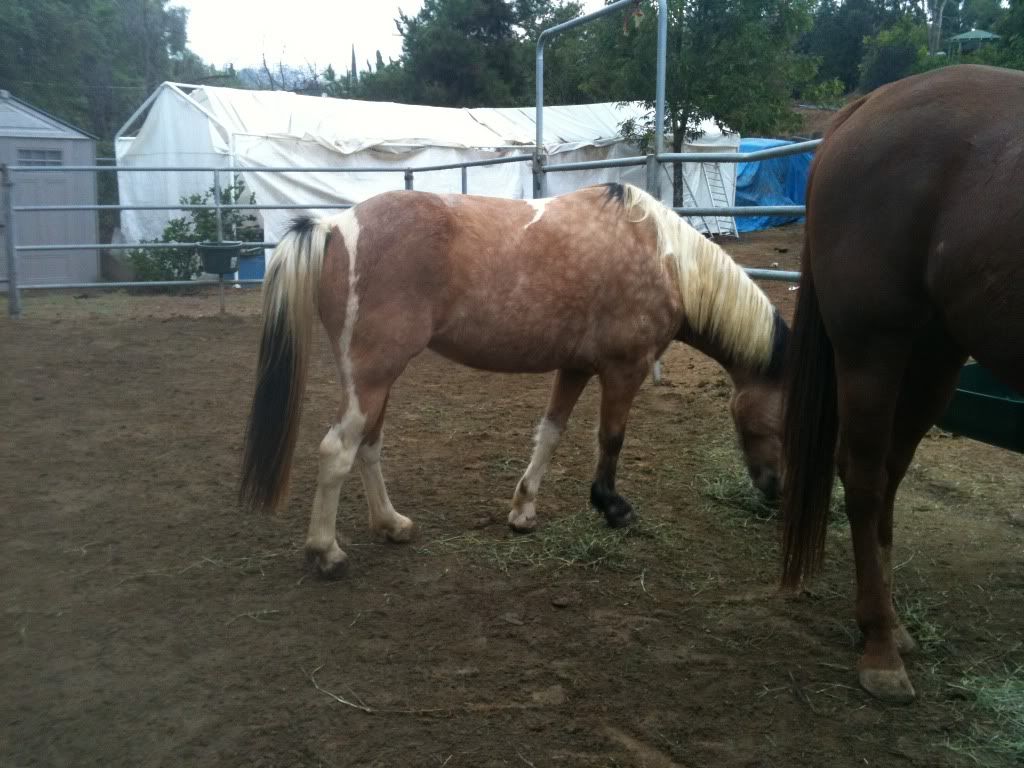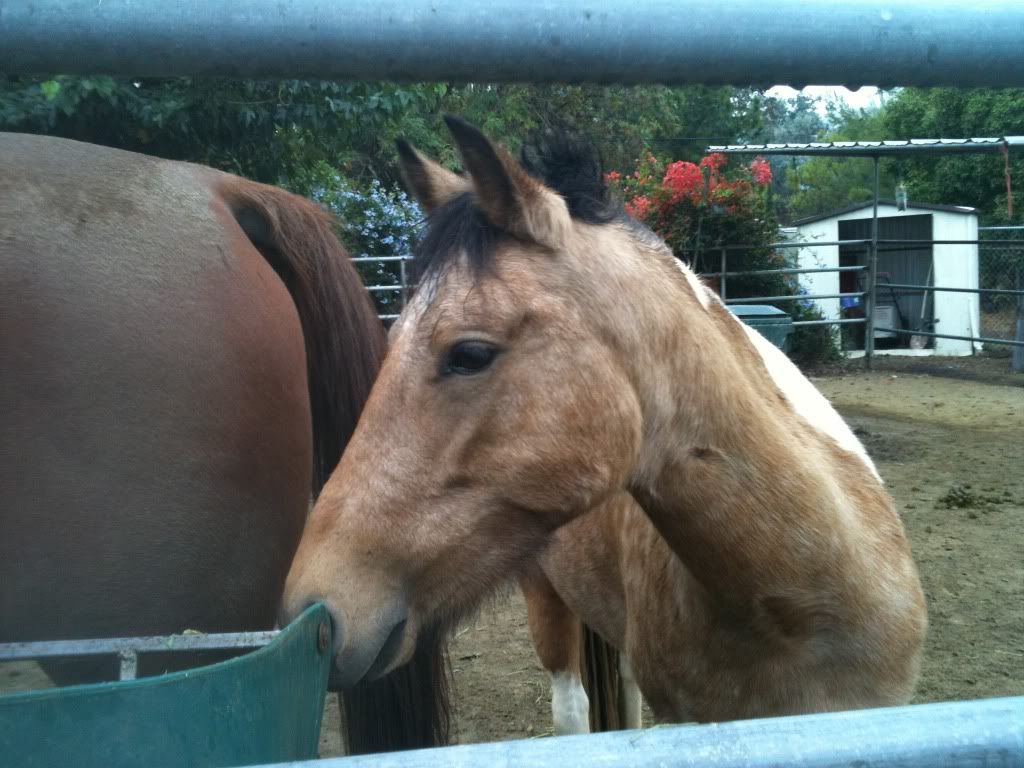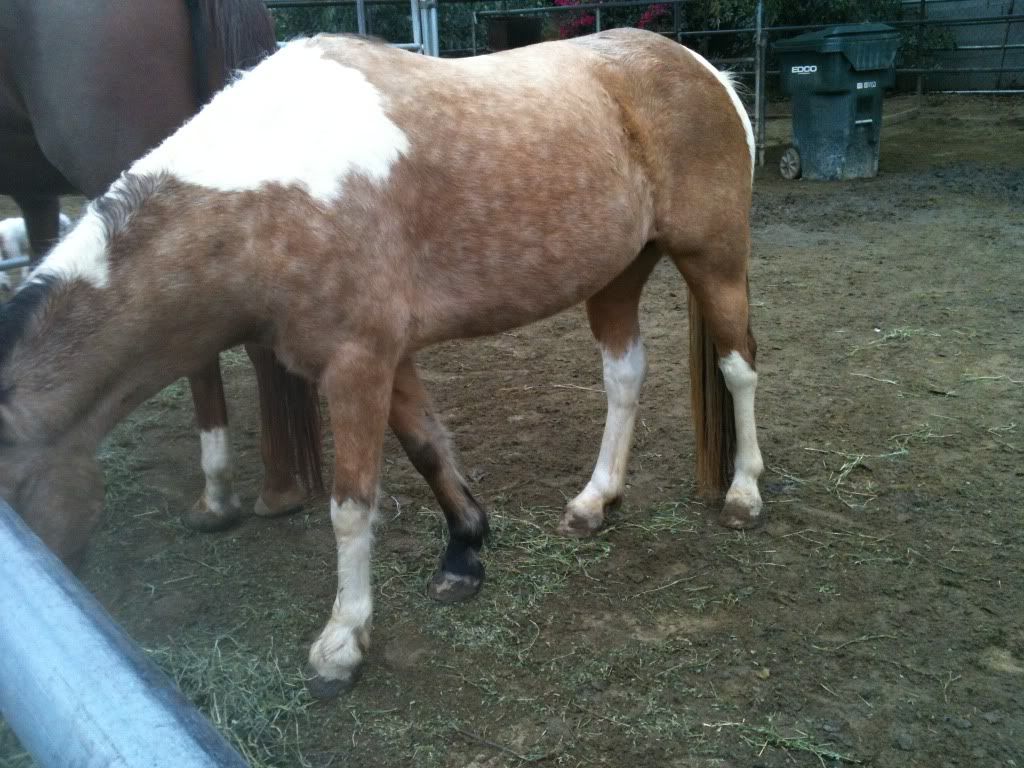 I think she is adorable and if she is willing and a quick learner, that is fantastic....
---
"Equine-facilitated therapy employs a form of biofeedback for practicing self-awareness, emotional management, and relationship skills that human role-playing exercises and discussion groups cannot begin to access." Linda Kohanov (The Tao of Equus)
Once we get her home and clean her up a bit I'll *try to take some confo pictures for a crutique...
Oh, and just for a chuckle, when questioned as to her breed, the owner responded with "she's a Quarter Buckskin Paint Pony" I think she must have ment Quarter pony...? doesn't matter, just thought it was funny.
Wow what a cute mare, she's got amazing color. Lol Quarter Pony.
---
Count My Strides - Shane, Bought 2-18-06, Mustang.
"I whispered to my horse, "i'm afraid of falling" and he whispered back, "i have wings".