Brandy updates!
---
Hey, Brandy wanted in on the updates too! Anyways, so it turns out if she goes to a place she thinks is her new home, she acts like a bucking bronc! Wow! And there was this horse that was used in movies (can't remember if he was well known or not) and Brandy had one of his last foals or something like that.. I can't remember it was confusing haha. I think his registered name was Jake and then I can't remember the rest. Apparently she used to be bullied when she was with her previous owners! (meaning bullied by other horses) that's all for now, bed time soon and I'm tired! Haha
Oh and Jake was a paint QH, can remember if he was a chestnut or not.
Haven't updated for poor miss Brandy! We've just been riding bareback, and it's been going great! Today I had to use a saddle though, because little miss was in heat (oh joy). There was this little girl at the barn, and she just like lept and Brandy's face and was petting her really hard and wow! I excpected Brandy to lounge at her (especially with her being in heat!) but, to my suprise, she just sat there...Patiently hating life XD But she's been good so far!
So, yesterday I was fooling around, and decided to start getting ready for gaming competitions. First, I did poles at a walk, then a trot, and they were both good....Thheeennn came the canter, and that was a disaster. So, I ended on a good note, and put up a barrel pattern. First at a walk, then trot, both were amazing! Then came the canter...Best one of them all! She is a natural at barrels! Although she decided after a while that she could do it all by herself and didn't need my help to guide her, so she did...and started the turn to early, so she ran into the pole...But other than that, she did amazing!
My time had come today(not dying, for falling off a horse haha)...I took my first fall since January today! The one time I forget to wear my helmet in the arena...I was riding bareback again, and the dogs had just started playing...Well, then Marley (a dog) found the giant horse soccer ball (that is made for horses enjoyment!), and started kicking it around..Then she thought that Brandy would want to play, so she started shoving it towards Brandy, and Brandy thought it was an evil murder ball sent from the devil himself, and panicked...See, I can stay on a spook if I'm not excpecting it, but apparently if I'm totally prepared I fall off XD I got a butt full of shavings, hurt my ankle and lower back, landed on my head, and hurt my tailbone...
Learning experience! Haha
Ouch!
Posted via Mobile Device
I'm surprised at how hurt I was...My mare is so short! Lol, eh, I guess it's the short ones we have to watch out for?
Lol, not sure. I think it hurts worse if your tensed up falling. It don't hurt if it's quick. You probably knew you was fixing to hit the ground when you started slipping.
Posted via Mobile Device
Probably...I think it's the butt full of sawdust that gets me most of the time! Haha...Maaayybeee I should start bringing a change of clothes to the barn...Those slivers never come out!
Took some pics with her yesterday :)
I look bald here...Eh, all well.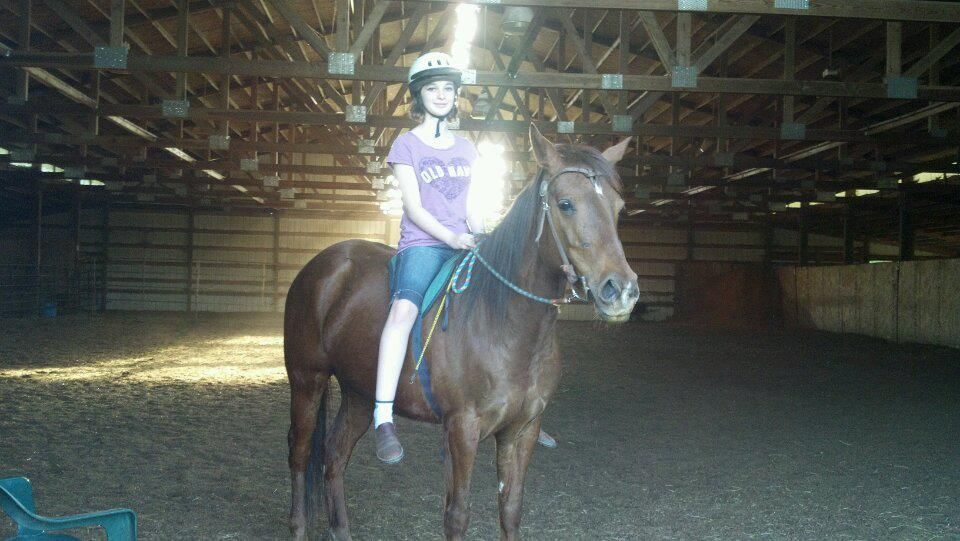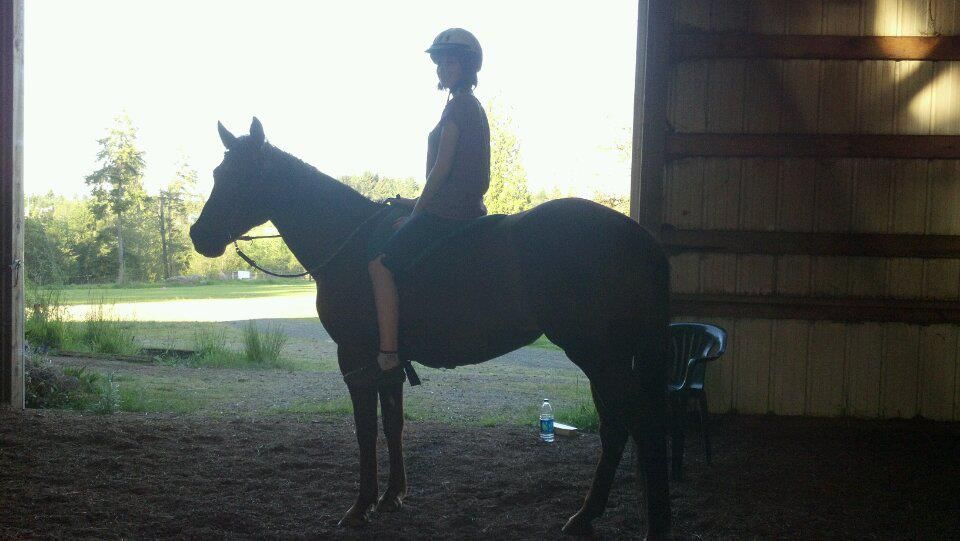 Brandy does not want kisses!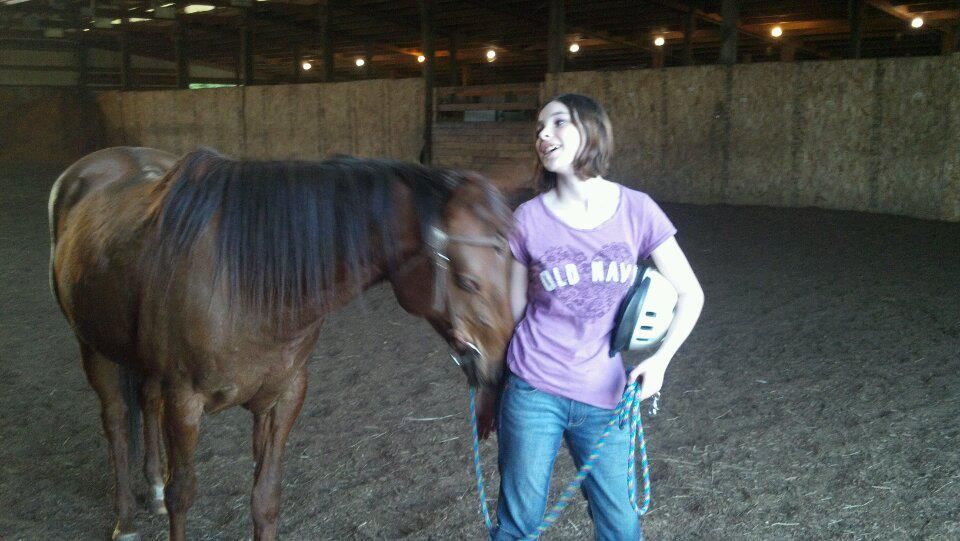 Similar Threads
Thread
Thread Starter
Forum
Replies
Last Post
Lucy/Brandy Updates

Stichy

Member Journals

4

02-24-2013

11:36 PM

My Brandy.

AztecBaby

Member Journals

0

05-10-2010

07:04 PM

Brandy, [I WANT YOU BACK]

jadeewood

Horse Videos

2

10-02-2009

02:28 PM

Brandy

Banana

Horse Pictures

6

03-30-2007

12:48 AM