Building an ĎArenaí...
---
I asked my grandmother if I could build a makeshift Ďarenaí in the corner of the pasture by our garden since the horses and cows donít visit that area of the pasture a whole lot. She told me that as long as I put a gate at both ends so that I could enter it from the pasture and the yard, and as long as I didnít make it too extremely big, sheís ok with it. She only agreed after I pointed out that itíll be easier for me to teach my gelding certain things if I had some sort of large enclosure to work him in, but now she seems pretty interested in my little (big) project.

The only problems are that Iím going to have to build it with barbed wire and whatever posts I can find... so I guess tomorrow after church Iím going Ďpost hintingí in the pasture... We have lots of posts, Iím just not sure where... and Iím probably going to have to find where the post-hole diggers are and use them... but I can do that. After I get the fence up (Iím going to either 3 or 4 strand it), I may go back over the top two strands with 2x4ís... it just depends on how many nails I have and how I feel about the extra work, cause this is probably going to take me a few weeks.

The footing is going to be grass... lol. We donít have anything else and the grass thatís already there will be just fine... Lol.

How big do you think I should make this Ďarenaí thing Iím going to build... Iím about to look up some information on google, but I like having other peoples advice too.

---
Horseshoe Loop Farm: Home of Gypsie (22 y/o TWH mare), Dakota (10 y/o TWH gelding), Codie (18 y/o Walkaloosa gelding) & Harlow (9 y/o APHA mare)
Hey thats neat that your grandma is letting you build an arena but I think you should reconsider the barb wire. It is totally not suitable fencing for horses and just a disaster waiting to happen as an arena side! For a cheap alternative maybe get your hands on some electric tape, you know the white or orange tape? It doesn't need to be hooked up especially if most of your live stock aren't going in that part of the pasture, but it will give you a safer alternative side for your arena.

As for size, a minimum of 60m by 20m which is a dressage arena is good but the bigger the better :)
Green Broke
Join Date: Aug 2009
Location: New South Wales, Australia
Posts: 4,847
• Horses:
1
Yeah, don't use pickets and barbed wire. If you want a good arena then its worth putting a little extra time and money into it. I've seen a lot of people use tires, and make a boundary out of tires, or barrels.

Or, you could even build an enclosure out of wire and pickets and then lay out a riding area a meter or two in from the fence, and even just section it of with wood poles on the ground.
I don't want to run the barbed wire thing into the ground but I agree that it's not a good idea for arena sides, what would happen if you fell off into it? Ouch.
My trainer made an arena out of non electrified electric fence tape stuff and pcv posts that she dug into the ground. She screwed the tape into the posts and even after 3 years (I watched them build it) it still looks really good. She just has to re screw in the tape every once in a while but it's pretty low maintenance in all. AND if anyone falls into it (it's happened to me! haha) it doesn't hurt at all.

That's great that your grandma is letting you build an arena! I love arenas, they make training so much simpler at times, imo. =D
---
Fabio - 13 year old Arabian/Lipizzan gelding

~
Rest peacefully, Lacey.

I like the post and hot tape idea... Make sure you get your horse to respect hot tape first or else he'll get one nasty surprise, or just run through it and destroy your arena. As for barbed wire... Well, horses and barbed wire do NOT mix. Putting barbed wire ANYWHERE near horses is just asking for something really bad to happen... REALLY bad. So I'd put an X on that idea.

Okay, this is probably a super ghetto idea, but I once used tires as an arena. Draw a large rectangle, then outline it with tires. If it's big enough you can lunge with a lunge line. You'll have a "boundry"and it actually does make a really nice arena... It's what we used for six months while we were searching for pipe corrals.
---
"I was eight years old, and I've never forgotten her face when she told me about watching you ride. She told me she saw you, and your horse was dancing in the moonlight."
-- A.C. Crispin's "Sylvester"
---
Last edited by Thatgirlsacowboy; 08-30-2009 at

12:54 AM

.
everyone has given you really good advise, I agree about the barb wire and i know it might be hard to come by anything else to use and you might have to wait longer to build the arena but just think how bad you would feel if your horse flipped out and ran through.... it wouldn't be pretty...
for size i would say also say no smaller than 60 by 20, i think ours is 100 x 40 (really i have no clue just guessing) and feels really small. For our arena we found a guy with some old railroad ties and paid $2 each for them and then used normal boards for the rest.
looks pretty good. I'm trying to get my mom to move the round pen somewhere else and expand the arena.... maybe someday?
We even cut down some small tree's on our property and painted them to make polls for jumps.
also we just have dirt for footing (for now) and it works pretty good. we paid the kids next door to come pick rocks out of it for us.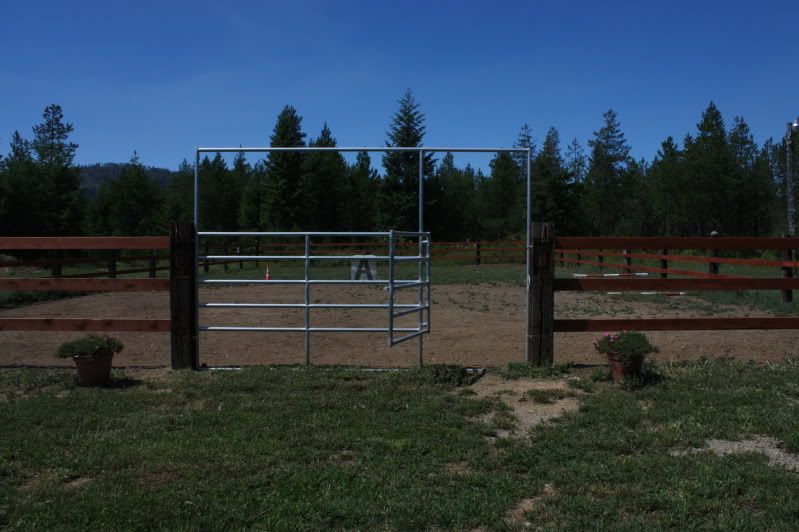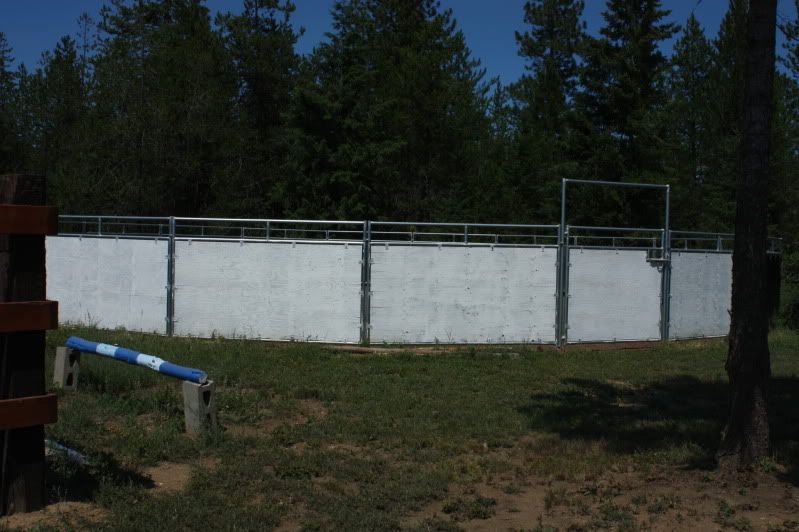 ---
Last edited by Twilight Arabians; 08-30-2009 at

01:52 AM

.
For years I rode in my pasture, no access to an arena. 2 years ago, my dad decided he needed some dozer work done, and had a spot scraped level for an arena. We used landscaping timbers (the ones that are flat on 2 sides) and regular wooden fenceposts in the corners (corners cemented in for stability, but that's kind of above and beyond the call of duty, esp. for a makeshift arena). We bought this stuff that looks a lot like hot fence tape, but doesn't have wire through it, just white nylon fiber, about 4 inches wide. I think, not including dozer work, we have around $350 invested in the arena materials, but we did all of the work ourselves, digging holes for posts, measuring and affixing the tape, etc. We want to eventually add something to improve the footing, but the arena itself turned out really nice.
---
A stubborn horse walks behind you, an impatient one in front of you, but a noble companion walks beside you ~ Unknown
Thanks for the advice! i'm definately looking for something other than barbed wire, but I'm going to have to use barbed wire or our cows will run straight through it, even if it's boards (tey've done it before, barbed wire is the only thing that holds them).

I'm planning on using some of our 2x4's and do the arena thing in, and use barbed wire about a foot away from the outside to just go around it to keep the dows out, that way the barbed wire isn't directly there...

If you get what I'm saying...

We've got 2 stacks of 2x4's, but I can only use a few because we needs them to rebuild the barn... I'm in no hurry to build this thing either... the longer I wait, the more money I can get, and the safer I can build.
---
Horseshoe Loop Farm: Home of Gypsie (22 y/o TWH mare), Dakota (10 y/o TWH gelding), Codie (18 y/o Walkaloosa gelding) & Harlow (9 y/o APHA mare)