The Buttermilk Saga
---
This will be the sortened version,but its still long as its quite the novel to begin with!
Four years ago I started riding colts for a guy who had about 8 horses, ranging everything from weanlings to 20's. We eventually moved onto the ranch and ran it, we had some cattle and about 25 boarded horses. He had 2 coming 3 year olds, and I started primarily riding his one filly, Buttermilk because she was small and and I think honestly she intimidated him. She had been very badly started, and they were the types to force a "frame" on a horse who had NO understanding of what a bit was to begin with. He thought going fast meant really working, and that the tighter rein you had the more control (ha!). Anyways, I started exclusively riding her, I would ride her every day, groom her, just hang out with her. We just clicked. I was mentored under an amazing Natural Horsemanship Clinician and Buttermilk absolutely thrived. We took her back to basics with just a rope halter, ground work, and 10 thousand one rein stops. That first clinic I took her to was one of the hardest things I'd ever done at the time, I was the youngest one there at 16 with the youngest, greenest horse at 3, riding amongst accomplished competitors on their finished horses who stopped on a dime and loped quietly. I cried, screamed, and worked my ass off and in the end we got more out of it than anyone else. Needless to say, I loved this mare. I ended up being able to ride her bareback and bridleless.

Anyways, fast forward 2 years and big surprise the owner of the horse is a bad guy, doesnt pay his rent, gets evicted, we lose our home when he lost the ranch, and he disapears with all the horses except my moms mare, who he couldnt load. A year later I was working for one of the best Reining trainers around, I called said man up and made an offer on Buttermilk, he said no way was he ever going to sell his horses, la la la. A few months later he calls my mom up offering for us to buy Buttermilk and he'll throw in these other horses for free, yeah no thanks we dont need unsellable horses. He wants 3k for her, my mom counters with $1500 cash today(mind you she wasnt worth half that, she just wanted to get me my horse), he wouldnt take it and that was that. In July or August a horse trader friend of my moms calls her up, saying he got these 3 fillies in exchange for training on this buckskin, they were beating on her when they dropped her off and he told them to leave and never got to get any info on these horses he now has. The 3 fillies were bad guys younger horses, 2 of which I had started and the buckskin was Buttermilk. I let him know that if he ever ended up with her I wanted first right to buy her. 2 weeks later I hear this rich little thing made an offer of $4400 for her, and got her. Sad to see her go, but I just let it go. I wouldnt have paid that for her anyways.
Flash forward to last week, I had heard through the grapevine that the girl had made him refund her money, claiming she was lame and all this fun stuff, I had seen the girl riding her and she was barely in control, and had a tight hold on her face. Mind you, this is one of those horses that the tighter you get the higher she goes and she'll about jump out of her skin.I think the girl realized she paid $4400 in a dead market for a green broke 6 year old with 2 weeks on her. So bad guy emails my mom saying make me a cheap offer on Buttermilk, I jokingly said $200 and he WENT FOR IT. He just wanted her to go to a good home and was basically scared of her. Went out and saw her the next day worked her a little, hopped on bareback in a halter in the pasture (probably not a good idea, but I basically lived on all the horses out there, including her) and she was great. Completely sound as far as I can see. So I figure $200 and at the least I'll get a nice little trail pony.

So I'll be getting her today, will add more pictures obviously! The only ones I have available are from when I had her before, but she looks basically the same now. Hopefully they show up.
Im glad you got your horse back sometimes it's just meant to be. She looks like a sweetheart.
Posted via Mobile Device
She's gorgeous and looks to be worth all the trouble. Must have been "meant" for you.
Things have a weird way of working out. I'm glad you're getting her back and hope you have many years of happy trails together!
Sounds like she was worth the struggles for you. What a pretty girl!

On a side note, is that a TexTan? My TT reining saddle looks almost identical to it.
Glad you are getting the horse of your dreams-finally!
Thank you! I'm really excited about her potential, can't wait to et her home tomorrow! ( I had the days mixed up, BAHHHH). It is really funny how things come back around, wouldn't be the first time. My screen name is my dogs name and hers put together, it bugged me for a while when I lost her but now I'm pleased to have it :) I also LOVED Roy Rogers as a kid, and Dale Evans horses name was buttermilk, so that's kinda interesting too :) I do not need a third horse! But then again what's one more ;)

I have zero idea what the saddle is, that was when cared only about what I was riding not what I was riding in haha. It'd be a pretty good bet that it was though. LOVED that saddle. so comfy.
Posted via Mobile Device
What a heart warming story. I only wish poor Buttermilk didn't have to go through what she did to end up finally with you. Warm wishes for you both!
That story deserved the time it took to put in all the smiley icons! Loved it.
Shes here!!! I had her delivered to the public horse park down the street and hand walked her home. I considered taking one of my mares and ponying her, but decided it would be less exciting without the ones left at home shrieking for their buddy. She walked the mile home down the street and crossing a 50mph road without a single spook! I had forgotten how good she is. Shes one of those horses that is hot, but very well behaved. The girls were ECSTATIC when they saw her!(they all used to live together) So for the next few days she'll be in her own paddock, then I'll reintegrate her one at a time :) She settled right in and only got upset when I left her (awwww!) but the girls settled her right down. We had to do some hasty quick fixes to the fence (darn boys are way harder on it than my princesses) and Butterball was right in the middle of it "helping", she couldnt care less about the power drill and if she cloudve crawled in our laps to snuggle more she wouldve. Anyways, onto what everyone wants, pictures! Ill take some better ones tomorrow and post them.
Oh, she does have hives. i dont know if she got something on her or if its stress, i plan on washing her tomorrow to get anything off.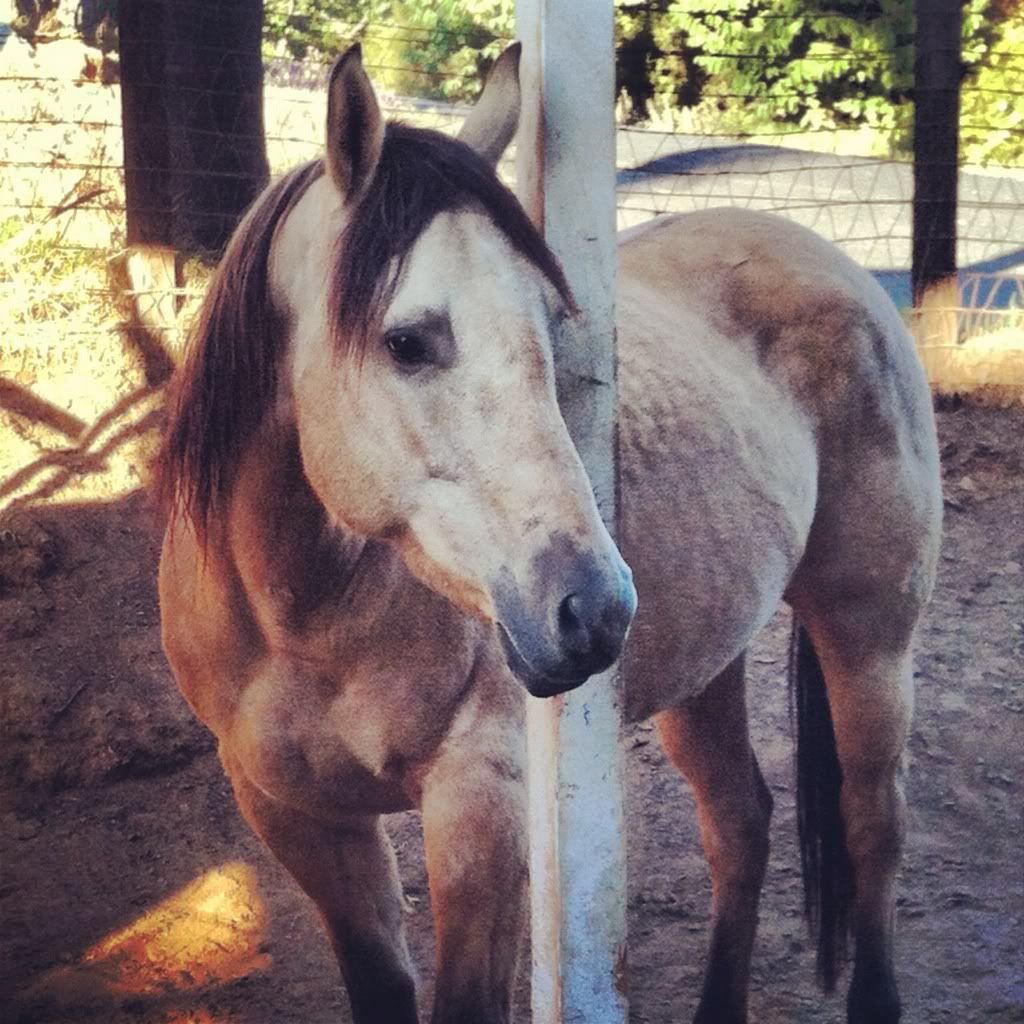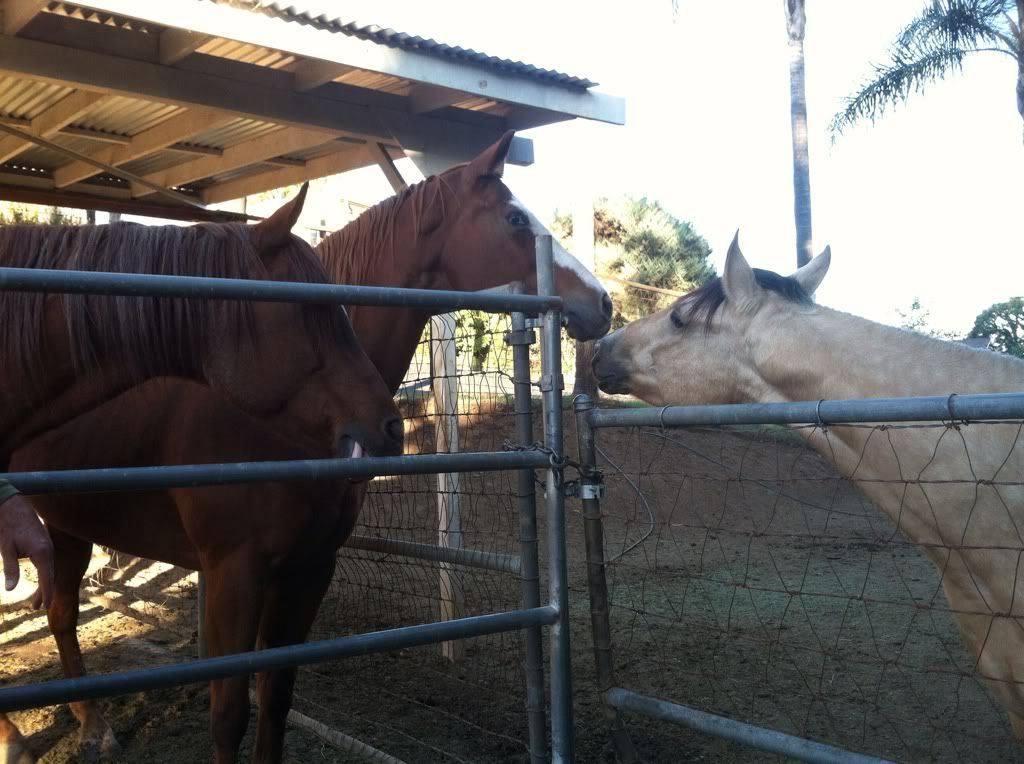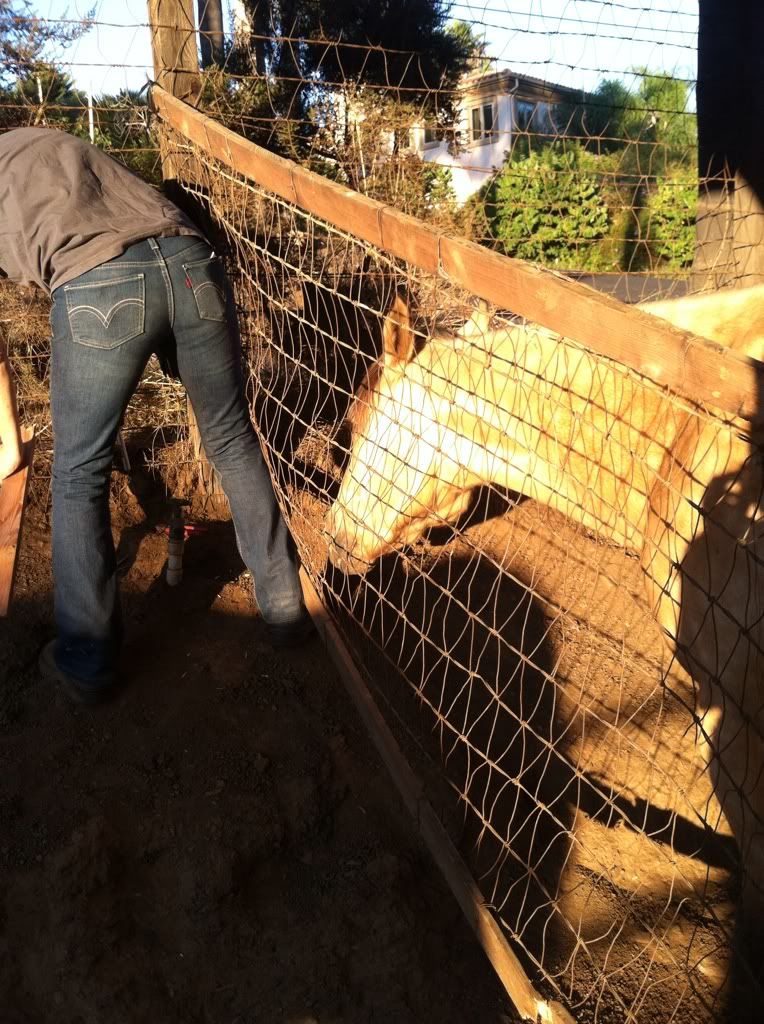 Shes adorable :) looks very helpful haha.
Posted via Mobile Device