Buying a horse, trial periods, and agreeing price! HELP
---
As some of you know, I'm in the process of buying my first 'grown up' horse, not bad seeing as I am top side of 50, this will be the first time I've purchased a horse for competition rather just as a trail buddy, and is my most expensive contemplated purchase. It is also the first time that I have been considering having a horse on trial.
I went to see the horse yesterday, and loved him from looking at him and handling him from the ground. Unfortunately where he is currently kept there is no good place try him out, and due to weather conditions recently the place was kind of a sheet of ice.
The owners were aware before I went to see him that he was above my budget, but were saying that they are more interested in getting him a good home. When we were talking cash yesterday, they were still higher than I would like, BUT if the horse rides well then he is probably worth it, it depends on how green and how comfortable he is, and importantly for me how safe I feel on him.
SO, I can see that the price I feel he is worth may change if is here on trial, could be worth more or less than my current offer. Should we agree a price before the trial, I can see how the current owner would want the security of an agreed price, but because of their current lack of facilities, it is quite difficult.
Oh, here he is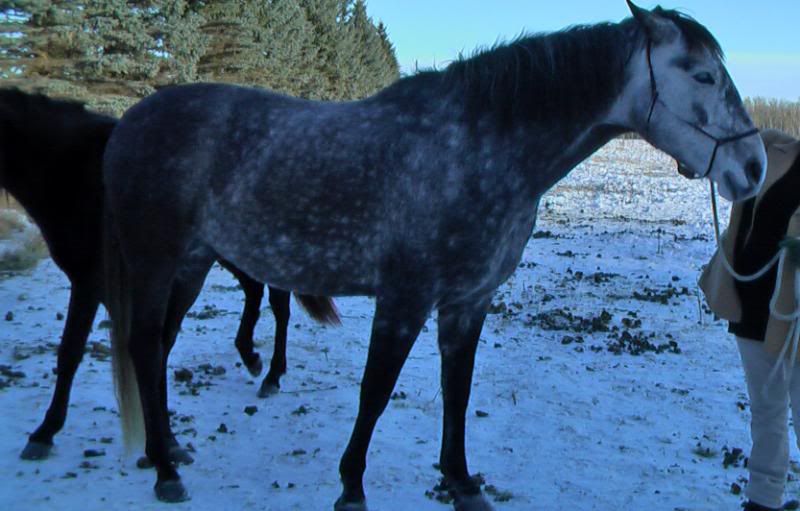 Sweet isn't he
I would agree on a price before hand as long as he is what was promised. Then if he isn't what you thought you could negotiate or return him.
tell them what you just told us. You need to ride him at a suitable facility a few times before you can make a final offer. Is there a place nearby you can trailer him to that would be suitable for a test drive. ?
Or you could just make a low offer and say X is all I am willing to pay without a test drive trial period and vet check. If he works out for me I will pay you "Y" after the trial period or return him.
In order for me to agree to a trial period off my property there are some things that absolutely have to be met or no go, and yes, I would find you a place to try out one of my horses if the weather was such that you couldn't do it on farm.

A) The price is set and the full amount has been deposited in an escrow acct in a local bank, to be released when either you return the horse and I release the funds back to you or you finalize the purchase and release the funds back to me.

B) Full insurance with me as loss payee had been provided for the horse.

C) Pre-vet has been passed or has been declined by the buyer.

D) The full training facility where the horse will be kept has been checked out by me and accepted

E) All references have been checked with favourable results.

If the potential buyer balks at any of those points, the trial may be conducted here but the horse is not permitted to leave. If they balk enough, I refuse the sale.

Allowing the horse off property during a trial period, and allowing a trial period at all, opens the seller up to all kinds of disasters happening to the horse, either because the buyer doesn't know, doesn't care or just plain fate. Once that happens, you get a worthless horse back or you lose the horse entirely. If the price of the horse is enough to warrant a trial period I'll consider it if all my conditions are met, otherwise, buy it or don't.
---
Just to point out, the seller in this case is very happy for a trial period, as a confusion she is taking one of mine as part payment, so I assume that we will do the swap straight away.

Trial at her place can't happen it was a full day out just to go see him, I can't be doing that every couple of days.

Insurance yes, needs to be in place on both sides, and some sort of agreement.