QH's are great beginner horses in general because they typically have calm even dispositions...but again, it ALL depends on the horse, that's just a generalization. There's a 14.3hh QH at my barn who is VERY strong and requires at least an intermediate rider, but then there is a 17hh TB who ANYONE can ride, so you just never know until you go check the horse out.
Definitely check out and ride several of them, and then ask the seller about a 2-wk to 30-day "trial period" in which you get to keep the horse/ride/care for the horse and see if you two would be a good fit for each other. Many sellers will allow at least a week or two trial period once you've found the horse that you believe is "the one".
How very exciting for you, congratulations on becoming a horse owner!
Another website to check out (and where I found Sandie, who is ALSO my very first horse) is
www.equine.com
---
"The times when you have seen only one set of footprints in the sand, is when I carried you..."
---
Last edited by Hoofprints in the Sand; 01-17-2009 at

07:30 PM

.
Thanks for the website. Most of the horses / ponies I've been looking at are QH
Quote:
Absolutely do not buy and OTTB. Apart from the psychological issues over 60% of these retire unsound.
I don't know if anybody commented on this, but I had to reply as soon as I saw this comment.
First off, I would not recommend a FRESH OTTB for a beginner rider... HOWEVER!!! After retraining, OTTBs become absolutely wonderful horses!!! My gelding is off the track as of August '08... when I bought him in September, the lady's 8 year old daughter felt comfortable enough around him to ride him (albeit just at a walk - but she was unassisted!)
I hate that there's that "ohmygoshtheyrecrazy!!" stereotype - they come off the track very hot... it's true. But most of them (there's the odd "crazy" one) come off the track and go on to be absolutely amazing children's horses!
Also, with your figure for unsound OTTBs.... sure, some may retire and not be sound... but that IS NOT the majority. If you get a vet check and buy from a reputable seller, then you should be able to determine soundness issues.
My horse is 7 - he raced for 4, almost 5 years.... he retired 100% sound, and my vet said he was absolutely blown away at how clean his legs are. Even through 2 injuries to his legs (negligence on the barn's part, yes he is in the process of being moved) he's stayed completely and totally sound.
... any more rumors to debunk?
OTTBs are WONDERFUL horses... wonderful!! Just with ANY horse you have to find the one that suits YOU! :)
---
The lovely images above provided by CVLC Photography cvlphotography.com
Just thought I'd sum up...

I'm not saying to go out and buy a fresh Thoroughbred off the track.... but if they've been retrained and have lots of miles off the track, there's absolutely no reason to hold their track days against them..
What I mean is if the horse fits your bill (beginner safe, height okay, the training that you want in whatever discipline(s), and sound of body and mind) and s/he raced when s/he was younger, please don't look him/her over just because of that.

I hope I made sense.
---
The lovely images above provided by CVLC Photography cvlphotography.com
JustDressagIt, Thanks for posting your experience in the matter of OTTBs. I always hear so many bad remarks about them, but then I hear the stories about how terrific they can be when retrained. It's hard to know who to listen to. I'm considered getting OTTB in the past but was unsure if I should or not. I'm still interested in the possibility of getting one someday. It's good to hear the happy stories, they are encourageing.

Thanks,

Jubilee
Jubilee, next time I am out with Denny I will take a video of him on the lunge line for you. He's recently off the track (August '08 ) and then got injured (BO's negligence) and has been on stall rest for 3 months. Not many horses can keep sane for that amount of time, and he did extremely well - everyone is SO impressed with him.
When I bought him (Sept '08 ), my second ride was bareback with a halter. I have since ridden him bareback with no problems at all. He is very laid back.
Take a look:
This is him 7 weeks off the track: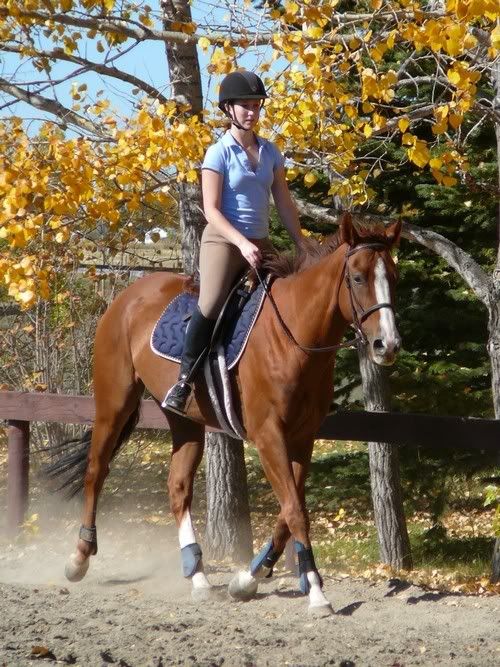 (to show the spurs, I hope you can see them... and check out that nice easy canter!!)
Notice 2 things, please: he was so laid back, I had to grab a pair of spurs and use them! and he is trotting on a loose rein.
When I bought him, he was 6 weeks off the track. I could ride him at all gaits on a loose rein and transition between gaits at that time as well.
He's a little more "Thoroughbredy" right now because he's been cooped up for 3 months on stall rest - but again, he took the stall rest better than 90% of horses out there, and I have no doubt that he'll be back to normal soon.
Please please PM me or write here if you have ANY questions for me!
---
The lovely images above provided by CVLC Photography cvlphotography.com
HorseRiderLover, how exciting this must be for you!

The height doesn't really matter, but maybe you have ridden several different horses in your lessons that have different heights? If so, then maybe you prefer one of the horse's heights more than the others? I would go for a horse the height of the lesson horse that you like the best.

Also, if you have decided one the height, price range, age, etc. then maybe you can tell us and I can help you out with some online horse shopping!

Hope I helped! :)
Uh well, I use horse deals search mostly. There isn't too much of a price limit, mostly because you can't put a price on the right horse. But I don't want to spend a ridiculous amount in case is doesn't last, though I have faith it will last. Anywhere from 13hh-16hh. I know most people have been recommending 15hh horses, but I ride at 12.3hh pony which carries me fine.
Age; well I would prefer something over 8 but nothing over 16. I know most people say older more experienced, but I want something I could compete with and I don't want it old and slow.
Any help appreciated,
Thanks
Goodluck finidng the perfect horse. I hope you find a great horse.
---
Horseriding- The art of keeping a horse between you and the ground.