Can I brag?
---
Ok, some of you may know or have gathered that I taught saddleseat equitation lessons for the better part of my life. Some of the kids were "alright" in talent - some wanted to be there, others didn't, kids came and kids went.
Of all the students I had, two have really kept up with the sport and moved on - I just got some updated pictures - I have their permission to post these proofs.
Rider A: I taught this girl the basics from when she was 6, learning to guide and post through her academy years and briefly as she began riding performance lessons. This is her winning at a really big show on her new mare: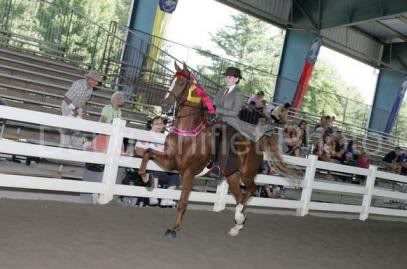 Rider B: Came to me for equitation tips - when we started, she couldn't maintain proper foot position, and she had droopy hands - and she always looked down... it looked like she had no confidence when riding. This is a picture from the Morgan Grand National Championships just last week: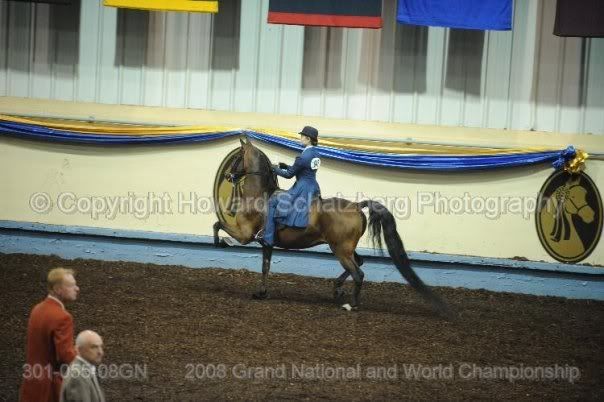 I don't mean to sound arrogant or anything, but it just makes you feel really good to know that you helped contribute/ build their foundation. Just had to share.
---
kickshaw
Justin (qh/tb)
Boo (asb)
You have good reason to brag. It should make you very proud that students of yours have done so well in their horse careers. Bravo and hats off to Kickshaw
---

"Until one has loved an animal, part of one's soul remains unawakened..."
- Anatole France
Thats so cool, I bet that does feel good! :)
---
From east to west a travlin gypsy found her prancing pony for now their hearts run as one...into the north
~Traveler
---
job well done!!!! i honestly know nothing about that style of riding but i do appreciate it. i love thoes horses. i wouldnt know what to do if i were to get on one. your students look very good and professional.
---
On The 6th day god Created The Quarter Horse...One The 7th he Painted All The Good Ones---
*trisha<3
thanks guys :)

of course, they made my job pretty easy; both of them have a lot of natural talent and feel :)
---
kickshaw
Justin (qh/tb)
Boo (asb)
Natural talent is a good foundation but it takes a teacher to develop and encourage it. That's not bragging, thats pride - and well deserved.
---
I'm not arguing with you, I'm just explaining why I'm right.

Nothing sucks more than that moment during an argument when you realize you're wrong.

It's not always what you say but what they hear.


Kickshaw!!! A job well done! You have every right to be proud!
---
Stella - sweet, timid, elegant, lovely, lively, amazing
Luna - large, unattractive, naughty, adored

Thanks
---
kickshaw
Justin (qh/tb)
Boo (asb)
+1 to that comment
---
A good cowboy always has a better horse at the end of the ride, a poor cowboy will be afoot reguardless of the horse.

Mis Raices Estan Aqui (my roots are buried here)