Cash's first show - pictures and videos -
---
Well had my first show on Casher's.
My first class he was good, never really did anything wrong, just looked a little to interested and green (which he is), we were like 5th out of 8 under both judges. There was only one other horse in there that had never shown, the rest had been shown before (a few for a long time). We were happy with how he behaved though.
The 2nd day I showed him he was awesome. Just trucked around there, we improved a lot (both of us). We were 3rd and 5th out of 9 I think. The judge that gave us 5th placed almost opposite of the first judge. But oh well ahha.
I did showmanship with him two the second day, don't really know what I placed my mom said 5th and 8th out of 12 she thinks. I left to lunge him for my hunt seat class. He was really good though, neither of us were super sharp, but ah well. The horse didn't do anything wrong. Although...when Mal and I came back to finish getting him ready for the showmanship we found the little **** laying down...we got some pictures haha
These photos were from the first day
05272010_EOQ_DSC6120.jpg
05272010_EOQ_DSC6130.jpg
05272010_EOQ_DSC6131.jpg
Hot after his first day, he was standing in front of his fan
Here's him thinking he was cute because he laid down right before showmanship...guess I learned my lesson ahah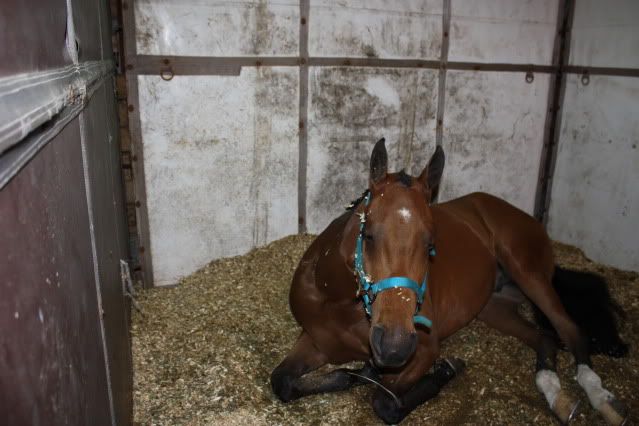 And then here's the video of our 2nd run.
He looks so laid back. Great job on him! :)
Thanks! He was so laid back in the show pen, the minute you were in there it was all business. Outside of the show pen he has lots of personality (not in a bad way ahah).

For my personally I would like to next time push him through the bridle a bti more at the trot (to get rid of that little bend thats a bit funny) and to let his nose tip out a little more.
I really like how he travels, he is smooth and natural and forward. Thank you for sharing that, english pleasure is much more pleasurable to watch than WP.
---
Always remember that feeling of looking at a big, open country over the ears of a good horse, seeing a new trail unwind ahead of you, and that ever-spectacular view from the top of the ridge!!! Follow my training blog:
http://robertsontraining.blogspot.com/
Ahaha I love both, but I can see how english would be more appealing to the majority for sure.

I love how he travels too, very fluid and free. He has more there too especially at the trot but the pen wasn't big enough (uneven ground too) to really push that out. Ah well, we were going for consistency this weekend. Next show we'll work on being a touch more fancier. (I haven't shown english in 3 years either, so I was a touch rusty ahah)
I hate the little ugly gait of WP. English Pleasure isn't nearly as bad though, I enjoyed watching that! Good job!