Cheap ideas for parade 'dress up?'
---
I'm planning to drive my miniature horse mare, Sour, in our annual Livestock Show and Rodeo parade next February, and I'm itching to start planning her 'look' and making sure that she's desensatized to it. She's a chestnut with a black harness, and will be pulling an easy entry miniature horse cart with me and very likely my trainer in it (just in case, y'know xD she's still on the light side of green)
The parade theme is still TBD but its usually something stupid that isn't really a them like 'We're just having fun' or 'Rodeo Time' so no one actually really cares about it.
I'd like to do something cute with her, but I'm on a tight budget thanks to miss Honor, so I'm coming to you guys for ideas! Her 'colors' are shades of pink and purple (she has a wine halter, purple fly mask, etc) so I'd like to keep it that way, but it doesn't really matter. She has a black driving bridle with a pink noseband sleezie that I can use.
I was thinking something along the lines of a butterfly? Sounds kind of cheesy though
. I already about 1 1/2 yards of purple and white butterfly print fabric (its semi-transparent mesh type stuff. I love it), and I can always go to the fabric store for more stuff. So what do you guys think? Any ideas of what to do with the fabric, different ideas for dressing her up, cheap accessories, etc? My only thing is that I don't want to put any paint on her, as it will be too cold to wash it off.
I'm also wondering if theres a way to make my own 'polos' or ear bonnet for her. I just can't justify paying $10-12 plus shipping for a one time thing. The polos would just be for show, not to actually support her legs, so would maybe some fleece type fabric with velcro work? I could get that for like $3 a yard.
Any ideas are welcome :) this is a picture of our cart and her. Just imagine her with a ton more fluff than in this picture. I don't clip her.
How should I do her mane? Pink ribbon in a running brade? Bows with normal braids? Left loose? Flowers woven in? The list is endless...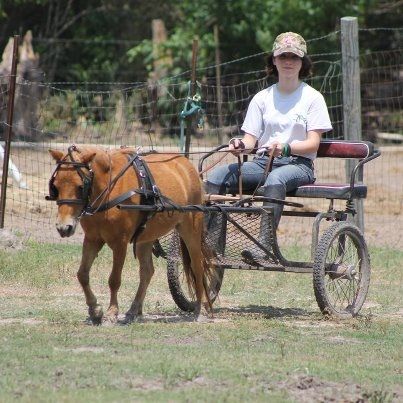 This is her 'pink' bridle.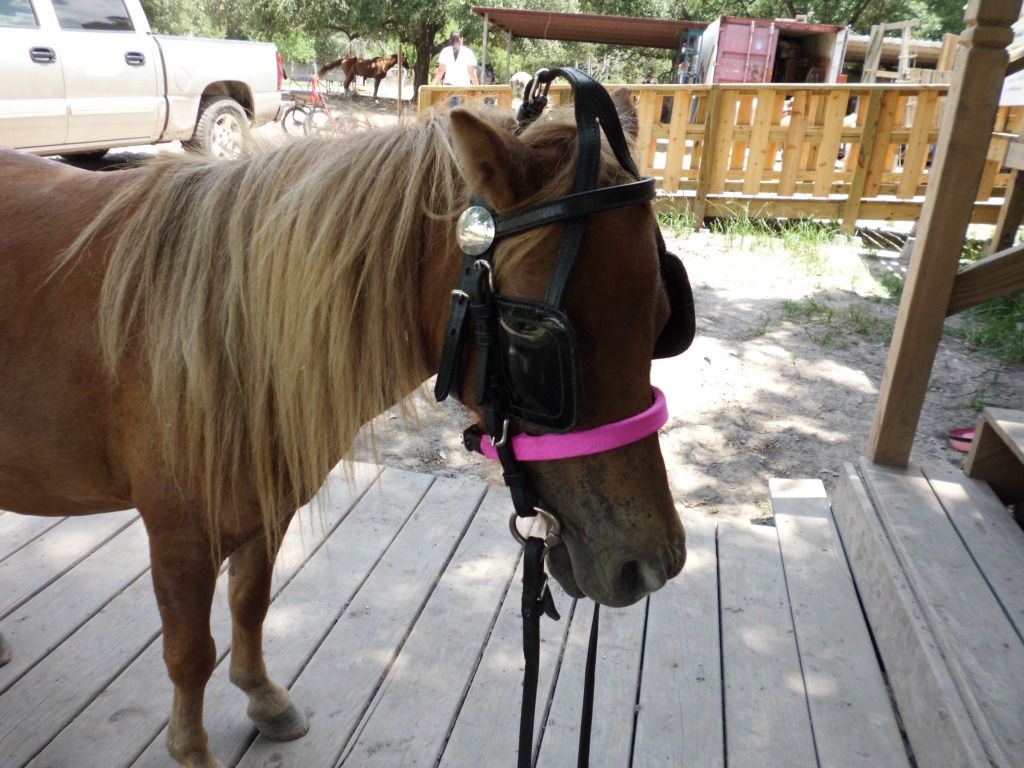 ---
Everyone in your life is meant to
be in your journey, but not all of
them are meant to stay till the end.
You could braid butterflies/flowers into her tail and mane. Paint her hooves all sparkly pink. Attach some butterfly wings to her harness somehow.
Could anybody join the parade? I'd love to take Henny and get him used to all the loud noises and such.
---
There on the tips of fair fresh flowers feedeth he; How joyous his neigh,
there in the midst of sacred pollen hidden, all hidden he; how joyous his neigh
I was thinking along the same lines as the both of you. Lol.
Posted via Mobile Device
Sure can! All you have to do is register two weeks in advance, have your coggins handy (they rarely look, but just in case) and show up. That would be a ton of fun. If you wanted someone to go with, you could probably join up with the rest of our farm. We usually take two hay wagons, two or three minis, a cart pony, and the horses that we'll be using in the rodeo. The parade is honestly really pathetic in terms of who shows up, but its a great 'learners' parade for the young ones. Its usually just a bunch of muscle cars, monster trucks, a few fire engines, the mayor, some dance groups, a bunch of 4-h and ffa trucks, and a bunch of 'cowboys' with overly-tacked horses. Maybe one marching band if you're lucky. But hey, its a parade! xD

Love the idea of pink hooves. What would I use to paint them with? Nail polish? I'd love to find some little butterflies to put in with flowers too. I think this calls for a trip to Hobby Lobby!
---
Everyone in your life is meant to
be in your journey, but not all of
them are meant to stay till the end.
They have hoof paint, but I'm not sure how much it is. I would imagine a water-based craft paint would be fine, if it's just for a few hours.
Posted via Mobile Device
Perhaps you could go vintage old school & turn her cart into a "flower cart"? She could have a straw hat with ribbon & a flower and you could make her all kinds of frilly cute!
Edit - On the back a sign that says "Sour's Flowers" teeheee
For inspiration
flowercart.Jpeg
flowercart2.jpg
---
Life is like a camera. Focus on what's important, Capture the good times, Develop from the negatives and if things don't work out, Take another shot.
---
Last edited by MHFoundation Quarters; 12-12-2012 at

12:50 PM

. Reason: Afterthought
That's an adorable idea, Mandy! I love it.
Posted via Mobile Device
That would be adorable! Especially the 'Sour's Flowers' sign idea. And while everyone else is throwing candy...we can toss them fake flowers. ahaha. I'm not sure how I would turn my easy entry cart into a flower cart though? If I could find some sort of super cheap box and attach it to the back, it might work- but other than that the cart is really just a shell with a seat. I could easily wrap vines and stuff around the shafts though, to disguise them...hmmm. Definitely something to think about >:)
---
Everyone in your life is meant to
be in your journey, but not all of
them are meant to stay till the end.
I would love to take Henny! Now I need to plot for a new costume
I looove the flower cart idea. Super cute and easy to do!
---
There on the tips of fair fresh flowers feedeth he; How joyous his neigh,
there in the midst of sacred pollen hidden, all hidden he; how joyous his neigh