Clinton Anderson In Detroit???
---
Hope this is the right place to put this. I am still finding my way around here!
Is anyone going to the Clinton Anderson Clinic in Detroit on July 26-27???
I am. Only because I received free tickets and I want to see him ride bridleless. :)
---
Stella - sweet, timid, elegant, lovely, lively, amazing
Luna - large, unattractive, naughty, adored

Free tickets......Yes, that is about the only reason I am going too.
Being I am on the other side of the state, it is the only way I could see it being worth it. I would like to go on Sunday, but we will see what works out. If anyone needs tickets, between my neighbor and myself, we have 2 extra ones.
Cool! Have fun, Danger. We'll look forward to hearing about it. Be sure to take some pictures.
---
Life is hard enough on its own, please be kind.
Sounds fun, I've never seen one of his clinics. Have fun and give a report when it's over!
I am torn now... :roll: It is supposed to be nice this weekend and I would love to get to Lake Michigan...I have been wanting to go all summer, but with Softball...there was just no time and now Soccer is about to start up.....I gotta get some where!!!c
If anyone's interested, I've got some pics from the tour. I was only able to go on Sat. My husband and girls went to the lake so my parents went with me. I enjoyed it, but he didn't ride his horse, Mindy, bridleless which is what I was hoping for. He probably did that on Sun. :(
Well, the pics aren't the best quality, but in this one he was showing how to desensitize a horse to the hose which also doubled as an E-z-all advertisement:
He did do an advanced riding demo on Mindy to music that was a pleasure to watch:
Here he enlisted a spectator to pose as a "cow" to show off Mindy's cutting skills: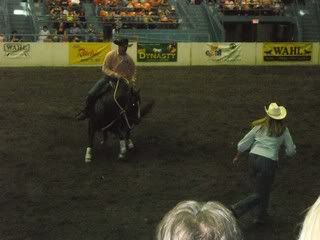 Then the lucky woman got to ride Mindy!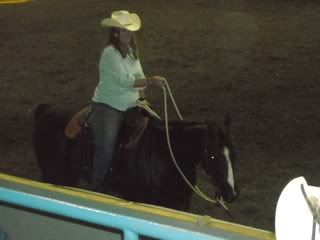 ---
Stella - sweet, timid, elegant, lovely, lively, amazing
Luna - large, unattractive, naughty, adored