I used to ride my best friend's amazing little pony called Murphy.
http://i157.photobucket.com/albums/t...3012008740.jpg
He was a 13.2hh ConnemaraXHighland Pony and he was mad. Unforunatly he was put down due to severe colic in the summer of 2008, but he was an amazing little pony.
I used to ride him, helmet less, back and forth from the field without ever having to worry about my safety. I would do various acrobatics [standing on his back ect.] on him in the field while he was grazing [i once forward rolled off him, haha] and he wouldn't bat an eyelid. I used to try and ride side saddle on him as well out on hacks and would lie back with my head on his bum.
My and my best friend always try and see how long we can hold hands or link arms for on a hack before we break apart. I also used to walk underneath Sinbad when i was younger. None of these are very crazy, but they are not entirely safe, haha. I've never tried anything crazy on Dougal. He's crazy enough that i don't have too, haha.
---
Last edited by Smarby; 02-06-2010 at

03:30 PM

.
I cycled my lever action rifle off my horse's back without preparing him for it at all. He was not too upset of it but he was not happy either. A Marlin 336A in 30/30 if youwant to know.
---
A good cowboy always has a better horse at the end of the ride, a poor cowboy will be afoot reguardless of the horse.

Mis Raices Estan Aqui (my roots are buried here)
I decided to groom my loan pony bareback and turned round to do his back end when he decided to go for a couple of laps round his stable so I rode him backwards.
One stupid thing I did was go riding in Tunisia without a helmet on a strange horse with unrecommended riding group so I went galloping across beaches etc helmetless and on a horse with crap tack and fortunatly got the best behaved one.
---
Eagles may soar but weasels don't get sucked into jet engines.
Some more things I do:
Slide off Romeo's rump
Jump around them
Walk under him
Stood up on another horse (I was in a saddle and younger)

I will think of some more things I have done...
They aren't coming to me right now though.
---
RIP Minnie, 1981-January 15, 2010
RIP Maggie Mae I miss you
When I was around 5, there was some horses in the pasture next to ours that would stand next to the fence and me and my brother use to get on them. When I was 7 I got an unbroke colt I had at the time, but I just sat there for a moment.

The stupidest thing I ever did was let my siblings tie me to a horse (I was probably around 5 then to) w/ some hay sting and my jacket, I ended up sliding down her side and rode there til my jacket ripped. Never tried that again.

I can't think of anything else I would call 'crazy', just silly kid stuff.
Well, I've done the usual stuff like slid off her butt, stand up on her back, use her as a couch, walk around backward, and lie in the grass next to her grazing. But I guess the craziest thing I've ever done with my horse was hop on her in the 100+ acre pasture with nothing at all (no halter, helmet, etc.) and go cantering up hills. Which was a blast!

Oh and I totally used to try and ride random horses in pasture with no tack. Except I was too short to get up. =( Those horses were angels though!
Thought of some more
I have ridden "Sidesaddle" Bareback (Rode sideways)
Laid down on horses
Rode backwards
I was carrying around a bag on Romeo and making noise (That could have been bad, thank god my boy is calm! lol)
---
RIP Minnie, 1981-January 15, 2010
RIP Maggie Mae I miss you
ive jumped 'sidesaddle' in a western saddle & bareback.

jumped double & sat in back on a hot mare...haha that didnt end well so we did it again...that didnt go well either..

rode a pretty wild mare all the time bareback & barefoot & with just a rope or a halter & lead rope. got run away with a lot. jumped what ever there was, including picnic tables.

ive ridden on the road barefoot & bareback with no helmet & galloped.

stood on their back at w/t/c with varying success...

ridden quadruple haha
---
Gypsy & Scout <3
Everybody is a genius. But if you judge a fish by its ability to climb a tree it will live its whole life believing that it is stupid. ~Albert Einstein
My sister and I used to jump double on my mom's big anglo arab gelding bareback ( one of the jumps were about 3 1/2 feet) when we were about 5 and 6.

My folks were divorced and when were were at dad's (Mom kept her horses there for about 7 years after the divorce) we had very little supervision as he would have to work and leave us with our older sister who never did watch us...
These are just some of the pictures I found of Romeo putting up with my crap!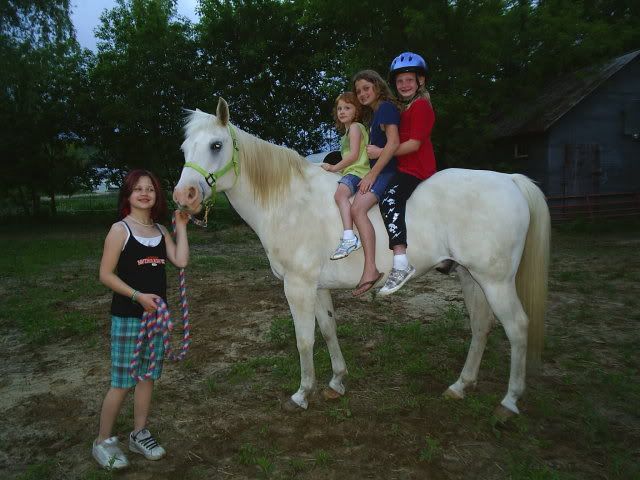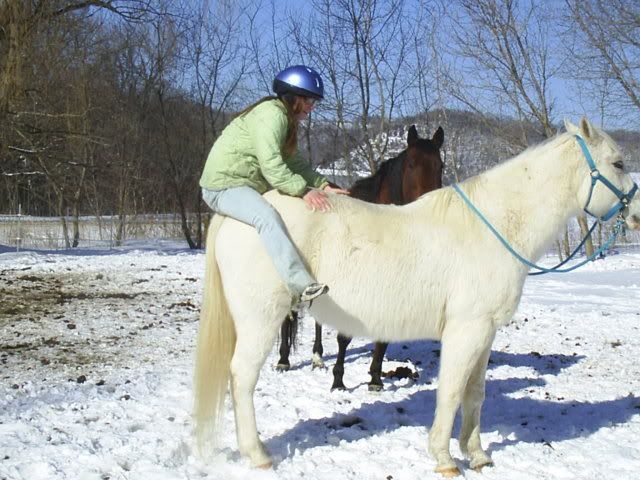 ^Sliding off his rump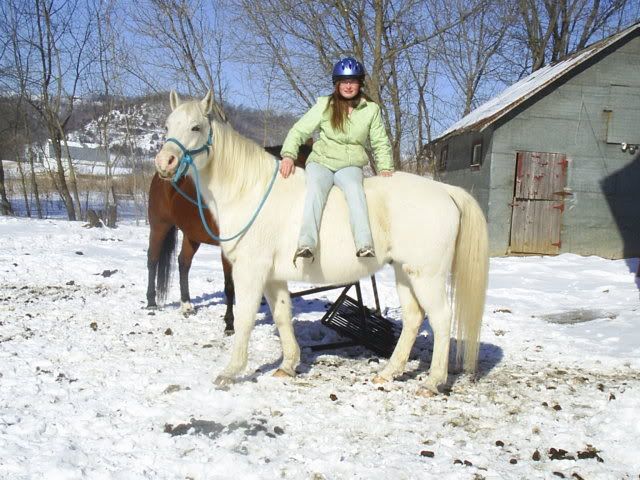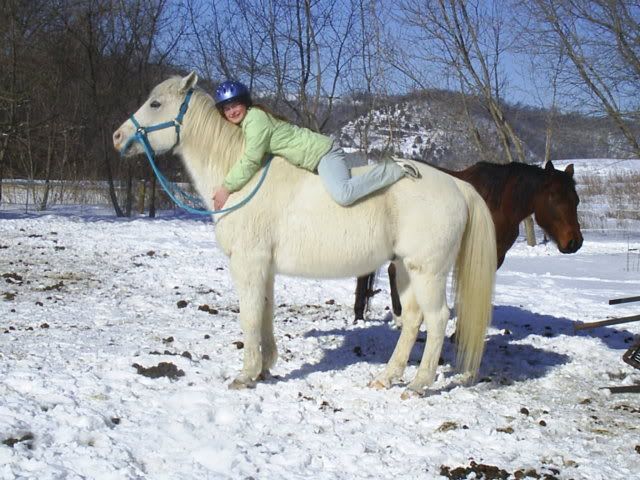 ---
RIP Minnie, 1981-January 15, 2010
RIP Maggie Mae I miss you