Well I live in England and there are lots of differences again.

Boarding/Agistment = is called livery in the UK. There are 4 main types: grass (where your horse lives out 24/7) DIY (you rent a stable and field but do all the work yourself) Part (differs but your horse is generally looked after during the week then you do the work yourself on weekends) Full (your horse is totally looked after for you).

Facilities differ for all types of livery, it could be very basic, just a field and stable to having everything.

Livery yards are simply known as yards are all privately owned and are generally managed by the yard owner although some of the top yards will have an employed manager. A lot of the farms here also rent out their fields and stables (if they have any). Prices vary greatly.

Rugging: depends on the horse and owner. Some people like to rug their horses 24/7 especially if they are show horses, even if they are not you will quite often find horses wearing fly rugs throughout the summer. Most people though only rug their horses during winter and a lot never rug their horses at all. We have a high number of hairy native breeds/cob type horses that really don't need to be rugged.

Clipping: is very popular and just about every horse that is ridden throughout the winter will have some form of clip. Some people will get over zealous with their rugging though and you will find some poor horses wearing about 4 rugs when they don't need it

Trainers: (generally called instructors) are available everywhere, some of the better yards will have a resident instructor and also visiting ones although you can hire whoever you want to come and teach you in most cases. If your yard does not have an area to school in then you will be able to hire on at a local yard that does.

Discipline: If you want to know what people do with their horses, you ask just that what do you do with him/her. Hacking is the most popular pastime. Western riding is not so common as in America but it is becoming quite popular. Show jumping, dressage, eventing and showing are the main competitions here and there are shows on every week of the year. Unlike Australia we win rosettes and unlike America Red is first place!

Riding is a very popular sport here but we are a small country and a lot of our countryside/bridlepaths have been taken over so for a lot of us riders we ride in built up areas, negotiating heavy traffic, childrens playgrounds etc.
Red is first? Wow!!

An old friend is English, she used to hunt, so I have learnt a bit about the horse culture in England from her. It's all very interesting, I love how much difference there is between cultures, but at the same time we all have the same problems and the same love for our horses. (most of us, anyway, lol)
---
it is true how different each horse culture is and it might not be a bad idea to start a thread about the similarity between us as well.
---
A good cowboy always has a better horse at the end of the ride, a poor cowboy will be afoot reguardless of the horse.

Mis Raices Estan Aqui (my roots are buried here)
That was an interesting read.
Coming from a country that was pretty much isolated for hundreds of years (who cared about a frozen rock in the middle of the North-Atlantic ocean?
) we do have a somewhat special horse culture.
For starters only one breed. No horses have been imported for about a 1000 years.
Boarding/Agistment:
In the city or towns there are stable neighborhoods. There there are a number of stables houses owned by many different people, from which you can rent a stall. There are horse-clubs on these areas to which you pay a certain fee if you wish to use the facilities. Where I am I pay about 20-25$ (can't really remeber) and I get a number of outdoor arenas, a big indoor arena, a few round pens and 2 oval tracks. Horses generally spend a lot of time in their stalls when they are in those areas but there are pens outside of the houses where they are let out. My neighborhood also has a vet's place which is very convenient. It differs from place to place how much you do, all from doing everything yourself to having everything done for you. But this is only from about December/January to the start of summer for most people. Then the horses are let out to huge pastures and have very little human contact for the rest of the year. Young horses that have not been started (ca 0-4) are also in these huge pastures along with pregnant mares. Almost all icelandic foals are born outside. It's required by law to have somekind of shelter for the horses, be it natural or not, since we get horrible weather, but rugging is not done, as the owners are maybe a 6 hour drive away. Show horses are kept on houses like we say for the summer as well since the competition season is during summer.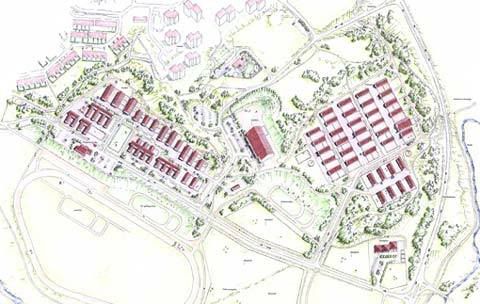 Here's a map of my stable neighborhood, which is the largest in the country. The dark red houses are horse related.
Rugging:
Not really done. Maybe showhorses to keep them clean in their stalls but genrally not. I have a rug that I throw on if my horse is sweaty and there are below freezing temperatures in the stables.
Clipping:
To clip from under the mane and under the stomache is somewhat common, but full-body clips are not seen but on foals that are kept inside, as their coat easily gets messy.
Trainers:
Personal trainers are getting more common but most people rather attend courses, especially with newbes and young people.
Discipline:
Everyone rides with an english style saddle. I've seen a western saddles two times in my life and both of them were nailed to the wall, one in a tack shop and one in a restaurant. People use them when hearding sheep/horses, when going on long trips, when doing dressage and competing in gaited shows. Most people in the city trail ride along with doing minor dressage and having a flashy gait. Competitions are almost strictly gaited shows.
Riding is very common here in Iceland, in fact we have about 80 000 horses and 300 000 people, so 0.8 horses for every 3 people. We are also a very sparsely populated country so we can let our horses have the space to be free for about a half of the year.
I love the idea of letting them run free for half the year in herds. I think it would really benefit their health and get rid of any stress from ebing ridden etc through summer, they can really go back to being a horse... I wish it was practical to do that sort of thing here. I just know my horses would love it.

(Plus I wouldn't have to ride in winter :p)
---