Do you guys ever miss your old horses?
---
I miss Rhedd. When I was upset, he would be the one who would stand there for three hours while I cried on his shoulder. He would be the one that would love me no matter how many different horses I ditched him for. He would lick my tears away. He would make me smile no matter how sad or upset I was. Now that I don't have him, I don't have anyone or anything to watch over me and take care of me. I miss him. I don't want to live this messed up life without him, but I'm going to have to. I wish I could get him back. He was my heart horse and I don't think I will ever love another like I love him.
So do you miss your old horses? Share your stories about those amazing partners that you would give the world to have back.
---
You can never take a Thoroughbred away from a horse crazy girl.
The only one I miss is the one who's buried out in my front pasture.

The horses I've sold or given away over the years I've wondered about, but I don't really miss them.
I miss my heart horse every single day. When I had to donate him to a theraputic riding center...it was like losing a loved one. There will never be another one like King.
There are a couple of horses that I miss, they weren't really anything extremely special to me, but they were loved a lot. The mare I really miss the most though is Meg, she was my special horse. She was the one who I could run to when I needed a quiet moment or just comfort. She died of a stroke about 5 years ago.
---
"And somewhere in the northwoods darkness a creature walks upright. And the best advice you may ever get is: Don't go out at night..."
---
I used to miss her a lot. Her name was Reno's Little Teddie and she was my first horse. I could do anything with that mare. She was 17 when we started barrel racing and she ran like a 2 y-o. I won lots of trophies and ribbons on her. Then she started having back problems to the point where I couldn't ride her. So I gave her to my trainer to use for lessons for little kids but at the time he didn't have many kids riding so he sold her. I cried so hard the day I found out that I stopped riding any horses. I missed her for a long time after that, convinced I would never ride another horse. I don't miss her as much anymore. I know she's still with me in spirit(which sounds lame bout I believe it).
---
To see the wind's power, the rain's cleansing, and the sun's radiant life, one need only to look at the horse.
I kind of miss my old pony cocoa, cause he was a sound ride, very willing, but also green so it was fun to teach him new things, when I got him he didn't even know how to pick up the canter and teaching him was so fun, but.. he had a past.
The person we bought him from got him in an auction in another state, he had no name, and by his temperament, and some scarring, it was clear he was mishandled. Going near his back legs was risky, he would cow kick often, brushing him didn't come without him constant pinning his ears and trying to bite you, or attempting to cow kick you, and leaning over to bring the girth across to stomach almost always resulted in bruises. We knew these things, he was a charm under saddle completely quiet, but he was dangerous on the ground.
We tried every technique possible to work him through it, from super soft sweet approach, to hard-arss tough love approach and EVERYTHING in between. Some things we worked through [for instance in the few months we had him we managed to be able to safely pick out his back feet, and lead him into his stall without him charging into it] But some things we just couldn't change, he still kicked out hard during brushing and girthing, bit you when you were in his reach or off guard.
On one instance I was walking by him with his saddle to put on a rack in front of him, as I walked by him with it he swung his back end at me, pinned me against the wall, and as I was pinned there repeatedly kicked at me with his leg, I struggled out of there and shrugged it off.
Another instance I was girthing him and he swung his back leg forward hard and slammed me in the back of the leg, this was one of the few instances I couldn't dodge him.
The instance that iced the cake was when my mother was walking by him one night while he was on the cross ties, and had to lift the cross tie a bit and crouch down a bit to pass, which he never really minded. This time however, he bit down hard on my moms head, pulling out a chunk of hair and skin from her scalp, we gave him back to his old owner, for free, that night while my mom was in the hospital getting a tetanus shot and barely avoiding stitches.
In a sense, we probably no matter what we did be able to make this horse safe, but I still miss him, he was probably the safest horse I've ever ridden, incredibly fun to teach new things, but he was just so violent on the ground, he was a cute little guy, chestnut roan and a pony [breed unknown] this is him: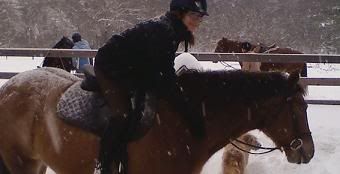 I miss tacky :( first horse i ever rode. She was amazing! picky, not to loving, bucked my cousin AND brother off (at the age of 25!!! whooohooo go tacky! lol)
But she was put down a few winters ago, I STILL miss her, she always took care of me, and only ever scared me enough to scare some sense into me! haha. But its kind of like i have her back again because Rena is EXACTLY like her, smart, takes care of me, WILL tell me when im getting to cocky, picky. haha :)

And Payday, i miss him a lot. he was a great horse, always happy to see me, always happy to do whatever i asked (which is a lot different from Rena, haha, she give me the cold shoulder when i deserve it, but always forgives me.) and he always ignored it when i was a butthead. but im happy because He is living in a little farm is saskatchewan (sp?) with a little girl and her mom riding him :)
---
If there are no horses in heaven... im not going.
I miss every single horse that I have been priveledged enough to know, ride and been around.

The one that is going to kill me the most emotionally, is when Nelson goes. I don't think I will ever find another Nelson again in this lifetime. He has been and will always be, the best thing that has ever happened to me. I am trying to cherrish every moment I can with him.
---
Everyday I regret selling Aztec.. he wasnt particularly special to look at or anything like that but he would do ANYTHING you asked him to without hesitation.

I rode that horse everywhere you could ever imagine, down highways, through bush, up hills that might as well of been cliffs.. he never questioned any of it. I did everything on him, mounted games, campdrafting, team penning, pony club, show jumping. God I miss him.

That horse was my heart horse and if I had the chance I'd take him back in a heart beat.

-pics in my barn if anyone is interested-
---
"If you can't see a thoroughbred has talent, you're probably too dumb to ride one anyway."

Ive never owned and sold a horse, so i cant say like that, but when my mom made me quit lessons and the barn closed down i cryed almost everynight because i missed Breamen a 15.3 hand chestnut tb, he was so funny, and everyone said we were the weirdest group because i was short and tiny ( 4th grade) and he was... tall. Now i just wonder about him and wonder if hes still alive because now hed be 27. But if i had a horse and had to sell it id be so sad :(
---
The Wind Of Heaven...
Thats What Blows Between A Horses Two Ears...