Do you have a horse, that you regret?
---
I don't mean regret owning or knowing - I mean, a horse that you had in your life, that you let go of, or wasn't that owner that you should of been?

That horse, that you look back on, and get that heavy pang in your heart. Where, if you had the ability, to go back in time and change the going on's that created the outcome that you regret today?

I do, I have 2 horses in my past that I regret. One that I was able to let go of, and I released her - but the other, is a horse that I think about alot. That one horse that I just can't let go of, and one that brings me to tears when I think about him. He's in a great home now, where he is loved and adored, but I can't let go of what happened to him before he got to that destination, and I blame myself for allowing him to go through what he went through, and I beat myself up over it quite often for not being that responsible owner that I should of been.

If you have that horse, tell your story, I'd love to hear it.......and how do you let go?
---
My very first horse, Denny. We got him when I was 14 and he and I spent our first 4-or-so months together winning everything we entered, we were a fantastic team. Then as the year went on he started acting up a lot. We bolted once which led to me falling from him, then he bucked me off a few times - none of that bothered me until he bucked off my coach one day and she broke her collarbone. I lost all confidence after that and would rarely ride him and when I did it was only walk which maybe a tiny bit of trot.

We sold him about a month after he bucked my coach off, and I never saw him again. Now that I am older and am no longer so unconfident I wish more than anything I could go back and continue working with him instead of retreating like I did. Last I heard he was sold to a dude ranch somewhere in Northern BC and he was doing quite well, although that was quite a few years ago now. I often find myself thinking about him.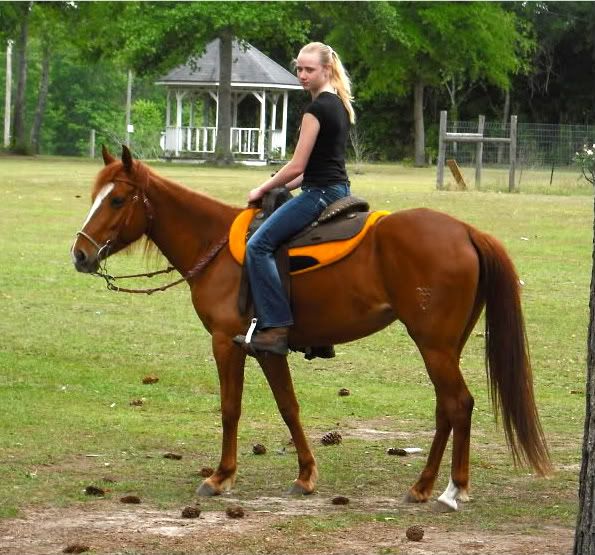 Her name was Shocks and I laid my sweet mare in the ground 1 month ago today. If I could go back and redo everything I would in a heartbeat. Towards the end I was keeping two horse in shape and riding everyday which started to feel like a chore more than fun. I started looking at my two mares like work... I stopped spending quality time with them and only really payed attention to them during riding or feeding. Well Shocks coliced and we had to put her down. It was really rough and I would give anything to go back and take her one just ONE more trailride and tell her how much she meant to me.
The vet said there was nothing I did to cause the colic and I actually caught it very fast, but there was still nothing he could do.
Yup, that would be Whisper. Walker/Friesian cross mare. I have been searching for her, to try and get her back for 5 years now.
I bought her with the intent of being my [now ex] husbands horse. She was waaaay waaaay too much horse for him, as he was an extremely inexperienced rider. I sent her to three different trainers, all with no luck. Ended up selling her to be a broodmare. I'd give anything in the world to get her back and try again, this was the one and only horse that ever "beat me" and I've always regretted not trying harder - but I was limited on time, as well as experience, back then, and my [ex] husband needed a get on and go kind of horse.
I actually have two horses. My first horse, Baloo, a pinto Arab cross. He was 19 I think when I sold him, and I had to make the choice between selling him, and getting a younger jumping horse, or keeping him, and sticking to flat cause we couldn't afford to have 3 horses. I opted to sell him because I really wanted to continue jumping, and he could no longer jump, and I know that he went to a great home, but I still wish that I could have kept him.
The second is my Thoroughbred mare. I had her for 3 years, she had a lot of minor injuries, and two big ones, all of which amounted to a whole lot of vet bills over the 3 years, and after my dad's horse died, he said I had to start paying for her, and I just didn't have the money, so I had to sell her. The first person I sold her to had her for a couple of years, then had to sell her due to lack of time, and having a young child, and found out horses was just too much, and she ended up calling me up, and giving me the option of buying her back, but I didn't have the money, and I had my 3 year old gelding, so I had to pass. Knowing now that shortly after that call, I had to put my gelding down anyways, I wish that I had actually seriously thought about it, and pulled some finances together to buy her back, but last I heard she's in a great place, and the guy is absolutely in love with her. She's his best trail horse, and he's already refused several offers for her from what I've heard, so she's got a home for life. I would have loved to see how far I could go with her in the show ring.
The horse I have now, Shadow was quite a handful when we first got him. He would buck every time I asked him to canter, he had an AMAZING extended trot, except he would never slow down, and when my trainer got on him he almost literally walked on his hind legs halfway across the arena. I almost regretted getting him. Now, after two year of hard work, he almost has the lope down, can collect and extend, and we are now learning flying lead changes. Thanks to him I have become such a better rider and much more courageous with everything that i do in life.
I had Babee three months when I found out she had Navicular =/ I did not buy Babee my parents did I kept her thinking that she get over it then found out it was not ever going away. So I did all I could, Babee still with me just unridable. =(
anyways,
I think if I could I would of sold her to get something else.
sorta but i'm starting to love her againt her name is helly i figured out why she is one hell horse she is AMAZING under saddle but HOORRIBLE on ground she rears up at you and trys to run over u and sometimes when your on her she buck for no reason but she stopped that and i'm doing the join up like pat parelli does with her and she has gotten so much more repectful and sweeter so i'm strarting to love her again!!!!!!!
Due to finances, I had to let my Heart Horse go to a therapy program. I miss him daily and its been close to 10 years since we said goodbye. I should have done better by him. He taught me all I will ever need to know about horses. He has since passed but there isn't a day that goes by that I don't think of him fondly. I keep the day that we said goodbye out of my mind because it will instantly turn to tears. Here he is the day of our first show. And another of him doing what he loved to do best. Leading the kiddos around. And one more of him the way I will always remember him...standing next to our barn looking at me...waiting for food. LOL I am cursed to spend the rest of my life searching for a horse like him. I will never find another.
Green Broke
Join Date: Mar 2009
Location: Kansas in the summer, Kentucky most of the time
Posts: 3,028
• Horses:
3
I think I'm going to regret letting Uma go. I just sold her yesterday and I had her for eight years. She had arthritis in her hock and I couldn't afford injections :(
---
Look like a SUPERSTAR, Ride like a FOUR STAR, Win like a ROCKSTAR
Eventers: Making BAD Dressage look GOOD!