Do you own a jealous horse?
---
So I've been noticing that my boy has some what of a jealous streak in him. As long as he is getting all the attention he is fine having other horses around him, but if I dare pet or talk to another horse while he is standing near me he'll lay his ear back and chase them off. Yesterday I was riding my mom's horse Maverick ( I can't ride Nohea right now because he blew out an abscess:) and Nohea was standing by the fence and would not stop striking the ground or whinnying. When I went over to talked to him he gave me the white eye and walked away and refused to come near me. I can't believe the attitude or personality on this guy.
Does anyone else own a jealous horse?
Mine is somewhat. She doesn't get mean, but she gets pushy, trying to get in on the attention. She's been the only horse for the last year I've had her, and then I got her a buddy a couple months ago, whom she loves, but, if I do stuff with her buddy... she wonders why she's not getting the attention!
The people I bought Nohea from had him since birth and it turns out he was at the bottom of the pecking order there and would take any beating the horses there had to offer. I think now that he is in a new environment he maybe getting up some nerve and wants to show that he isn't going to be pushed around even if it means showing a jealous side.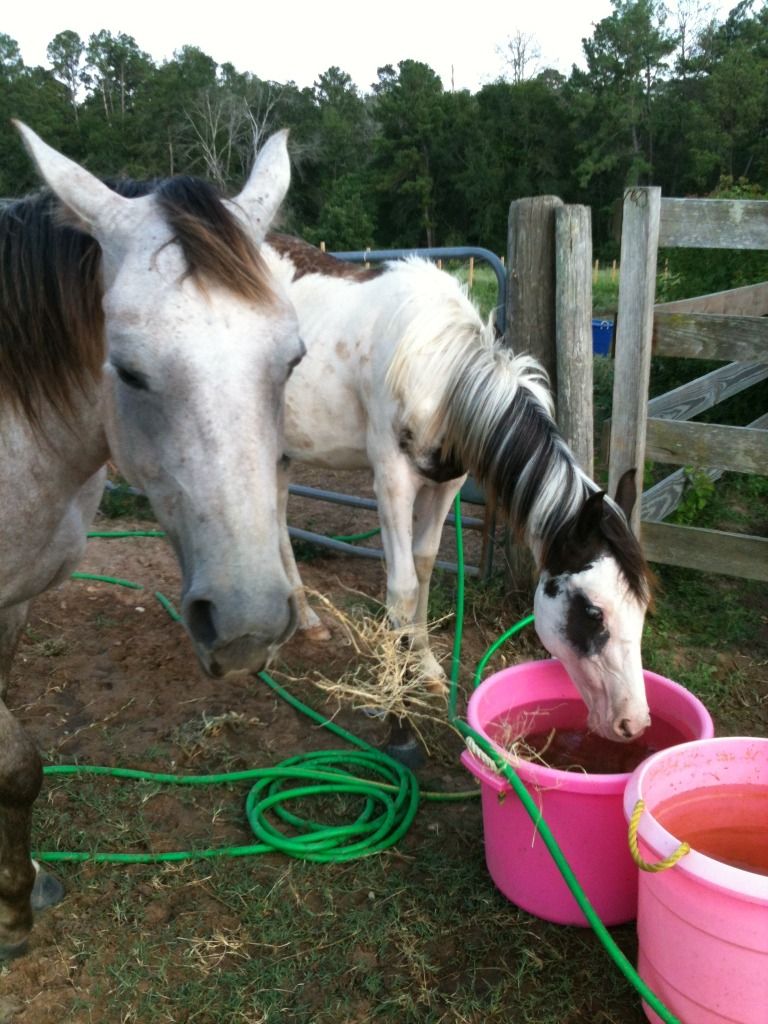 This is the face of my jealous horse. She gives me that face often when she feels she isn't the center of attention.
---
Riding: The art of keeping a horse between you and the ground.
When I spend time with my gelding more that my mare, she gives me a look like no one loves her. She makes me feel so bad. Before my gelding was born (her son), it was only her and I and I spent all my time with her. Since he was barn, she gets half the attention that she used to get. I always do my best to give her more attention because my boy doesn't care as much as she does.
Showing
Join Date: Jun 2011
Location: Cariboo, British Columbia
Posts: 11,778
• Horses:
3
Yes, I own a jealous wealous(es).
he he yeah, my mare can be jealous. If I spend to much time with one of the geldings and then go to get my mare. She will walk a few steps toward me and then walk off and make me come and get her.
Selena is extremely jealous. She was an orphan bottle baby so she is used to being the cute baby that everyone adored. She is a reining bred mare, stands 13.3hh and wentto live with warmbloods when she was orphaned. She pretty much had free run of the farm, she was called the "Greeter" by the BOs because she would run up to cars as they came in and say hi to everyone.

So now she lives with us, and she is a total love. She will leave her food and herdnates to come see me, and when I visit other horses she always chases them off and has to ou her head right in the middle of my chest. She doesn't rub, doesn't push me over, just kinda places her head there and waits to be scratched.
Posted via Mobile Device
Both of my geldings are very jealous, and jealous of each other. They end up pushing each other around for attention
Oh yes I do! My friend had to go away for a few days and asked me to put Corona on her horse's cuts to keep them from drying up. Her horse is one paddock past my horse. My horse always comes to the gate and nickers when he sees me coming. I would normally ride him first and then go tend to the friend's horse, but one day I decided to tend to the other horse first. I watched my sweet nickering horse turn into a green monster as he paced the fence matching me stride for stride as I walked past his paddock. The entire time I was with the other horse, his sweet nickers turned into angry, frustrated, whinnies. Once I was heading back toward his gate, he again followed me stride for stride back to his gate and then angrily threw his head into his halter. It was very cute and pretty **** funny. I had no idea he had a jealous streak in him.
---
You just have to see your distance...you don't have to like it.