Weanling
Join Date: Aug 2008
Location: On the banks of the Red Cedar...
Posts: 494
• Horses: 0
Do you remember...
---
the first horse/pony you fell in love with? I do!
He was this ornery little pony. God knows I was scared to death the first time I rode him - everyone knew about Junior, the pony that had bitten/kicked/run over most people at the barn. Everyone had some horror story about him. So, of course, the first time I tacked him up i was
terrified.
Then I got on, and he took me out of the arena door. Three times. Right out the open door, to where my trainer had to stand there and smack him when he tried. I hated that pony SO much. Then, I was handed a crop and told to use it as much as I needed to. As soon as I figured out that you just had to be tough (and I do mean tough, no love taps with him!), Junior and I became best buds. A few well-timed pops to the nose and he never tried to bite me again. He was the pony I learned to jump on, the first pony I ever did flying changes with, the first pony I had ever ridden exclusively. I'd just that pony over anything, and he never stopped. Never. Then, I grew. Talent wise and height wise. My trainer started putting my on horses and bigger ponies. I haven't ridden Junior in almost two years. :( However, I have been hinting to my trainer that I want to ride him again. I figure that if she can put me on a pony smaller then Junior, then she can certainly have me ride him. Hopefully.
Me and the "scary" pony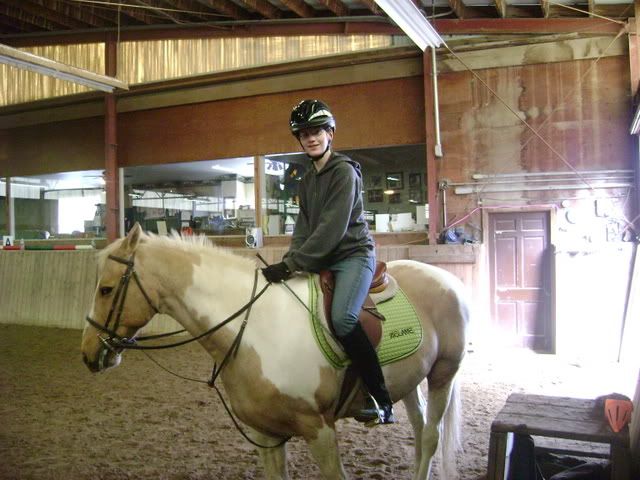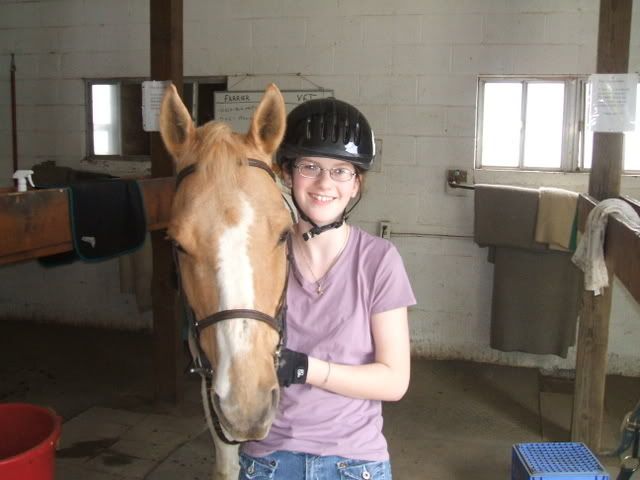 I love hearing peoples stories, so it's show and tell time!
---
A dream you dream alone is only a dream. A dream you dream together is reality.
John Lennon

Banned
Join Date: Dec 2008
Location: At my house, or stable, duh!(Michigan)
Posts: 2,479
• Horses:
3
Vida was/is my first love. I've had other horses before her, but she is my best girl. I love her and trust her.
My grandmother had a pony named Topper when I was itty bitty, I hated that stinker pony. It was my first contact with a real live horse I was probably 4-5 yo. but I remember he bit and stepped on my foot
---

"Until one has loved an animal, part of one's soul remains unawakened..."
- Anatole France
Weanling
Join Date: Aug 2008
Location: On the banks of the Red Cedar...
Posts: 494
• Horses: 0
aww he's really not, once you get to know him! It's funny, I went from being terrified of Junior to defending him. Oh how the tables have turned!
---
A dream you dream alone is only a dream. A dream you dream together is reality.
John Lennon

Green Broke
Join Date: Jun 2009
Location: Brokenheartsville, just north of Styxtown :)
Posts: 2,577
• Horses:
1
Dreamer. Bouncy lil TWH brat. Bucked, paced did anything to get me off :P Sweet in his own way..
---
Most people are like Slinkies; they serve no real purpose, but they bring a smile to your face when you push them down the stairs.
When you come to the end of your rope, tie a knot and hang on for dear life.
Star. Little chestnut appy mare that went wherever I asked her and kept me safe for years. Ran my first barrel pattern on her and when I say ran she RAN...Considering I had only trotted it before the show, I was surprised but grinning ear to ear as I left the arena.
My fave pony EVER was Chameur. He was a school pony at my old riding school in Germany. I LOVED him and miss him very much. I rode him every week ( I had 2 lessons on Saturdays so I would rise him in my first lesson and someone else in my second lesson). He was super sweet and really speedy and forward going. Apparently he got sold to a private owner. His best horsey mate was my best friends favorite pony. :)
<------ He's in my avatar.
pics, I'm like 10 in them. I'm almost 17 now:
vid of me cantering him:
Chameur on Flickr - Photo Sharing!
---
Last edited by ridingismylife2; 08-10-2009 at

09:07 AM

.
Mine was Bayside Bethai. She was a little welsh mare that had only been used for breeding (she had a few babies and was pregnant when my trainer bought her) After she had the baby (which oddly enough my brother bought for an investment, he was 16 and worked at McDonalds and decided it would be a wise purchase) they started trying to train her. She was vey naughty and quick and bucked a lot. I was fearless and started riding her at the tender age of 9. We worked through a lot, many spills, etc.

She eventually became a great little small pony hunter and won a lot. I helped break her baby, (named Elf) and we sold her to a nice family who had a little girl born same time as Elf, they literally grew up together.

Sadly Bethai got melanoma and I was outgrowing her. We sent her to Woodlands farm in VA and she had several babies before retiring her. I don't have a pic to post but she was a classic white welsh mare. Sigh, I miss her (
Quote:
Mine was Bayside Bethai. She was a little welsh mare that had only been used for breeding (she had a few babies and was pregnant when my trainer bought her) After she had the baby (which oddly enough my brother bought for an investment, he was 16 and worked at McDonalds and decided it would be a wise purchase) they started trying to train her. She was vey naughty and quick and bucked a lot. I was fearless and started riding her at the tender age of 9. We worked through a lot, many spills, etc.

She eventually became a great little small pony hunter and won a lot. I helped break her baby, (named Elf) and we sold her to a nice family who had a little girl born same time as Elf, they literally grew up together.

Sadly Bethai got melanoma and I was outgrowing her. We sent her to Woodlands farm in VA and she had several babies before retiring her. I don't have a pic to post but she was a classic white welsh mare. Sigh, I miss her (
My second favorite pony was a white welsh mare, Yasmin
pic, I was like 8-9 in it: