Quote:
Originally Posted by
ridingismylife2
View Post
my second favorite pony was a white welsh mare, yasmin :d
pic, i was like 8-9 in it:
adorable
The first horse I fell in love with was a black quarter horse named Risky. She wasn't very pretty with her looooong sway back. I learned how to jump & canter on Risky. She was sold to be a pasture pet because of bad back problems.

The first pony I fell in love with was my first pony, Bailey, a cute bay welsh pony. I got him for an early birthday present, when I got off the bus from the last day of school, my parents were standing by a giant tree in the back yard holding him. I was so excited, I went out and rode him right away, and he bit my arm D:. He was too smart for his own good, he could escape from stalls, and the first day we had him, he jumped the fence to be with the other horses. He now lives at my lesson barn and is a lovely lesson pony. I don't have any pictures on this account on my computer.

sorry for the longgg post
Started
Join Date: Mar 2009
Location: Middle-of-Nowhere, Illinois
Posts: 2,225
• Horses:
1
The first pony I ever really clicked with was a little chestnut named Noah. I rode him for horse camp many years ago and I remember crying at the end of the week when I had to leave him. lol He had so much more personality than a lot of the other horses. At the time, I thought he was HUGE, but looking back I see that he was just a little guy. ;D I want to go visit him sometime.
---
"A musician must make music, an artist must paint, a poet must write, if he is ultimately to be at peace with himself.
What a man can be, he must be." Abraham Maslow, 1968

The first pony I fell in love was...my first pony. His name was King and he was my best bud. I got him when I was three and I was 10 or 11 in this picture.
Jenand King.jpg
---
Stella - sweet, timid, elegant, lovely, lively, amazing
Luna - large, unattractive, naughty, adored

Very sweet stories and photos everyone.
---

"Until one has loved an animal, part of one's soul remains unawakened..."
- Anatole France
Wow, this thread brought back some great memories. The first horse I fell in love with was a TB cross named Sue. Poor girl was used at a riding stable and that's where our paths crossed. Every Sunday morning I would get to the stables as soon as they opened so I could be the first to ride Sue. She did everything I asked without complaint. She taught me so much.

Poor Sue developed horrible saddle sore at the wither and the SO would inject the sore with something to numb it so she could "earn" her keep. Those Sundays I would pay for 2 hours and just walk her in the pasture and let her graze in the shade. I truly came to love that horse.

One day the SO told me that it was her last week there. She was going to "McDonalds Farm" ie the killers. Would sell her to me for $50. Well living in town that was not a possibility and I was only 14 or 15 so with much sadness and tears had to say goodbye to Sue.

But I have never forgotten her. She was a dear and was loved by me.
The first horse I fell in love with was my friends barrel racing lesson horse named Goldie. She was I think 24 when they sold her. She was a palomino Fox Trotter, who didn't actually do any of the natural fox trot gaits lol. She was very sweet, and I hated riding western, so she put up with me riding her english in probably one of the crappiest saddles I've ever seen. She was best friends with one of their other horse's named Joe, that my dad bought a few months after I got my first horse at 13. Unfortunately I never got to say goodbye to her. One of our other friends that she got sold too went out to feed her horses one morning, and Goldie was dead in her stall :(. There are two other horses that I fell in love with and really clicked with on a very deep level. Those were my Thoroughbred mare that I owned for 3 years, that most other people didn't understand, and my sweet grey and white Arab Paint gelding who had to be put down 2 years ago because he was very sick. He was only 3, but he was the first horse I ever trained completely on my own, and he was amazing. Never blinked an eye to anything I did, put the saddle on one day, and the next day hopped on, and he went around like he'd been ridden for years.
Quote:
the first horse/pony you fell in love with? I do!
He was this ornery little pony. God knows I was scared to death the first time I rode him - everyone knew about Junior, the pony that had bitten/kicked/run over most people at the barn. Everyone had some horror story about him. So, of course, the first time I tacked him up i was
terrified.
Then I got on, and he took me out of the arena door. Three times. Right out the open door, to where my trainer had to stand there and smack him when he tried. I hated that pony SO much. Then, I was handed a crop and told to use it as much as I needed to. As soon as I figured out that you just had to be tough (and I do mean tough, no love taps with him!), Junior and I became best buds. A few well-timed pops to the nose and he never tried to bite me again. He was the pony I learned to jump on, the first pony I ever did flying changes with, the first pony I had ever ridden exclusively. I'd just that pony over anything, and he never stopped. Never. Then, I grew. Talent wise and height wise. My trainer started putting my on horses and bigger ponies. I haven't ridden Junior in almost two years. :( However, I have been hinting to my trainer that I want to ride him again. I figure that if she can put me on a pony smaller then Junior, then she can certainly have me ride him. Hopefully.
Me and the "scary" pony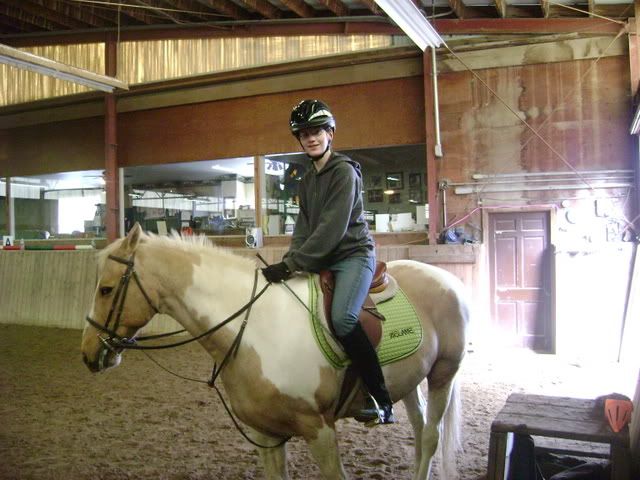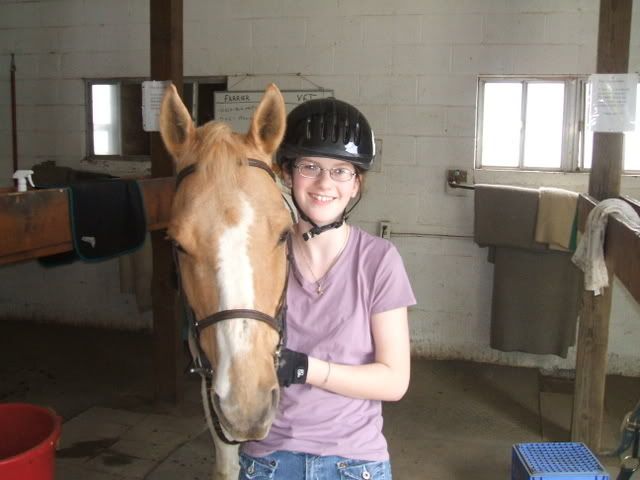 I just posted in another one of your threads how I used to ride Junior too! AND he was my first horsey love too. I went from almost crying when I had to ride him to begging my trainer to let me ride him. He was such an awesome pony even though he did have some issues with biting... lol. I have so many great memories from riding him and I miss him so much. It made me so happy to see some pictures of him and see him healthy and as happy as he can be. I eventually started leasing him and actually leased him for a few years. He was such a blast to ride and I loved him to death.
Here's a picture of him from years ago...
my neighbors had horses that i rode whenever i had the chance. i started learning on a bay little pony named "debby". she was a fiesty little thing and so stubborn. after i felt confident enough, i started riding a white horse named "mindy" (not sure what breed she was). she was just as stubborn and lazy. i think in the 6 years that i rode her, i got her to canter twice and she ran me straight into the barn almost every day. i think riding both of them made me the rider i am today.
---
Jackie's Sonny Daze
Haflinger Gelding
Well... The very very very first horse I ever fell in love with, EVER was a gelding named Chumar. He was an older horse and I was very, very little. He babysat me. And when he passed away, I bawled my eyes out. I think I was in second grade.

My second love was an arab named Chablis. He was the love of my life. I could do anything on that horse. ANYTHING, especially because I was older. Unfortunately, due to some unfortunate events, he was taken away and I never saw him again. I was notified by the owners daughter about a year ago that Chabli passed away at the ripe age of 23.

My third love was Shrek. He was a four year old Mustang and again, the love of my life. (this was more recent. A few months ago actually.) I would do anything for that horse he was one in a million. Amazing personality. However, he had to be sent to South Carolina and it broke my heart. Sometimes, the thought of him still causes my heart to ache. I cry over him alot, still, even though I have my own horse... I feel that theres something that can't be replaced. The very funny thing is, every horse I ever fall in love with are Bay geldings.

I don't think anyone forgets their first love.
---
"I was eight years old, and I've never forgotten her face when she told me about watching you ride. She told me she saw you, and your horse was dancing in the moonlight."
-- A.C. Crispin's "Sylvester"