I have never personally changed a horse's name, but my cousin's instructor changed a four-year-old mare's name from Phoenix to Gwen. I think Phoenix was the better name, but that's just my opinion
. As far as I know, nothing unlucky has happened to them, and I personally don't believe that changing a horse's name is unlucky.
Quote:
Oatmeal. LOL. Poor thing. So many unimaginative owners out there. At this polo pony barn, all the chestnut horses are "Red", all the bays are "Brownie" and all the blacks are "Blackie.
Reminds me of the book
The Georges and the Jewels
. All of the geldings are named George and all of the mares are named Jewel. (Fictional).
Don't believe in it. Changed both of my horses names and have/had no problems!
I dont think its bad luck, but if i know a horses name when i buy it ( I have never owned a registerd horse) i leave it. my horses names are buckshot and jersey. both mares. those names a horrable, but its alright. although I would change it if the horse had been abused or something. my friend/trainer/boss bought a horse thats had a bad life, her registered name is "armedtobeyours" but has always been and still is called "big red" (can you gess what she looks like?) if she was mine I would call her ginger, shes a sweetheart ( IWANT HER!!)
Posted via Mobile Device
I don't think it's bad luck, but I wouldn't change a name most likely. I don't really like my own name, but it's still my name. I wouldn't have chosen the name my horse has, but it's still hers and she does recognize it. If it was really bad I'd just change it to a similar nickname.
The only name change I really have agreed with is a rescue who was owned by some drug dealers who named him Coke, and the girl changed it to Pepsi.
I seem to never call animals by their names anyway. My cat, officially, is Czar Alexander III. I call him Little Man. My other three cats are Fat Cat, Oogie, and Girl.
I've only ever changed one horses barn name. From aqua to sunny. It just felt so awkward yelling aqua! I would do it again too, but my other 3 fit their names. (Not that I don't call them other things anyway)
Posted via Mobile Device
I've never even HEARD of this particular superstition. What's supposed to happen that's bad if you change a horse's name?
My SIL got a horse and his name was "Yeltsin." The owners had bred him expecting a paint (Arab x Paint) and when he came out solid, they said he was "a failure." So, they named him "Yeltsin" since they said Boris Yeltsin was "a failure" as a president.
There's just no way we were going to let this sweet horse be deemed a failure his whole life, so we renamed him. We decided to call him Maverick, because he's quite the trickster. I think it fits!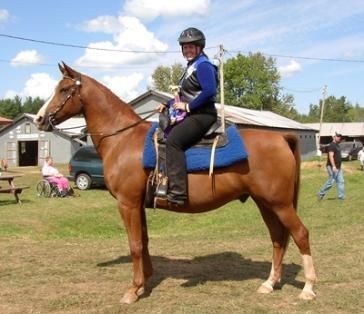 A few years later, I got a rescue in that the horse trader called "Leroy." This was a very regal looking Arab and "Leroy" absolutely didn't fit. His registered name was "The Desert Splash." I decided to call him "Mirage" since water in the desert might be considered a mirage.
Mirage: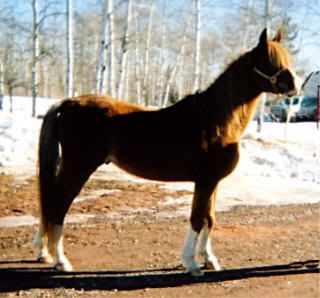 Well since the general consensus seems to be that it isn't that bad to change a barn name, who wants to help me name my new draft cross?
This is Molly, and she is my very first horse. I just adore her and her ridiculous tank-like build, but I hatehatehate the name Molly! Horses with people names just aren't my thing, and Molly is such a baby name for a big bruiser like her.
Any ideas???
I don't have a horse yet. But when I do find a horse and am not fond of his or her name... it's getting changed!
I absolutely love the name Molly! Definatly fits her! But since you want to change it can I recommend the name Queenie?
---
One Day Together We Shall Rule The World
Sugar, Belle, Slick, Laredo, Spirit