I have 2 dream horses a palomino with a blaze and 4 white socks. Dream horse number two is a bay tobiano paint with blue eyes.
---
Being horseless is the pits!!
The horse I always dreamt about was a solid bay, but then again, I have always wanted a bay with a blaze and stockings....basically this but horse sized! lol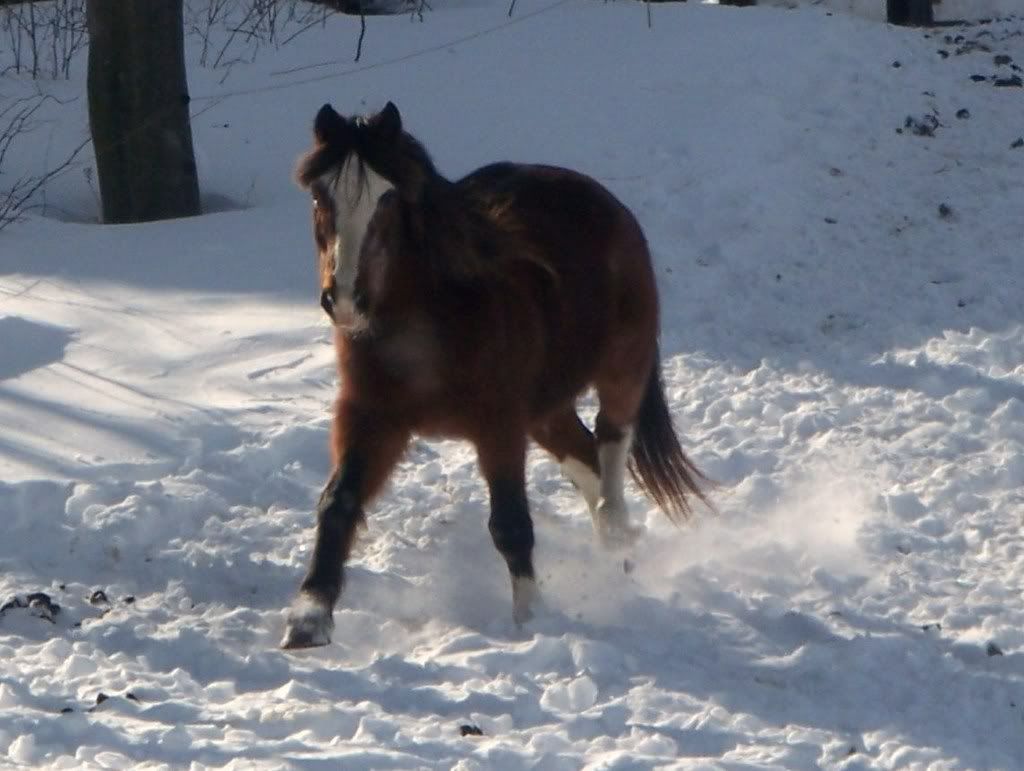 Dapple gray Andalusian- that's what I've wanted ever since I was a little kid. I almost bought one, too, but she turned out to be too dangerous to even complete a vet check once she got away from her owner O_o
Personality wise, my current horse is definitely my dream horse. And while I don't think I would have sought out a cremello, the color has definitely grown on me. He made a very handsome unicorn last Halloween
I want a horse that has plenty of get up and go that also has a lot of "settle and stop," lol. My dream horse doesn't have any vices.
But if we're just going by breed/color, I'll take a baroque style Friesian, please!
Posted via Mobile Device
freisian x arab x appy.

grulla with a spotted blanket, wide, uneven blaze, at least one blue eye. arab face, endurance and feet, a bit more bone, mane, tail and high neck of a freisian, 15.2hh, mare
A 16.3 hh seal brown Oldenburg gelding with a neat, tidy blaze and one white sock -drooling- He'll have rock hard, sound feet, straight legs, and will be nice and calm on the ground and in the arena, but will however perk up over fences. His transitions will be flawless and his stride big. Sigh... a girl can dream. :)
I'd take a loud sabino Clydesdale mare, broke for trails and driving, and comes with a cart and saddle to boot. Might as well dream big! ;)
Posted via Mobile Device
A cremello QH mare bred for barrel racing. Idk just has to be a mare. A flashy sorrel or bay with 4 white socks. And a solid black horse. All bred for barrels. I've owned 2 of those 3 but sold them because will the best thing about them was color. I'll stick with my loud dun an plain bay boys for now.
Posted via Mobile Device
Similar Threads
Thread
Thread Starter
Forum
Replies
Last Post
My new Dream Horse!

Freya

Horse Pictures

14

05-12-2012

09:50 PM

Dream horse

atreyu917

Horse Talk

4

06-13-2011

12:17 AM

Dream horse

HopalongCassidy

General Off Topic Discussion

6

03-02-2011

04:07 PM

My dream horse :O

Snookeys

Horse Riding Critique

32

02-01-2011

10:01 AM

My Dream Horse!!!

mudypony

Horse Breeds

12

10-14-2008

08:10 PM