that was great! makes me think maybe i can take my appy pony and do some training level stuff. ;)
Not laughing here - nicely ridden! Sure, you're not Charlotte and Valegro (none of us are!!) but you're a much better dressage team than some of the stuff I've seen at interschools! She's nice, faster trot than what I'm used to seeing in the arena but it didn't seem rushed at all - and it was nice and accurately ridden by you! Unbelievable for her first time ridden English, maybe some evidence that horses don't get so hung up on discipline as some of us humans
You should be super proud
PS. Bet none of the horses you competed against would be able to work a cow!
---
A crazy girl with a crazy horse
She looks great! You guys did amazing for having the be the first time in English.. !
Everyone is always so shocked when I tell them Casey is 13.2. I have to bring out a measuring tape and show them. When I first got her I measured her with a measuring tape and it said she was 13.2 but I didn't believe it and went on thinking she was 14.2. A couple years later my instructor and I measured her with my instructors measuring stick and it said 13.2. I went home and bought another measuring tape and measured her, and of course it said 13.2. Heres a picture- (ignore her eye!)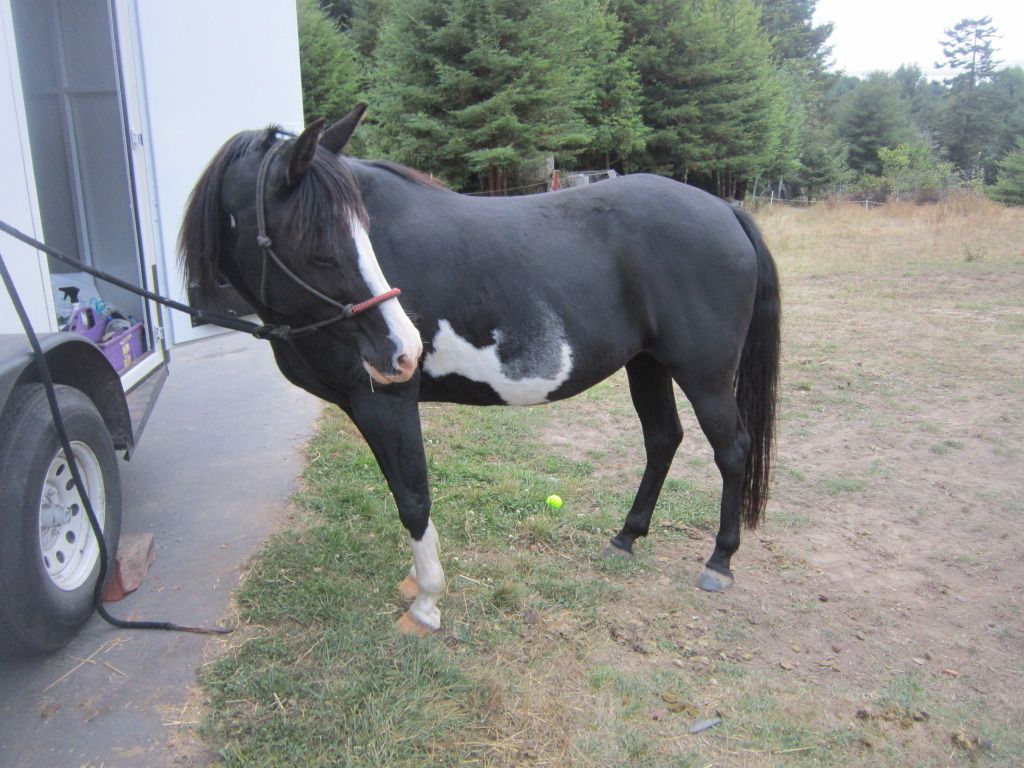 I am 5.7.. luckily she is so round it doesn't matter! Well- she is naturally round, she had 3-4 foals.
---
"Good things come to those who wait… greater things come to those who get off their ass and do anything to make it happen." - Unknown
Super cute! :) Love the face on your horse. I love cute painted faces. :)
---
Pssh.I didn't pick up the wrong lead
It's called a counter canter...
...A very advanced maneuver.
Okay, you can both send me your ponies...with big red bows on them. Christmas is soon you know ;)
---
Life is like a camera. Focus on what's important, Capture the good times, Develop from the negatives and if things don't work out, Take another shot.