Quote:
why would you give someone a "baby" horse. that spells a disaster to me. lol
yep that's what i was thinking lol....
---
no time is wasted spent in the saddle
Quote:
That's not bad for an Andalusian.
Especially for all of the training they claim the horse has had as well. I know Andalusians can be quite pricey.
Quote:
Quarter Horse
please learn english before you move here! wow!
--------------------------------------------
I have a 3 year old quarter horse she is very nice horse anybody can ride her your kids can ride her she is very well train for binger riders or expression riders she is a racing horse. your can use her to
ride or to race. I race her ones and she win 1st place by two bodys and a half so she is a good racing horse or if your just looking for a horse to ride in your spare time she is good for that to.
I'm silling her cause i just go anther job and i dont have time to ride her and she needs someone who can gave her attention. It hurt me to sell her but i have to.
I'm asking for $6500 OBO
Haha, "binger rider". I don't know why, but I laughed when I read that. xD That and "silling her".
Quote:
Nice ranch gelding who rides the best ever. Gentle, anyone can ride him, handles great with a sweet little short lope. current coggins, This is a good good beginner friendy gelding
You will love this horse
----------------------------
he rides the best ever? and they've ridden every horse, I assume? He looks pretty butt high, too. kind of unproportional...he doesnt have much of a front end :/ maybe it is just me though
I don't think he's too awful but high. I actually think I am in love with him. I am a sucker for belly spots. Where is he? LMBO listen to me... I'm out of control.
Posted via Mobile Device
Quote:
I don't think he's too awful but high. I actually think I am in love with him. I am a sucker for belly spots. Where is he? LMBO listen to me... I'm out of control.
Posted via Mobile Device
u sound like me lol, my mother sent me a poster of a girl standing in a circle of horses, the girl saying to herself "i dont need another horse, i dont need another horse" :)
---
no time is wasted spent in the saddle
Teen Forum Moderator
Join Date: Dec 2010
Location: South East Texas
Posts: 7,157
• Horses:
2
Own a daughter of peptoboonsmalp
Selling a 4 year old red roan filly (granddaughter of Peptoboonsmal). She's been in Reining training, but is extremly cowy and could go any direction. She's smart and beautiful. Easy to train. She naturally loves to stop. Sound and no vices. Selling due to lack of time.
This one isn't that funny, but Peptoboonsmal? Is there really a QH stud out there named that? XD I love it. Also love the fact that the mare 'naturally loves to stop'
black and white pain horse
Boss is a 12 year old black and white paint. He rides good. He also loads, leads, ties, trims and worms fine too. One blue eye and one brown eye. Only asking 600obo...just want to get him off our feed bill. Call or text ---.---.----
What feed bill? O_o poor dear, actually looks like a decent horse who fell into the hands of the wrong person. He needs some groceries!
Sonkeys, and 250.00 cash
6 donkeys to good home and 250.00cash in your pocket!!!
you load your trailer
call for details ,NO texts or E-mails
Correct me if I'm wrong, but they're basically paying me to take their donkeys? They must be real pains in the...oh. nevermind.
Free nice sorrel gelding
Nice looking 9yr gelding, very gentle, no kick, no bite, broke to ride, I've had him for about 3 months, he was injured when i got him i nursed him back to health, I've rode him 4 times but after constant canter n hard work sometimes he limbs from right rear leg sometimes he does fine, I have several horses so will give him free to a good home , his color is sorrel , big boy 15 1/2 h. tall . I think he would do good with some one that rides light n doesnt care about a super athlete. this horse will go n go if u ask him, he will not slow down even when it seems his tired n he will go slow if u want slow or fast if u want fast, he is easy to stop. I was told by the person that i got him form that he had not been ridden in a long time , so no i would not put a small child on him, unless he is going to be led n ponied by an adult.
Holy run on sentance, batman! And look, he sometimes limb(p)s from right rear leg sometimes he does fine. Can anyone spell still-lame? Poor guy.
---
Everyone in your life is meant to
be in your journey, but not all of
them are meant to stay till the end.
I love the donkey one! Too cute!
---
Horses are scared of two things... Things that move and things that don't.
This one made me angry. This poor filly is only 18-months-old and they're already riding her?! And that chick isn't small, either. *le sigh*
1.5yr APHA filly
"Ruby" is a Paint Horse filly (mare), she was born June19, 2010. The Dam is a dark brown registered breeding stock Paint, the Sire is a buckskin registered breeding stock Paint. The paperwork is ready to be sent in for her registration with APHA. Her color is hard to describe, more of a chocolaty/bronze/brown/grullo? She is SUPER sweet, gentle and quiet, not spooky, will go into, through and over anything, she ties and cross-ties, stands for the farrier, loads, bathes and you can already sit on her and she'll carry you around the property. She is used to tractors, dogs & cats, ATVs, flags, music, children, trucks/trailers.
Location: Prescott Valley
it's NOT ok to contact this poster with services or other commercial interests
---------------------------------------------------------------------------------------------------------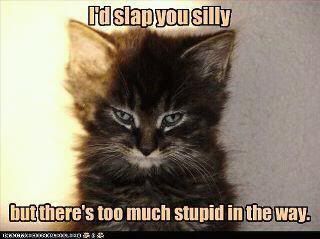 ---
Do not tell me I can't...because I will
show
you that I can.
Oh boy...
Quote:
***NEED HER SOLD ASAP. SHE DOES NOT RESPECT WOOD FENCE.
she does respect the pagewire and electric - won't even go near either one.

we have a little piece of wood fencing that she keeps breaking down and we can't have all 7 horses on the road, nor have an accident waiting to happen with a 2 1/2 year old running around unafraid. MUST GO!!!!



7 years old, jet black with blaze, snip and 3 socks. just dewormed and trimmed (11/18/2011) and shots only due in April.

road safe, beginner safe (although she is strong - find a noseband that fits her and you're good!), listens very well under saddle, leads (use the chain over her nose.. she IS big and strong), ties, cross ties, bathes, sprays, loads, etc.

Does better with men handlers. Great husband horse!