Oh dear lord. That poor horse. Are they really trained to walk like that?!
I hope not the poor thing looks off balance its feet are over grown they have a pacing harness on it they have no idea what their doing and their whipping it for no reason
Oh my goodness! I feel like I have seen this ad before? Look how long his feet are! Gah! Poor kid. :( and somebody geld the boy!
I think you are correct Tessa. I'm fairly sure we've seen this same horse in that pacer gear, before. At the time I think, I showed the correct tack for Pasos.

Lizzie
That's right, I remember you posting that. I thought that looked familiar. I guess they're having trouble selling him. I wonder why?
Here's a gem I just found on my local cl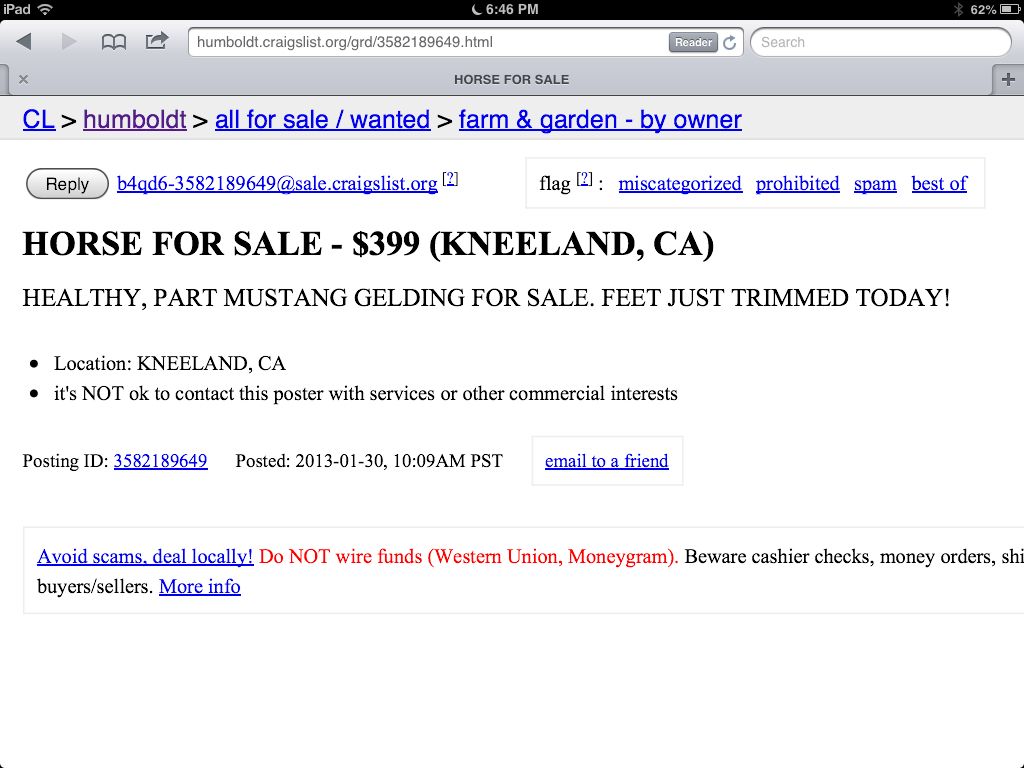 Quote:
There are a few ads by the same person and they all say the same thing. Maybe I'm just being overly critical, but what does "bred to do it all" mean?

Bred to do it all just means that she's got good all-around performance breeding and you could take her and do pretty much whatever you wanted with you and she could do it well.
Depending on her lines, I might give that much for her. She does look like a very nice filly that will grow up nice. Around here, even with the market in the crapper, a nice filly like that with good lines would easily bring that much or more.
Holy big belly! Pregnant, hay belly, or wormy? I THINK that's a mare . . . kinda shadowy over there
---
"Thoroughbreds are the best. They're lighter, quicker and more
intelligent. The best of any breed is the Thoroughbred horse, the best
of that breed is better than any other breed." - George Morris
Dusty is an 8yro AQHA Grulla Mare,awesome lines, She is green broke to ride , but still needs miles,and some work . Very sweet ,laid back , loves to be around people ,in your pocket kinda girl. First to meet you at the gate , loves to trail ride.Currently ridden in a Little S hacamore, you can use a bit , but she dosent care for it,saddles great ,not cinchy,stands to mount. No Kick,bite,rear. Loads Great ,not spooky. Knows basic level 1 ground work,Good around dogs and other horses. currently barefoot she has awesome feet , She currently belongs to a 9yro girl who is learning to ride.She needs someone with time to bring this wonderful mare to her true Potential, only selling because this is not the right match for this young lady's hearts desire ,we would consider a trade, for a Bombproof , dead broke, all around ,safe Kids horse preferably no older then 12 no younger then 8. Mare preferred, but will consider a gelding.All Reasonable offers Considered, To a good home only. Thank you for looking.call
Another person who not only bought a green broke horse for a green broke rider but a 9 year old. Who is of course on the horse bareback with no shoes or helmet.
---
"Good things come to those who wait… greater things come to those who get off their ass and do anything to make it happen." - Unknown
There's nothing wrong with the add, but It's beyond me why someone would choose this picture...
Beautiful 7 yr mare - $950
7 yr old bay mare she is completely broke did barrels with previous owner less than six months ago. This mare is extremely quick and works of reins or leg commands. We ride her almost daily and have used her for work around the farm. Stands for farrier and was trimmed 3 weeks ago she is strong footed and never required shoes.we are letting her to bc she is to quick for our daughter and to keen for a beginner . Please call or text for more details
Link:
http://abilene.craigslist.org/grd/3584923368.html
---
~the hardest part of riding is the ground~
~if you think I'm shy, it's because we're not talking about horses~