Yeah, she has several horse groups on FB, horses for sale at various prices. I dunno how much is true but after lurking in these groups awhile...let's just say I'd rather no do business with this person.
---
We grow too soon old, and too late smart.

Where I live, the majority of the horses have horrible treatment. I'm sure a lot of you remember my old threads.

Horses have kids on their backs by nine months old, and are 'dead broke' by two years. Many of them always have their noses pasted to their chest in tack. When those 'training methods' don't work, they breed the horse, hoping the offspring will be better. Bacjyard breeders from hell.

Everyone down here thinks you can hop on a horse, and everything will be fine (They don't take the time to learn how to make the horse comfortable while riding).

Out of about fifty horses 45 of them get horrible treatment, no eggageration; I have contacted the humane society and gotten a lot of issues fixed, but you can't fix stupid. these people refuse to do things the right way. Honestly, I think there are maybe three owners who know what they are doing.
Posted via Mobile Device
The majority of the horses here are charro trained. The Mexican population where I live is sky high.
Teen Forum Moderator
Join Date: Dec 2010
Location: South East Texas
Posts: 7,157
• Horses:
2
I sure am, tiffrmcoy. The one I go to every year (I usually ride IN it so I don't see most of the other animals) is the Katy rodeo parade. Its a sorry sight. I saw it for the first time all the way through last year, due to not being able to be IN the parade after a major surgery. There was a drill team on there and all of them were riding horses in Mech hacks, tie downs, or big twh type curbs, and the horses were very agitated. Two men in particular made me furious.
Note the bit in the paint's mouth, the 'nose band' and the animal's feet. It reared 3 times in the time I saw it, and I didn't blame it. The weight of the brown horse was terrible as well. Thankfully I actually did see the brown horse again this year and he was in MUCH better condition, but I can't say the same for that poor paint.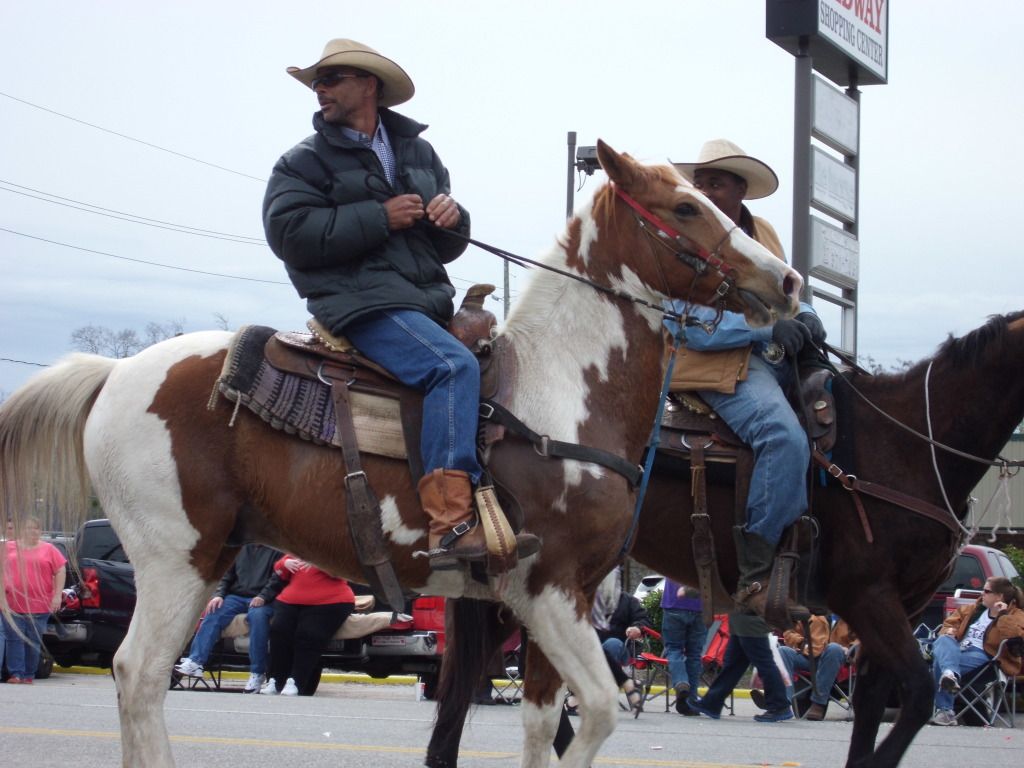 I'm having the same boarding situation. No place in my area except for the $700+ boarding/training facilities have even close to decent stalls, turns out, etc. I need a place that I can do self-care so that I can feed my own feeding regiment, but its impossible to find that within 30 minutes of me or so for a decent price, and I just can't afford to pay $300 for self care per month, and I surely want to see my horse more than once a week!
---
Everyone in your life is meant to
be in your journey, but not all of
them are meant to stay till the end.
Wanna be weekend cowboys, there everywhere. Could he get the bit anymore tighter in the paints mouth. The poor paints face screams pain and the noseband, oh my goodness Most tolerant horses ever.
Posted via Mobile Device
It's not that they are tolerant. They have no choice. They can either be abused like this or they can be abused to death.

It makes me so ill. I have to just push it out of my head.

I really don't know what the answer would be of how to end this sort of suffering for horses. I wish I did. I don't know if it would be education or a shuttle off the planet.

I know what would help would be to start some sort of mandatory confirmation check, mandatory gelding of stallions not fit to breed. But that will never happen.

Very sad.
I think they should be shuttled off the planet! Yup then us semi sane folks who treat our animals with care and love, don't have to worry about them at all!
Teen Forum Moderator
Join Date: Dec 2010
Location: South East Texas
Posts: 7,157
• Horses:
2
I'd just had gallbladder surgery five days before the parade, but I was about to march up to that man, demand that he get off his horse, and if nothing else take that wire noseband off of the poor animal's face. The bit appeared to be a thin piece of twisted wire as well....and a curb! :/
---
Everyone in your life is meant to
be in your journey, but not all of
them are meant to stay till the end.
What I found today:
He looks so fancy with his poor little head tied in the air...
Fancy yearling
Skinny horse, peeing horse, bad fences, blurry pics, I bet they sell quick!
horses
Holy sickle hocks!Totally ideal breedingworthy conformation! And im no expert but that baby looks sorrel...
red roan mo foxtroter mare with baby
No idea of her confo, you cant ride her, but she sure can eat!
3 year quarter horse
---
Ω Horses are a projection of peoples dreams Ω