Escape artists
---
What are your horses or ponies able to escape from? Misty is a pony in her thirties with throat cancer; she was going to be euthanised a couple of weeks ago but gained a new spark instead. She's the grey, obviously, in this picture: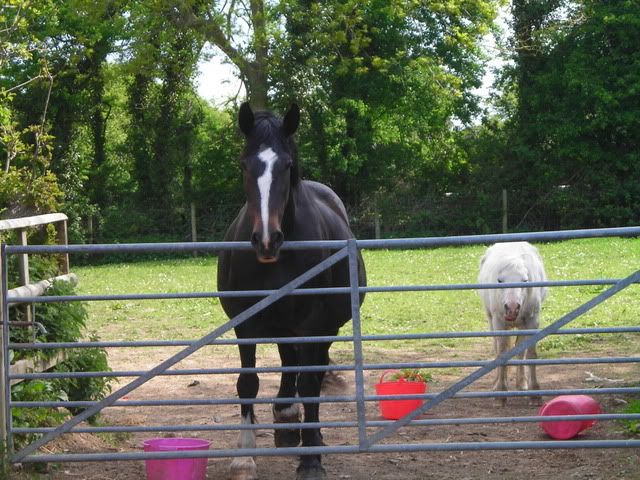 She usually walks around quite slowly and doesn't seem very athletic anymore. So I was pretty surprised when I glanced out of the stable and saw her calmly walking along the driveway! She'd climbed over a hedge and the 2m high muck heap to get out, and boy was she unimpressed when I fended her off and we made her go back into her field. I didn't think she had it in her xD
---
If you believe everything you read, better not read.
Japanese Proverb

Oh god, EVERYTHING! Buddy, our old pony, can open gates, and one part of the fence we just have ropes strung across and he just walks right out under them while the other horses are too big. We just let him roam. He never leaves the property, and just walks around grazing fresh grass while the others are stuck in their paddocks.
I had one horse that would open stall doors if they were not securely latched. Any gate that closed with a chain. I had to buy a LOT of snaps, LOL
I work with a mini x that can figure out a way out of pretty much anything. We went out one day to find him wandering around munching on grass. It appeared he had pushed his way out of the side fence of his yard. We spent 2 and a half hours fixing up that fence, we made it completely pony proof. Put him back in the yard only to watch him jump the 3 foot high middle fence from a stand still!
he's the 9hh terror on the right. This was taken when he & the other fella got themselves stuck in between the shed and the fence trying to find a way out!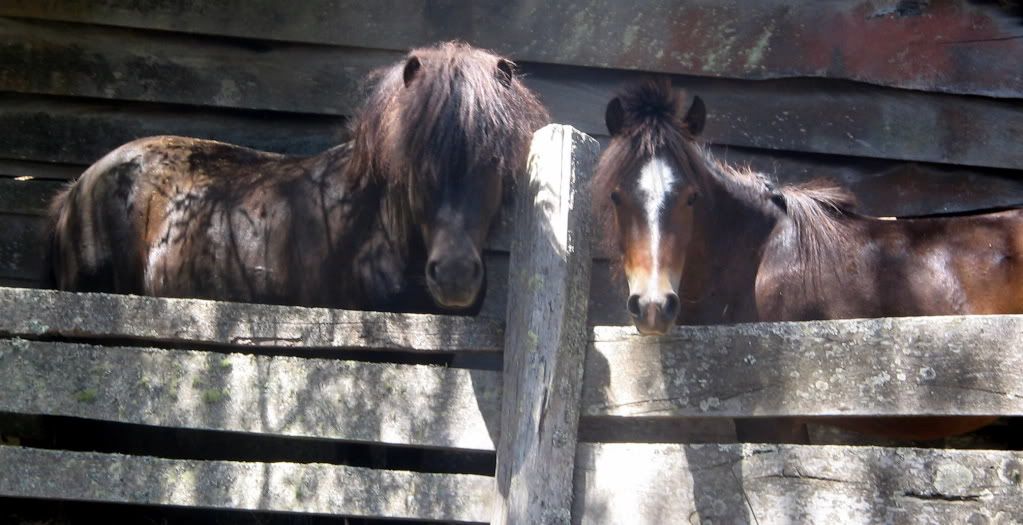 ---
Flirt-Hugo-Phoenix-Romance-Fanta-Nippa-Shiloh

Trojan 09.11.02 - 26.10.10 // Kody 01.09.89-25.06.12 // Rex 05.11.95-21.12.12