Thats awesome Rosie, Im glad you still have him!

Playing hero? Im not. Ive wanted a horse for as long as I knew the what a horse was. Im keeping this horse, no matter what. I BOUGHT this horse with MY hard earned money. It isnt going anywhere. So there is no hero here, only a determind horse lover.
---
That girl is a Cowboy.
Sometimes the best cowboys, arnt cowboys at all.
When I was still taking lessons, my instructor put me on a horse who would rear at the slightest touch of the rein and bolt if you had no touch on the reins at all. She would jump over the jump and then leap into the air for no good reason, buck and bolt because she could, and she even threw herself onto the ground with me one day because I wouldn't come off.
I rode her for one hour, every single day (except Saturdays and Sundays) for four months. This is what we ended up looking like at the end of 4 months: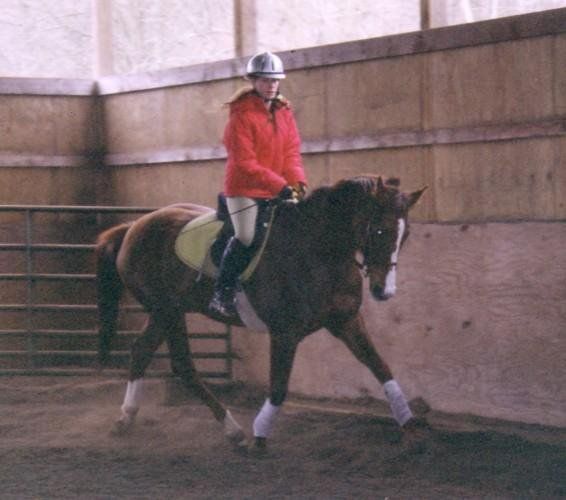 Did we look perfect? No. But do you know how many perfectly timed halfhalts I had to learn to get that? One mistep and she was out of control again. One accidental heel bump, and we'd lose everything we worked for. Improper rein pressure at any specific time, and we'd lose it. I worked for months just to get one entire lesson to look like those pictures.
She didn't know how to do much of anything, and we learned together. It was such a hard road, and I hated my instructor at the time, but she really knew what she was doing and she pushed us hard to get what she wanted from us.
The hard horses are the teachers you want to learn from. Many people don't get the chance to safely learn on difficult horses. They make you into dirt-biting, teeth-gritting, get-r-done riders with the skills people eventually pay you for when you become their trainer.
Keep on keepin' at it. You two will learn in time, and you'll both be better for it. just be safe, and under the right instruction, you'll be earning blues in the ring in no time.
I'm no longer in instruction and I've had so many injuries that I hardly train these days. I'm not the rider I used to be and I probably can't ride like that anymore, but she taught me more than just how to ride her. She taught me how important it is to not restrain energy, but how to redirect it into something you want. Fantastic horse.
---
Last edited by Copperhead; 07-06-2012 at

11:45 PM

.
sometimes my horse is a total rank puke and i want to scream at him for being anything but perfect. And then other times he surprises me by being brave and smart, polite and responsive, and i want to jump off and hug his face. Sometimes i forget that he's still just a horse. i have off days... he has off days.
---
Life seems mighty precious, when there's less of it to waste.
At 6 I was given a welsh pony that was not broke to ride.
She bucked everyday we got her and I rode bareback until I was 12.
I was then given a TWH/QH mare that I rode for the next8 years.
She could buck also and I dislacted my shoulder taking a jump wth no hands. Bareback I might add. Was riding her in less than 2 weeks..
I have no fear of any horse. I'm still a very bold rider.
I am also confident that they will have to buck very hard to throw me.
However, I am now 52 and realize that those injuries take a lot longer to heal now. I also understand that I cannot fix every problem horse.
Asking for help in any situtation is the bravest thing most of us will do.
Progress takes time also.
It also shows a lot of intelligence that the OP is aware that they might need help with the training.
Good luck. Shalom