Favourite Coat Colour??
---
Maybe this has already been done. What is your favourite colour or combination of colour in horses ...

bay, black, brown, chestnut, grey, roan, blue roan, palomino, chestnut, liver chestnut, paint, cremello, dun, buckskin ... ??

My favourites are bay, black, palomino & buckskin.
---
"'For I know the plans I have for you,' declares the Lord. 'Plans to prosper you and not to harm you, plans to give you a hope and a future'" ~ Jeremiah 29:11
I like blood bays and dapple greys! ...i didnt intend for that to rhyme. but those are my favorite colors. lol.
---
No hour of life is wasted that is spent in the saddle. ~Winston Churchill
I love buckskins & bays.
Used to not like chesnuts so much, but now I do!
Oh, & I can't forget whites.
---
Ride more, worry less.
That's tough...I almost didn't post because I couldn't decide, but I'm going to say blacks (of course :P ) and anything with black points. Buckskins, bays (especially red and mahogany), mahogany bay pintos can be really lovely, they have that "deep" color against the flat white...I just love the black legs and the cute little black-rimmed ears. Go figure!
Bays
I love bays

I also love buckskins, blue roans, and dun with black (kinda buckskin-ish looking, but really is a dun with black feet and black mane and tail)
my favorite is black
but I also like liver chestnut, blue roan & white/black tobiano
I never really cared for flea bitten greys but now that I own one, my views on them have changed
---
Cocoa - 32 yr old QH, Cherokee - 8 yr old TWH & Toby - 16 yr old QH
R.I.P. Cocoa 4/13/78 - 2/9/11
I like roans, perferably bay roans.
I also love Seal Browns and Bays.
My least fave would be dilutes!
grays, and duns, and paints ! ( my dream color would be a gray paint, and i even have a specific one in mind, Baron frá strandarhöfði;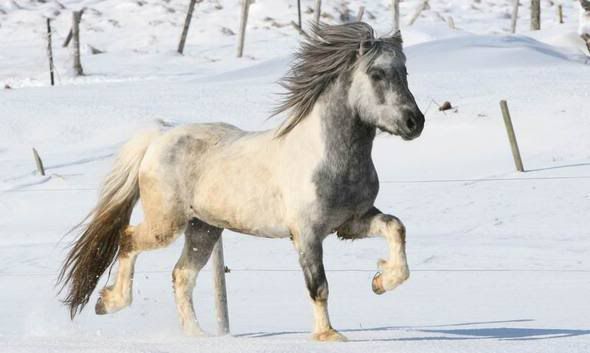 *signý drools until her keyboard is ruined* )