feet.....
---
Ok so when i ride i guess i ride pigeon toed so to speak but yea i was wondering how to correct this? Basically i ride with my toes pointed outward more. It was worse riding western and i think i got better riding english but it still happens :roll: i really think its affecting my riding too.
hmmm here's a pic to explain it.
this is riding western i don't know if you can tell but my feet are very far out....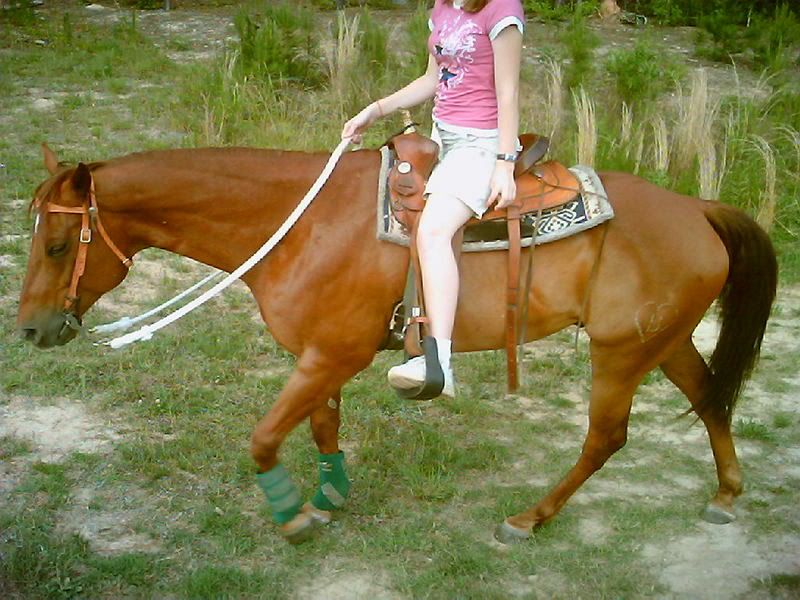 this is english its not as bad but still noticable.
i just don't know what is wrong with me and i can't fix it i need help.
this is going to sound corny but I will tell you what worked for me about 22 yrs ago when I rode like that....

My trainer told me to go home, stand on the edge of my steps with the ball of my feet... with my heels down and my toes in.

She said to stand that way as long as I can stand it, every night.

After a little while, it just became second nature... and my muscles/joints didnt hurt anymore when I rode and kept my heels down and toes in.

8)
---
Cocoa - 32 yr old QH, Cherokee - 8 yr old TWH & Toby - 16 yr old QH
R.I.P. Cocoa 4/13/78 - 2/9/11
Try pointing your toes to your horse's nose.
LOL!
Yeah & the balls of your feet technique my first trainer made me do that, & it really helped! :)
hmm i might try that lol. I'll tell you guys how it goes k
thnx