I was reading about "pasture" management for an acre. It did say something about the portable electric. I think if the neighbor thing doesn't pan out I'll look into using that.

We have a gift card from my in-laws for $200 that should help for fence cost. : )
kevinshorses- I can't used barb wire because of the kids. : /
Quote:
kevinshorses- I can't used barb wire because of the kids. : /
Unless your kids are balloons I don't see how barb wire will hurt them too badly. They may get a scratch or two but it won't take long for them to figure it out. They are just barbs not 6 inch knives.
---
There's nothing like the Rockies in the springtime... Nothing like the freedom in the air... And there ain't nothing better than draggin calves to the fire and there's nothing like the smell of burning hair. -Brenn Hill
Oops! You meant that you couldn't use it because it wouldn't keep your kids out of the horses. The kind of fence you posted is good as long as you have the hot wire on top.
---
There's nothing like the Rockies in the springtime... Nothing like the freedom in the air... And there ain't nothing better than draggin calves to the fire and there's nothing like the smell of burning hair. -Brenn Hill
Quote:
I think you will have plenty of room for what 1-2 horses. For fencing I would do a 4 strand barb wire fence with a strand of electric on the inside. If you use any kind of wire fence then you need good corner braces to keep the wire tight. Tight barb wire doesn't cut horses. It may scratch them but they won't cut them. You could find a fencing contractor to put it up or at least do the corners if you haven't done it before.
For the love of god if you can avoid a barb wire fence please do so! I have seen
way
to many
seriou
s injuries from barb wire. If your going to spend the money on 1 strand of hot wire, Id do 3 strands of hot wire, and a fourth strand (very bottom) a dead wire. May be a bit more money in the end, but much safer!
Barb wire would be my last resort!
Also, you county will have laws on what the minimum requirements are for housing horses. Most places it is 2 acres/horse. But youl want to check into this prior to spending a lot of money on fencing etc.
---
Horses are like chips...you can never just have one
We use hog pannels or that ramm style mesh fence. MY BM fenced in about 10 acres with it, and shes not rich so I've got to think it inexpensive.

I wont board at a place with barb or hotwire. They can both cut to a horses bone if the horse dosent stop in time, or is pushed through it. If your going for electric I would suggest at least 1 inch tape.

I've kept three horses on about a half acre w/o a problem. But we had to clean the pasture daily. Most horses at boarding facilities around me dont even get grass. It really depends on the price of hay in your area. It will probably become a dry lot though. We fed about a bale a day for two large horses. Its usually always cheeper to keep them at home as apposed to boarding. If the land was previously used for livestock you might fall under the grandfather clause.
Here in Az where land is PRICEY and in low supply, 1 acre is a normal thing to have mulitple horses on. It is VERY do-able. You don't want to know how little land I have 20 miniatures, 2 horses and 3 ponies on! (yes, more than one acre, but anywhere near what I'd like!) Ideal? Far from it! Reality where I'm at? Yes. That is the main reason I cannot wait until the housing market recovers so we can sell our house and move to Kentucky!

OP, hope it works out for you! :) I like the horse field fencing choice.
Quote:
This is the fence I'm considering with a livewire running the top: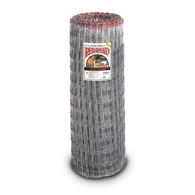 I can't tell from the picture, but if this is wire wrapped, it works well. If it's the welded type (which is much cheaper), the welds will eventually break and you'll have to replace it. Though less attractive, chain link works well, is cheaper than wire wrapped, very durable, and you can often find good used chain link from construction sites.
---
On the sixth day, God created the Quarter Horse.
On the seventh day, he Painted the good ones.
I'm not sure what kind of barb wire Kevin is speaking about but the only kind I've seen/used will cut a horse to ribbons if he went through it and it will tear your hands up if you don't have gloves.

There are different grades of hot wire, many of which will break long before it will damage a horse but tape is a very good and visible alternative.

I like the wire fence you showed with hot tape on the top the best. As for making look attractive, what I've done is to use a 4 rail post and board just in the front (the side that's visible from the house) while the other 3 sides are post and wire.

Regardless of whether or not your land was formally farm land, you would need to check with county and town ordinances concerning the amount of land per horse that is permitted.

The less land you have, the more work involved. You can get away with 2 horses on 1/3 acre (the amount you will have fenced in) as long as you realize that all of whatever grass is there now will be long gone in a short time and replaced by mud when it rains but you still need to be out there every day mucking. The flies in the summer will have to be dealt with too.

Good luck!
---
I'm not arguing with you, I'm just explaining why I'm right.

Nothing sucks more than that moment during an argument when you realize you're wrong.

It's not always what you say but what they hear.

Similar Threads
Thread
Thread Starter
Forum
Replies
Last Post
another fencing question

kelboy

Barn Maintenance

2

10-28-2009

02:49 AM

Fencing

themacpack

Miniature Horses

6

10-11-2009

09:01 PM

Fencing Question

Lori1983

Barn Maintenance

8

05-01-2009

04:29 PM

Fencing - HELP!

ChexMix1000

Horse Tack and Equipment

3

03-28-2009

11:00 PM

fencing question

KANSAS_TWISTER

Horse Talk

5

04-27-2008

06:00 AM