Finally Riding
---
So, as I posted, I bought a TB gelding on Monday. I have been working with him on the basics like ground manners and lunging since his former owner, while good natured about it, did not really know enough to make sure the horse had an education. He has been making progress by leaps and bounds. I set a boundary, he toes the line. We are still having a few communication flubs, but overall, I just break down what I am asking into smaller chunks and he goes "oh! OK" and we go on about our day.

I had to wait until the narrow gullet bar for my saddle came in before I could even try to ride him. As it turns out, I will still need a riser until he gets a topline. He has NO muscle from his withers to his tail. It is a little creepy looking to someone who has never owned anything but QHs. LOL However, my trainer figured he had settled in enough for me to climb aboard and see how he rides without the western saddle we tried him in pinching his shoulder.

I could tell from the first time that I asked him for trot that he is used to having the rider ask for go and then hit him in the mouth because it was too much go. I just made a point of tossing him rein whenever I put leg on to start with and after a few false starts, we did get a relaxed trot around the ring.

He has almost no steering. Leg in any form means go faster. But, he is very willing and has no desire (at this point) to fight with me. By the end of my 10 min ride, I had managed to get him to grasp the idea of moving laterally from my leg instead of rushing forward. It was just a matter of feeling him bend his rib cage for me and not dive into the circle, but baby steps are the way to go.

Bless my trainer for giving me homework! LOL I'm very eager, but she will make sure I don't rush past steps!
He sounds like Indie! Our first ride was forty minutes of me trying to get her walking calmly. Even at the slightest leg pressure, she'd be trying to trot off.. then when we finally got her to walking on a loose rein, we added some trot work.. and every time we'd go in a corner and I'd leg yield her in, she'd try cantering. It's been a lot of work, but after the first initial rides, I rarely get frustrated with her and just focus on the little accomplishments.
But, within the last month and a half, she's improved leaps and bounds.
I can relate on the topline as well. Indie came to me in need of some more weight, and had a horrid topline (or lack of one, I should say). It's still not too nice to look at, but it's clear that she's gotten muscle built up and she's not quite as bony now.
And congrats on him! Can't wait to see some pictures! Also, I recommend keeping a journal on here so that in a few months, you can look back and see exactly how much he's improved.
---
Forever loved, never forgotten; my beautiful Indie. <3 Hoofprints on my heart.
I've got a plan with my trainer that we are going to do monthly profile pics and quarterly videos on the lunge so we can watch the progression. :) I'm super excited. So far, I haven't encountered anything that needs to be specifically untrained, just a lack of detailed communication. For now, I have been told not to discourage him going forward from leg, yet still to keep the leg on until I get some ounce of give the way I want. He has been ridden hollow a lot and his forward has not been developed, but he is willing to try to the best of his ability to give it when asked.

I am very grateful that his experience up till now has been almost totally trail riding so he is not ring sour and has not been pushed hard. He is 6 so I think this is a PERFECT age for him to start going into real work. We are going to start the side reins today and the plan is for a good portion of his work to be on the lunge until he looks less scrawny with light rides one to two days a week.

I am planning to get pics if the sun comes out this week. LOL He all but changed colors when I gave him a good bath on our last warm day. We thought he was that dark black bay, turns out that was mostly dirt and he is that beautiful mahogany bay with some lovely red and gold tones. Baths are amazing things sometimes.
It's not a great shot, but it is at least after his bath! Chilling and enjoying some hay.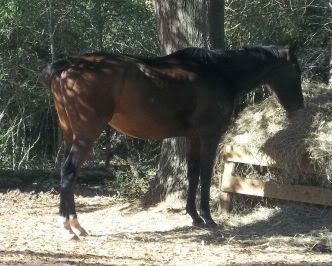 I love his two hind socks.
I'm sure he has a cute face too.
And that's great! Indie had
a lot
of holes in her training, but now that we've filled some of them, it's showing. Although, we seem to have hit some sort of a plateau lately.. except for today when she got the right lead canter three times. Small victories are what keeps me going!
---
Forever loved, never forgotten; my beautiful Indie. <3 Hoofprints on my heart.
I was told many years ago "if you are an instant gratification person, training horses is not for you." I was ecstatic when today, his first time in side reins, we got a relaxed walk with him giving to the bit and one stride of trot where I saw him relax and give. My fiance, who was watching, could not grasp what a huge thing it was to see his expression change or to notice before I put the side reins on that I was able to get him to slow his rhythm and reach into his trot more.
I also love his socks.
My trainer was picking on me that I finally got the rich bay with a bit of chrome that I have wanted for a while, but instead of a QH mare that I normally go for, I have a TB gelding. She is so tickled to have me on something "sporty" that it makes me laugh.
Very, very true. I remember how thrilled I was when we got our first circle at a walk on a loose-rein with no trotting off. It was a couple rides in, but I was thrilled. Not to mention our first canter work during a group lesson. She used to go into full-on race mode and it'd take forever to calm her down. I don't think non-horse people will ever understand.
I could go on all day about Indie to my friends, and they'll just sit there and try their best to understand.. but they never truly do. At least they try anyways!
And yes, a Thoroughbred and a Quarter Horse are quite opposite.. in my experience. I leased a six year old Quarter Horse gelding for two years before I got Indie. I did most of his training from when he was four and a half up until this summer.. he and Indie are complete opposites, but I love it. Just something about her.
My farrier almost couldn't believe she was a Thoroughbred because of how calm she was, she was just about falling asleep while he did her feet. She's exactly what I wanted though, a Thoroughbred, a mare, with a bit of chrome. I used to want a bay with some socks or stocking, and some sort of face marking.. but I've grown quite fond of Indie's coat and markings.
It sounds like you're thrilled with him! I can't blame you though.
I'd have been over the moon too if Indie had caught onto the loose-rein, relaxed walk that quick.
---
Forever loved, never forgotten; my beautiful Indie. <3 Hoofprints on my heart.
What I can't get over is how steady he is mentally. As a QH owner for years, I heard all the horror stories about these crazy TBs. LOL Even my trainer agrees that he is very sensible and not super touchy like they can be. He has enough give-a-d@mn to be a lot of fun, enough spunk to get out there and give me energy to shape but is just cool as a cucumber about stuff and I adore that. I've only had him a week and already I'm in love.

I love my 2yo QH to death, but I think after riding him, she is the last QH I will own.
I almost have a hard time believing that "hot and crazy" is the stereotype compared to "calm and collected".. I've heard more about calm TBs than crazy ones. Although, a lot of Indie's patience has been acquired over the past month.. she used to start pawing at the ground after a half hour on the cross ties.. now I can go a couple hours and she'll just fall asleep.
And yepp! I always did like more sporty looking horses, but Indie has confirmed that my next horse will be an OTTB.. although younger with less issues.
I'd love to own a Warmblood mare some day though.
Posted via Mobile Device
I think if my 2yo grows up the way I expect her to and I am able to successfully get her showing even respectable scores at first and second level, I want to breed her. I have a soft spot for her because I raised and trained her daddy and several of her siblings, but she has to prove to me that she has some of what I want in order to get bred. I think that crossing her on a Cleveland Bay will get me something higher caliber than I can afford to buy that can still be registered.

Of course all this is AT LEAST 6 years down the line and all in my head because of this boy! LOL