Is she firm on the price? Would she be willing to sell for say $3000?

I only ask because I have a registered QH mare who is practically bomb proof, that my 10 year old daughter rides in shows (English and Western), play days, parades and trail rides. She is good tempered with no bad vices (hates having her ears clipped, but that is it really) and I paid $3000.

Now, I'm in Texas, where QH is king, so that may be part of the difference in price.
Posted via Mobile Device
If the picture is saved to your computer, click "go advanced" under the place where you type, then click the paper clip above the writing space and upload your picture that way. You can also upload to Photobucket and use the image code to paste it.

It does depend a lot on your location. Around here, a very well-schooled but grade QH can definitely be worth upwards of 3k.
I think it's kind of sketchy that she said "that because he's a good horse and I can buy a cheaper horse but get injured and pay more in hospital bills in the long run"
but hey, I bought a 4,500$ grade horse....
(let it be noted that he was terrifyingly violent as soon as I brought him home and ultimately had to return him) BUT if you know the horse and you think he is a safe bet then by all means go for him for 3700
Showing
Join Date: Jun 2011
Location: Cariboo, British Columbia
Posts: 11,952
• Horses:
3
A well broke unregistered horse here sells for around $2000, sometimes more, depending on size. We have some of the highest horse prices, but that does sound a bit steep.
I hope this works! Do you think he looks like he could be part draft or is it just me? I love drafts so I kind of secretly hope he's not full QH since he doesn't have papers anyway.
Thanks all for your input. The trainer said she's firm on the price because it's spring and we are just getting into the bigger season to sell. I understand. I think I'll just lease for another month or two and see how I feel. I really do like this guy a lot and I may go for it as long as I'm not getting totally hosed on price.
A little overpriced is okay.
edit: it worked! Equinephile thank you!
---
Last edited by Heelsdown; 04-17-2013 at

09:15 PM

. Reason: fixing picture
I had a grade QH that I was offered $10K for several times. I wouldn't have sold him at any price. You could put a 2 y.o. on him and the kid would be safe. A 25 year old who knew what they were doing would get a good ride too. A 50 year old beginner was safe. He was worth his weight in gold. I paid $1500 for him as a 2 y.o. and kept him til his death at 32 y.o. If you feel safe on him, like his personality and he does everything you want him to do, then he is worth every penny, IMO. I wouldn't pay her asking price right away, but I'd maybe make a first offer at $3K and he stays in training with her for X amount of months, if you're happy with your training there. BTW, I bought him back in 1980 when $1500 was considered a pretty good amount of money.
Lucky at 8 y.o.
Lucky at 32 shortly before he died: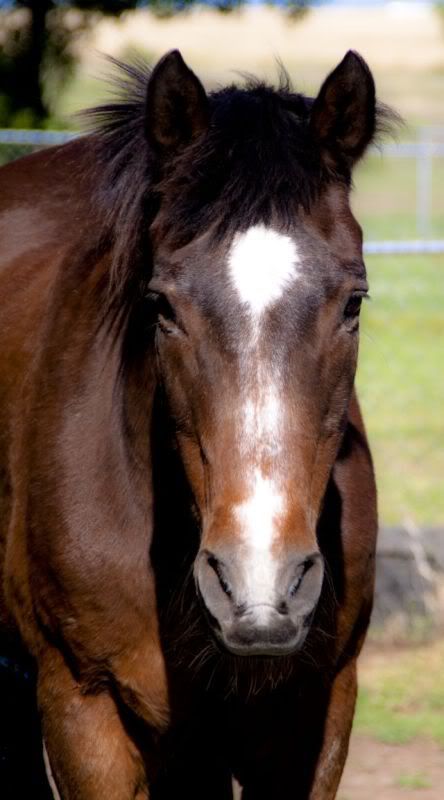 I raised my little sister on him, she raised her boys on him, my husband learned to ride on him and he carried my sis to 2 state champs in hunter over fences. PRICELESS!
---
---
Last edited by Dreamcatcher Arabians; 04-17-2013 at

09:21 PM

.
That's some serious coin for a QH. What does he know? Roping, barrels, trails etc.... I know of a QH gelding here that ropes, camps, speed events and wins and is shown 4h by a lil boy. Guy wants $1800 for him and can't sell him. I understand regional pricing differences, but that seems steep. Unless of corse, he's a money earner.
Posted via Mobile Device
look on virginiaequestrian.com and horseclicks.com too. I bought my quarter horse for 1500 and hes turned out amazing. He's young and I had to have a trainer work with him some, but you can def find something perfect for your more in your price range.
Lucky was such a good looking horse! His senior picture is adorable too. I'd hope my future horse lives such a long good life.

This guy definitely isn't a money earner. He's just been kind of an all around lesson horse. My trainer got him from a guy in Pennsylvania who used him for trail rides. They don't know what he did before that. She's been using him for lessons and trail rides. I wish I had a little more history on him, even if it was just his birthday. I wonder where he was born, who broke him, who his parents were.

evilamc I definitely check Virginia Equestrian, equinenow and horseclicks all the time. I was just afraid of buying a horse with only trying it once or twice. I wanted to buy a horse I know a little bit so I had planned on trying different lesson horses and see who I clicked with. I'll see a horse that seems like a dream in the ad but then I'm afraid of getting him home and having him be totally different. I love checking ads though. It's kind of addicting.

He does have a sweet face though doesn't he?
---
Last edited by Heelsdown; 04-17-2013 at

09:38 PM

.