Quote:
-. When you think of a "fit" horse, you think of something you ride and could carry you all day and possibly show... But when I think of "fit", I think of well developed, not too thin or too fat...
Fun isn't it when you start taking it apart...I to go for fit being fit to ride, but my little filly is certainly in good well rounded health, and can run and keep up with mum, she is fit and healthy, but not fit at the same time LOL.
BTW Lily is gorgeous
Well, Bobbie (TB mare) has had barely any work this year and as a result is pig fat with a non-existent topline. She's happy though
Bobbie 0513.jpg
This is a bit closer to how I like her looking, still lacking some muscle in this pic. Bit more work over summer and we'll get there:
Bobbie October (2).jpg
---
All horses deserve, at least once in their lives, to be loved by a little girl.
First horse is Chilly "racing fit"...Then her pasture plump.

Second horse, this is her racing fit...This is the thinnest she's been in YEARS.

Last picture is inbetween fit and pasture puff. He needs to stay right where hes at, no bigger. LoL
---
"The greatest pleasure of a dog is that you may make a fool of yourself with
him and not only will he not scold you, but he will make a fool of himself too."
-Samuel Butler
With foals, I'd not say fit but built and healthy, yes. When I think fit, I think conditioned. We get muscular foals but I wouldn't call them fit as they aren't being worked. Here's Merit last year at 6 weeks old.
003.jpg
Quote:
Here's both of us looking fat (quitting smoking = gaining major poundage)

I can't believe you let your horse smoke in the first place! LOL I'm so fat now that I'm terrified to quick smoking :/
He got so fat that he must've been smoking something else and eating everything in sight, maybe I should be checking what kind of weeds are in my pasture haha!
I was terrified to quit too, I've gained quite a bit but despite that, it's so worth it. I feel a lot better. I can stay at an endurance pace on the elliptical for an hour now and not think I'm going to die.
---
Life is like a camera. Focus on what's important, Capture the good times, Develop from the negatives and if things don't work out, Take another shot.
Sorry for the dirty horse, but this is the most recent full-body picture of him I've got, and he just happened to have rolled in mud as the photographer was passing by.
Snickers, 6yo, Latvian Warmblood, light draft/carriage type. I consider him to be reasonably slim, but he could definately use some more muscling, particularly in neck and hind legs. I currently do medium amount of work with him - active trails and flatwork in the arena about 4-5 hours a week. What do you think?
---
I have come a long way, to surrender my shadow to the shadow of my horse.
/James Wright/
I didn't realize how.. erm..
fluffy
my two were until I took pics this afternoon... I think both my ponehs and myself need to get our butts working a little harder.
Lily
photo (6).jpg
Soda
photo (7).jpg
Oh I LOVE Soda. *drool*
---
"The greatest pleasure of a dog is that you may make a fool of yourself with
him and not only will he not scold you, but he will make a fool of himself too."
-Samuel Butler
Your horses aren't that bad(:
I know ones that are WAY fatter

This is my mare, Alibi.
She was a pile of flub when I got her three years ago. She's been ridden consistently and I guess she's pretty fit.
Still working on stamina though.
---
I live to ride and I ride to live
Horses are just angels without wings
11/01/09 <3 my horse left hoof prints on my heart
I believe that Selena is fit. She is in shape for performance and has a full body, very muscled. She's not squishy anywhere, she has a very hard body. However, she's not overly bulky either. She's an athlete, and that makes me happy.
Ruger needs a little work. But he's just a baby, so he's still growing into himself. He could use some more muscle and needs to get in shape more. This picture makes his head look bigger than it is. LOL
Rebel and Precious weren't perfect....Precious was pretty out of shape in this picture (on the right) and Rebel (on the left) needed a lot of muscle on the crest of his neck instead of just underneath.
---
Pssh.I didn't pick up the wrong lead
It's called a counter canter...
...A very advanced maneuver.
These were about from a month ago....I will get some pics tomorrow and update them :)
Both of my guys are pretty well in shape and fit....like I said these photos were from a month ago. But they are fit right now but would like to see them a bit more toned up. I am VERY nit picky on my horses fitness and such....they are serious athletes and perform quite often.
Scrat
JJ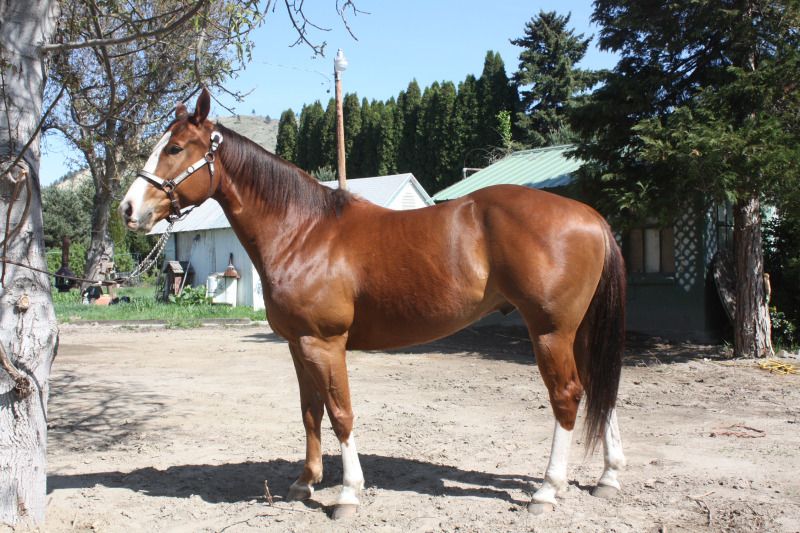 So I will try and snap some pics tomorrow before I ride :) then upload those.
---
Conformation is how far the horse CAN go,
Mind is how far the horse WILL go,
Training is how far it DOES go.