Fleet: the lunatic in disguise.
---
Well...Syd, my sister's new horse has been attacked. Chased around in a circle, again and again, bitten hard on his backside. This happened twice. And it wasn't a dog or anything. It was sweet Fleet.
I always thought Fleet was the gentle one, but no...
click to enlarge.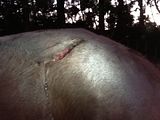 Here's the story. We got the new horse, Syd, a very sweet LOVABLE gelding.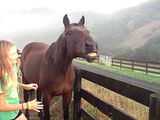 We brought Luca (my horse) up to graze with Syd, leaving Fleet behind for two days. Then, we brought him up, too. Big mistake. "The new horse is the one who stole Luca from me" that's probably what Fleet meant.
They met each other, all good, but after half an hour, Fleet suddenly leapt at Syd and chased him round and round the paddock, taking chunks out of his backside as he did so. Syd is 16 years old and in soft condition. The poor, sweet thing ran for his life, but Fleet just wouldn't stop. He kept biting and chasing Syd. I shouted at him to stop, in shock of what was happening to gentle Syd. Fleet gave one final bite and stopped chasing. I went away to get my jodhpurs (for riding Luca) when I heard a scream. It was my sister. I ran outside and saw Fleet, taking chunks out of Syd's butt again. But this time, Syd was stuck in a corner that had hot tape by it. Fleet bit and charged, forcing poor Syd through the thankfully not-hot tape. I immediately took Fleet back to the other paddock. He spent the night there.
Today, we put Luca and Syd together on a new paddock. We disinfected the wounds and they're doing well. We took Fleet and put him in a smaller paddock that was right next to Luca and Syd's paddock, only divided by a fence. They're doing very well, no aggression, although Syd is not coming near Fleet at all.
I want to take a breath and say: this is herd-dynamics, but I can't. I mean...was that normal? A horse chasing another horse round and round mercilessly, biting and biting, not stopping until someone intervenes?
Everyone, send some healing wishes to Syd! He truly deserves them, poor "old" thing.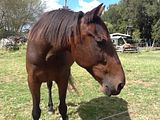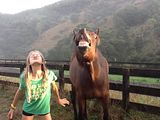 ---
Proud owner of a Standardbred!
Yearling
Join Date: Aug 2012
Location: On the golden coast of Michigan
Posts: 918
• Horses:
3
I'd say its normal. Your horse, Fleet, is probably a very dominant horse. The other horse probably didn't get out of his space right away and/or maybe Syd possibly challenged Fleet, etc.

Is this the first time the horses were in with each other?
---
For the wretched of the earth there is a flame that never dies.
Even the darkest night will end and the sun will rise.
Sounds like they need a larger area to work out their herd dynamics. Syd needs to be able to escape and in the amt of space provided this isn't possible. We typically put new horse in a round pen in the pasture. After a day or two we add the horse that has buddied up and stays hanging around the pen as long as there is no aggression in with the newbie. Once a week or two has passed we turn these two loose and while there may be some aggression from more dominant animals they work it out with minimal injury. Having rounded corners helps prevent pinning. We put panels in the corners and secure them until all issues are worked through.
This is EXACTLY herd dynamics.

And has nothing to do with "stole the other horse" either.

Where was Fleet at before? Over Luca or under? Horses on bottom can be worse than the dominant horse as they don't want another boss.

Either need bigger area, or keep separate is what I would do.

Sometimes this never settles down, and if Fleet catches Syd just right? You could end up with huge vet bill, or disposal fee.

And no way would I round corners with portable panels either, as if attack is viscous enough? Horse will get tangled in them trying to get away and you will have horse with broken leg.
---
Horses make me a better person.
---
Last edited by Palomine; 04-07-2013 at

01:10 PM

.
Fleet was the alpha between Luca and him. Syd is a very quiet, peaceful horse and I watched the whole scene unfold. I was there the whole time.
Yes, they had just met and it was the first time they were together. (Fleet and Syd) Normally, Fleet is a VERY calm and gentle horse, sometimes a nip or two at Luca when Luca is getting into his personal space, but other than that, nothing.
It just came out of nowhere. I would never have thought that Fleet would suddenly chase Syd like that.
When they met, they acted all nice and good, sniffing each other, Syd doing little squeals...like a mare
and then they started grazing together.
The one thing that is still in the back of my mind is Fleet's wound. After the first attack, I noticed a wound in Fleet's back fetlock. Not too deep, but a bit bloody. I never saw Syd attack Fleet, not even a sneaky kick.
The thing with getting away is: even if there was a bigger paddock, Syd would never be fast enough to escape Fleet. Fleet is a TB and very very fast. Syd is in soft condition, 16 years old and not very fast, even if he tries. In the wild, he would be the weakest of the herd and could probably even end up killed because he slows the herd down. But yeah, it's just so weird that Fleet just kept on chasing him, so maliciously.
They're in a bigger paddock now but I will wait for a little while for Syd's wounds to recover before I put Fleet back with them.
Ugh....never knew Fleet was that type of horse.
---
Proud owner of a Standardbred!