Funniest or cutest thing your horse has done.
---
Ok, so tonight I went to go check on Gizmo's water and when I went to give kisses good night he started sniffing my face and then he tried to eat my lip ring! He has never done that so I don't know what compelled him to and he was being so careful just trying to get his lip on it. I just had a ball on tonight. But it was so... funny.
My old mini came up the front steps to the house one night (there are five of them! lol). I used to picket him out on the lawn over the summer and one night i guess i put him too close to the house & i went to let the dogs out before bed & Nestor was standing at the door trying to get into the oat tub lol!
---
"If a horse fails to do something that is because he was not trained to do it. If a horse fails to do something properly that is because he was not trained properly."
www.wildestheartart.com
Yesterday I was in the barn cleaning out the stalls after I had put out hay for the horses. I heard them rustling around and I hear Annalie make that "there is something dangerous amungst us" noise horses make. I go out to see what it is and can't see anything. I thought maybe it was a stray dog on the other side of the fence. So I go back in the barn to finish what I was doing.

The horses start eating hay again. But about a minute later they all are puffing like dragons and milling around. So I go out to see what the problem is again. I see something slowly making it's way across the pasture. It was about the size of a coyote and it's rustling quit a bit. I walk past the horses to get a better look and realize it's just a dog food bag that our really really nice neighbors (who like to throw garbage into our pasture) must have "lost". So I go out to get it and Annalie is following about a foot behind me looking over my shoulder the whole time, the other horses slowly following her. It was like an assembly line, lol. I pick up the bag and they all run from me like I'm going to eat them with it. Silly horses.

BTW CSueBele- What kind of bird is making that noise in your video? I hear it all the time here but have no idea what it is.
---
100% Anti-Slaughter and PROUD of it!

My 6 yr old TB has so much personality he loves being brushed and if you stop he will either chew wood or grab the brush with his teeth and shake it. He also got bored and we left our ponys blanket out and he chewed a hole in it and pulled the lining out. He's definatly a charactor heres and not the brightest crayon in the box lol heres a pic
rockyawn (2).jpg
And heres buck he's a fatty and I put the empty feed bag down for a sec and he had his head in it
002.jpg
And him staring at it outside of the fence.
006.jpg
Quote:
BTW CSueBele- What kind of bird is making that noise in your video? I hear it all the time here but have no idea what it is.
Those are peacocks. There are a ton of them around our barn. Here's a shot of our new mare, who had never seen a peacock before. It was taken the day she arrived. She just has that expressions of WTF!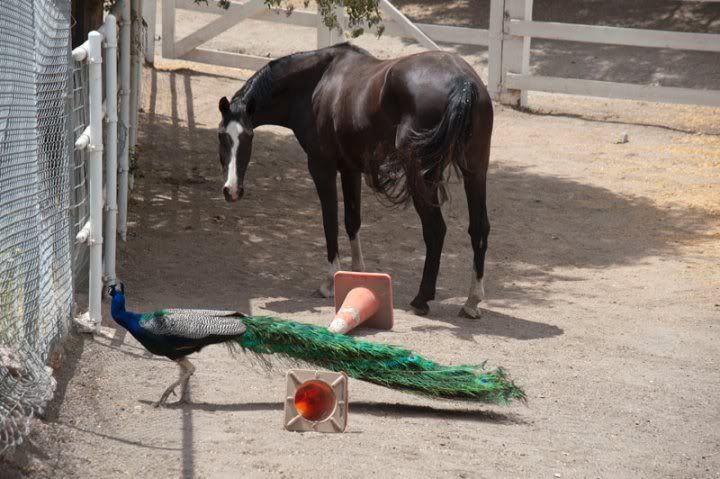 Ohh! I wonder who has them around here.....I hear a donkey all the time too.... Pretty peacock : )
---
100% Anti-Slaughter and PROUD of it!

I've never been able to catch a picture of it, but, after my horse drinks, she'll come up and stand there for a while, with her mouth quivering and it looks like she's swilling water around in her mouth. Her ears are all droopy and her eyes half-closed, and it is so CUTE!!! It makes me so happy when she does that, you don't even know. I know it's weird, because everyone just looks at me like I'm insane when I tell them, but that's the one thing she does that never fails to put a smile on my face.
---
My old mare, my first horse used to hold water in her mouth and wait until I was underneath her head and drop it right onto me! She was such a jerk that way, but it was always kinda funny.