Get 'em hooked young!
---
Just wanted to share a few pictures. My niece (who is just over 2 1/2 years old) came out yesterday for a horsey ride! She just thought it was the greatest thing, and just wanted to keep going! And Red was just the perfect gentleman.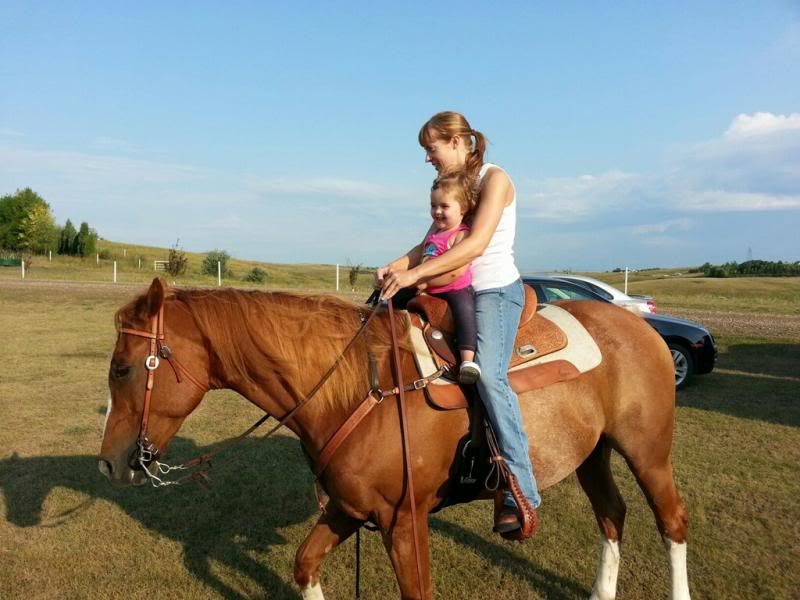 I love this picture because of Red's expression, LOL, but she wanted to go again, and grabbed the "reins" because she was ready to go. Mommy and Daddy took her to buy some real cowboy boots after that, because she had to have boots like Auntie.
I don't think her mom and dad realize what a monster they are creating, haha. Just wait until she asks for a pony!!
---
∞•*˚ Βгįťţαňγ ˚*•∞
It is not enough to know how to ride; one must know how to fall.
Ain't that just an awesome experience? I love it
Posted via Mobile Device
I went to the Crabbet celebration show yesterday. Thing that got me was I saw 2 young people. All the other people I saw showing were old and grey.
So cute :). Red looks like the perfect gentleman.
I do that when ever my aunties and uncles come down with my your cousins lol I will create another horse crazy person in the family :P
My sisters just gotten pregnant as well so when ever it's my turn to babysit ill make sure I took the child to see the horse lol
---
http://www.horseforum.com/member-jou...-story-257826/
Check out my blog on here
She's adorable! Yes, hook them young. She'll be askin for a pony for her birthday in no time :)

My parents probably regret the first trail ride they took me on at 4. I sure don't ;)
Posted via Mobile Device
LOL, that's how my brother and I got started...and all 3 of his kids too
.