getting a horse on a feeding schedule
---
I am waiting to get my new horse so im trying to plan out a feeding schedule because it never was on one open up to any suggestions to help me out
Thanks
What, exactly, are you looking for? Will your horse be stalled or on pasture? What are you planning to feed?
Meant to add:
Our "schedule" is pretty simple. Our girls are on 24/7 turnout with free-choice hay (round bale) and pasture when in season. Our TB is fed twice a day (morning and night), with additional feed (alfalfa pellet/cube, beet pulp and Empower Boost + hoof supplement) and my *little* (fat) paint is given a dinner of a couple of soaked hay cubes to carry her hoof supplement and make her feel like she gets a treat too.
Breakfast is served at 6:30 to allow time for it to be eaten before we have to leave the house for school/work. They get dinner around six.
They are in the pasture and i bring them in at night and let them out in the morning and i feed them grain
well there you go, whats wrong with that ? The horse will quickly adapt to whatever you put him on. I work rotating shifts so my horses get fed when ever once or twice a day. They are on grass the 24-7. The come running to the barn when I call them regardless of time of day.
I go out around 7 am so what time should i feed them dinner and also what type of grain should i use if im going to barrel race
Bear in mind that horses prefer 8 small meals/day. If you feed them 2x/day they will adapt that schedule. You won't see them bolt all of their food in the way that a predator like your dog eats. This is sometimes a revelation to new horse owners.
Ideally, 24/7 turnout works best. Stalled horses should be fed with fresh water at least 2x/daily, which is very common in most stables.
I have my 3 horses in my backyard and they graze 4 acres 24/7 from April-October every day, with all day turnout during the cold and winter months, and they are stalled during cold, heavy snow and ANY icy conditions.
Ironically, being fed low, like in the corner of a stall is about the best way to feed.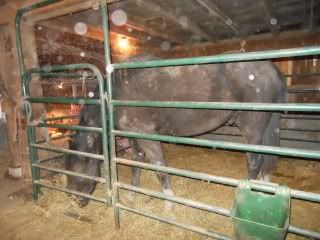 Horses do NOT breathe through their mouth, like we can, so they can get foreign articles like dirt and dust if there is dirt and dust around their food, or the barn is dusty. I recently rebuilt the manger in my shelter, which puts their hay at chest level.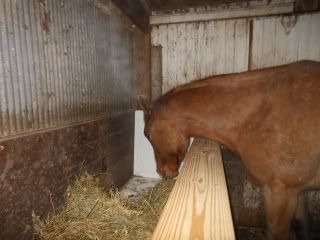 This works very well bc it prevents waste, yet still gives free choice. I keep hay in my shelter manger 365/year, even when the forage is more than enough.
Regarding grain, it is best fed in the evening at LEAST one hour after any HARD work. Think of eating a heavy meal right after you've played a competitive tennis match. It doesn't sit well. Horses are unable to vomit. Any "tummy aches" or digestive problems can result in colic, but colic is avoidable. Digestion of grain creates heat. This helps in the dead of winter, and it helps to keep your horse cooler by feeding grain at night during the summer.