Gillan, Giselle and Jenny - Winter Camp 2008
---
Time has just flown by and we've been so busy with our fall cattle sale, getting the foals weaned, filling the barns with square bales and bringing to the home place the long rows of round bales. Winter's a-comin' and we are ready. I'll be glad when bug season is over :) (we have to be thankful for something!).
The leaves have turned golden at Triple Cross Ranches. I love fall weather - cool nights and warm days. We've had a light frost or two, just enough to get us in the mood for the holidays.
The play day season has ended and we sure enjoyed all of the events this summer with the grandkids. Watching them enjoy the horses is such a wonderful experience. Another generation of horse lovers in the family tradition - what a great time for us this is. I'm a firm believer that grandchildren are the reward of a long life. Our grandkids keep us hopping. They are such fun to have around!
Payton and Emma Gee (aka Montgazza):
Paige and Bubbles (aka KA Golden Bubbles):
Gillan (AHA Irish Gillan HC) has progressed beautifully. We've decided he'll make a good trick horse. He's so interested in anything and everything and he's a fast learner. He's grown and matured from the lanky four-year old that Jenny took on last summer. Now he's muscled up and looking so good. We are sure pleased with his development as a performance horse. The Pulque++ bloodline just can't be beat. Gillan is a prime example of his Donoghue heritage. We'll definitely be making the parade circuit in 2009 - riding for AFAHA and promoting the American Foundation Arabian horse.
Irish Gillan HC: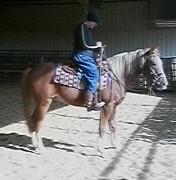 We took Giselle (aka KA Enchanted Wind) to Jenny for saddle training recently. Giselle has taken to being ridden as easy as pie. She's a model student who's going to be Katie's riding horse. Giselle looks so much like Zsa Zsa (aka Pyramid Azradina - dam of Ibn Shallaan HC) that Katie fell in love with her at first sight. After just three weeks, Giselle is going well at walk, jog and lope, is backing up and learning to flex. She's a great accepting mare and we love her Lewisfield bloodline. We have ten Dusty daughters and think they are all just terrific. We just might put a photo together of all of them under saddle. That would be sweet.
Giselle (aka KA Enchanted Wind):
Jenny's next pupils will be Irish Mysticwind HC, Kenlly HC and Irish Cara HC. They are just brimming with Want-To and will make great students for Jenny. Plus, Windy is one of those born-to-ride horses and she's been volunteering for everything to do with people all of her life.
We'd like to congratulate our favorite trainer on her win of her division at the Extreme Mustang Challenge a few weeks ago. It was fun to see Jenny on television in her interview which aired on RFD-TV this week. Yes, our trainer is a STAR and we are very happy for her.
Happy Holidays everyone and a very Merry Christmas, from the family at Honey Creek Farms and Triple Cross Ranches.
---
Carrie A. Woolverton
Triple Cross Ranches
Honey Creek Farms
Texas

American Foundation Arabian Horses
Too cute!! i love the pink, i wish i could put pink on toby!
---
12 days until Twiztid ( i get to see my Jamie) then two months until graduation.
Quote:
Originally Posted by
appy rider 4 life
View Post
Too cute!! i love the pink, i wish i could put pink on toby!
Oh she has pink everything - pink halter and lead, pink cowgirl hat. Her boots have pink on the topside. And neon pink is the best !!
---
Carrie A. Woolverton
Triple Cross Ranches
Honey Creek Farms
Texas

American Foundation Arabian Horses
Aww, that is so adorable. :) Cute pics!
---
Ride more, worry less.